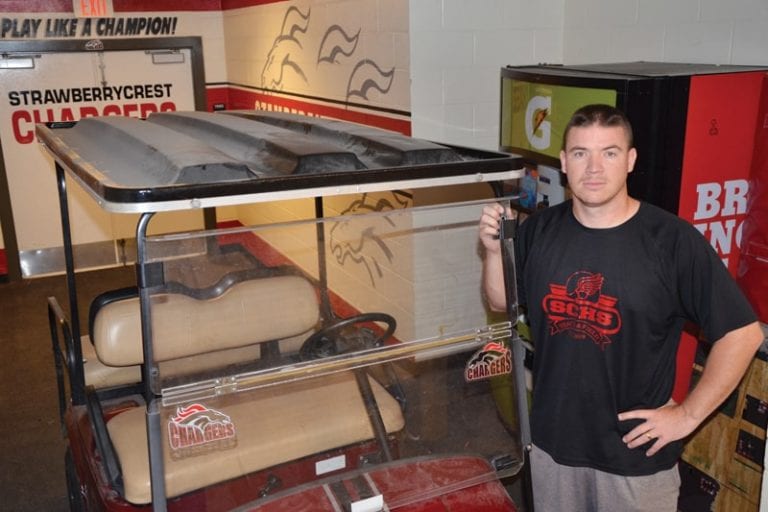 In the short history of Strawberry Crest High School football, perhaps no one knows the program better than John Kelly.
The new SCHS head coach served on the school's first coaching staff during the 2009 season and has spent the last two seasons on the opposite sideline as an assistant at Class 6A District 8 foe Armwood High.
Kelly replaces Gerold Dickens, who resigned as the Chargers' head coach after one year, going 1-9 last season. This makes Kelly, who served as the offensive coordinator on coach Todd Donohoe's inaugural Chargers team, the third head coach at the school in a four-year span.
"I wanted the challenge, and I just felt like I had something to contribute to help the kids and maybe stabilize things for them," Kelly said.
A 1997 Armwood High graduate, Kelly's biggest outlet growing up was sports. Although constant personnel changes can be troublesome and frustrating for players, he hopes that he can help provide a positive experience for his players and give them the outlet and the memories he gained as a young man.
"Some of my fondest memories growing up were from playing sports, and that was because of the coaches, and I'm still in contact with many of those coaches from my high school playing days," he said. "I want other kids to have that same experience."
Kelly has taught at SCHS and served as the boys head track coach since the school opened. Following Donohoe's first season, Kelly took on assistant coaching duties at his alma mater, serving as the tight ends and strength and conditioning coach for Armwood the past two seasons, including last season's state championship team.
Kelly was also a part of the back-to-back championship teams in 2003 and 2004 as a part of Sean Callahan's staff, while he was a student at the University of South Florida.
SCHS won't be Kelly's first go at a head coaching gig; he served at the helm at Cambridge Christian in 2008 after two seasons as an assistant for the Lancers. He went 2-8 that season before taking a teaching job with SCHS when it opened in 2009.
After Donohoe was forced to resign after going 8-12 in two seasons with the Chargers, Kelly was offered the job, but said "the time just wasn't right in his life to go back to being a head coach."
Little did he know that a year later, the door would open again. This time, he was in a better place to take on the challenge.
"You almost take a step back from the individual coaching of positions and focus on not just the team but the program as a whole," Kelly said of taking the head position. "I don't think a lot of coaches like that aspect, but it just comes with the territory."
After coaching for the Chargers the first year and against them the last two, Kelly knows the SCHS program well and hopes to bring the same practice intensity and work ethic mentality that his teams at Armwood brought each day.
"I knew there was potential here, and I wouldn't have taken the job if didn't think that, down the road, we could be a very good program," he said. "My job is to build this program and to get the players to buy into what we're trying to do, and we've done a lot of that already with the coaching staff that I've brought in here."
That staff includes Isaac Anderson, who coached with Kelly at Armwood last season but will be teaching at Brandon High this fall while serving as the offensive coordinator for the Chargers.
Most of all, Kelly hopes to bring a positive presence to the Chargers' program that has seen a large turnover the last three years, after forming from the split of three area high schools — Plant City, Durant and Armwood.
Win or lose, Kelly hopes to give Strawberry Crest its own identity and its players something to be proud of and, most importantly, something to look back on long after their playing days are done.
"The bond that you make because of the hard work you put in together is something that wins and losses don't always effect," he said. "It's more about the experience of going through it together."