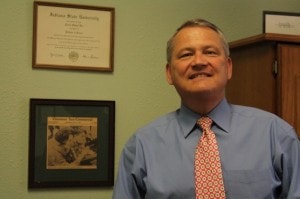 When Mike Herr learned he had been chosen as Plant City's new city manager, he was elated. This month, he is transitioning out of his current position in Tampa and preparing to step up to his leadership role in the Winter Strawberry Capital of the World.
Herr's first day as Plant City's city manager will be Sept. 29. His base salary was originally $135,000 per year — a decrease from his current salary of $156,000 per year. At a Sept. 2 special meeting, commissioners discussed raising his salary, although no figure was reached. Commissioner Mike Sparkman suggested $150,000.
"We need to express to our new city manager that we have faith in (him), that (he's) going to do a good job," Commissioner Mary Thomas Mathis said. "This is letting (him) know that we're glad (he's) here,"
The agreement also includes benefits, such as automobile allowance, vacation, sick leave, insurance and retirement. The City Commission's preference is for Herr to move to Plant City. If he chooses to do so, the city will negotiate the amount it contributes to his relocation cost.
HERR'S HISTORY
Herr grew up in Indiana. When he was 8, his father died, so his mother raised him alone, with the help of his sister. His mother, Mary Catharine Herr, served as an appraiser for the family's hometown of Vincennes, Ind., from 1966 to 1983. Herr attributes his career path to her influence.
"I have grown up with a great deal of appreciation for public service, so that's largely why I'm in public service today," Herr said.
Herr graduated from Indiana State University and launched his career close to home. He served from 1978 to 1980, as town manager of Newburgh, Ind. Because he had become so passionate about this type of work, he decided to move to a state that had more similar opportunities, and Florida was at the top of his list.
Herr moved in 1980, to the Sunshine State to serve as town manager of Dundee. Since then, he has held numerous positions in Hernando, Polk and Hillsborough counties.
There were two major factors that influenced Herr's decision to apply for city manager of Plant City.
"One, I wanted an opportunity to come back and serve in a city manager capacity, and work with the city commission and the community to make the community better," he said. "I really like that kind of work. Second, the stability that Plant City has and its reputation for being a wonderful community … citizens in the community seem to be satisfied with the direction that the city is moving."
The shorter commute from his home in Lakeland is just one of the many reasons Herr is excited about the new job.
"It's a community of 35,000, and it's situated ideally along the I-4 corridor … so I see many, many assets that have the opportunity to be capitalized on," Herr said. "I'm really thrilled with the opportunity to go back to a council form of government."
Herr said Plant City had an optimal mix of light manufacturing, distribution and small businesses. He also said the coming Midtown redevelopment district would provide great opportunities for retail growth.
"That's a real asset, especially being right off your downtown district," he said.
Herr also appreciates Plant City's rich history. Before he took the new job, he explored the town, including downtown and the historic housing district, and he thinks those areas are beautiful. The railroad depot also made an impression on him.
"It says so much about the character and the history of the community," he said.
HERR'S VISION
It is too early for Herr to think about big changes, he said, but he does know one thing that should remain consistent.
"One thing we don't want to change is the fact that everybody says Plant City is a great place to live," Herr said. "We really need to market that."
Still, Herr is aware of some of his goals for Plant City. Along with his enthusiasm about the redevelopment in the Midtown district, he hopes to see other areas of economic growth.
While Herr was exploring Plant City several roadways stood out: Park Road, Alexander Street and Thonotosassa Road.
"Those are economic corridors," Herr said. "I think there's opportunity for infill there."
He is considering a landscaping upgrade on those roads.
Herr also is interested in increased employment opportunities, specifically by working with leaders of South Florida Baptist Hospital to devise ways to attract more physicians.
"Those can be higher-paying, value-added jobs," he said. "I know that those are things that help the community."
Herr said improving the community's health would lead to improved sustainability.
Although he will have to become familiar with a new community to manage Plant City to the best of his abilities, Herr said he considers this an opportunity — not a challenge.
"The opportunity is going to be for me to get to know the community, for the community to get to know me. … for me to develop an understanding of what the city commission considers to be priorities, and meeting with our employees, getting to understand what drives them as a person," he said. "It's going to be important for me to listen and allow myself to be impressed, rather than focusing on trying to be the impresser."
Contact Catherine Sinclair at csinclair@plantcityobserver.com.