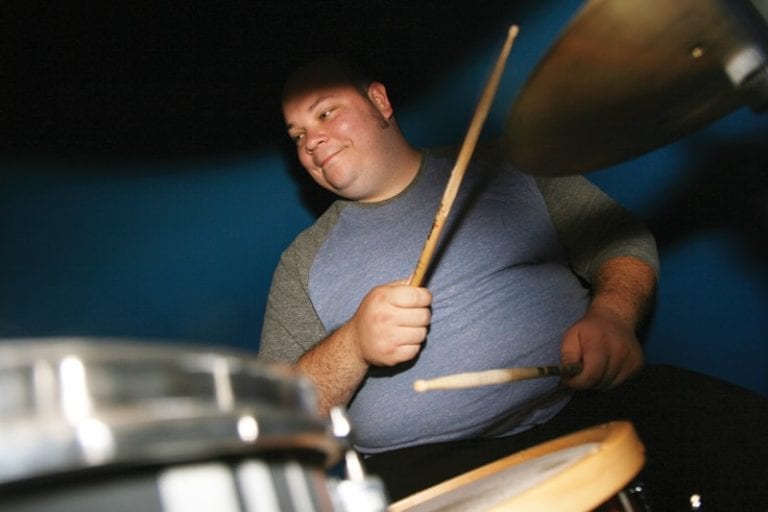 By Michael Eng | Managing Editor
Pleasant Grove Assembly of God Youth Pastor George Flores remembers the exact moment when he fell in love with music. He was about 7 years old at the time; his older brother, Juan, was 9.
"My brother and I shared a room, and we were watching Woodstock on TV," he says. "We saw some of the musicians in a mud fight, and we looked at each other and said, 'We should be playing music.'"
Soon, Flores fashioned a makeshift kit from shoeboxes, and his brother stapled rubber bands to a long ruler for a guitar. Flores also befriended the drummer at his home church.
"After church, he'd give me little pointers here and there," he says.
After the family moved to Florida from Staten Island, N.Y., Flores' grandfather died and left a little money to each family member. Knowing how badly Flores wanted a drum set, his mother took that money to the music store and came home with his first set, a red Sound Source beginner kit.
It wasn't long until Flores' knack for drum restoration began to present itself. He fell in love with more professional drums that featured wood-grain finishes, and with the help of a few tools and some patience, he removed the red wrap and exposed the wood underneath — much to his mother's dismay.
"Oh, she was not happy," Flores says, laughing.
Over the years, Flores continued honing his craft as a drum restorer. In addition to refinishing or rewrapping drum shells, he's also taken drums and cut them to different sizes. He added a piece of a different drum to the bass drum of that original Sound Source kit to increase its depth by a few inches. And once, he even painted a drum set with chalkboard paint so a drummer could write the set list right on his instrument.
"I'm self-taught," he says of his knack for restoration. "Growing up, we didn't have a lot of money, so if I wanted something, I had to find a way to make it.
"My ultimate goal, though, is that I never want anyone to see one of my kits and say, 'That's cool — what you did,'" Flores says. "I want them to say, 'Where did you get those?' I don't want them to look homemade."
Flores' most-famous restoration project is a vintage 1970s Slingerland drum set he received for free from friend Dan Hendrix.
"When I got it, it was in rough shape," Flores remembers.
Flores took the drums, one by one, and breathed new life into them. He completed some essential sanding work, repaired nicks and gouges in the shells and finished it all with a blue, sparkle wrap. The work was so impressive that DRUM! magazine featured the drum set as its Kit of the Month last October.
"Those guys were really funny," Flores says. "They called me and said, 'You did this?!?'"
As a musician, Flores has played a wide variety of styles, including rock, hard rock, jazz, punk and salsa.
"Basically, anything that would let me play with people," he says.
These days, he spends his time outside of work with his family — wife, Chaunte, and 2-year-old son, Kendal — and serving the community through Pleasant Grove Assembly of God, where he still plays drums.
"I just love how music brings people together," Flores says. "I'm sure I'll end up doing this (drum restoration) for the rest of my life. It's just always been fun to take something and make it better."