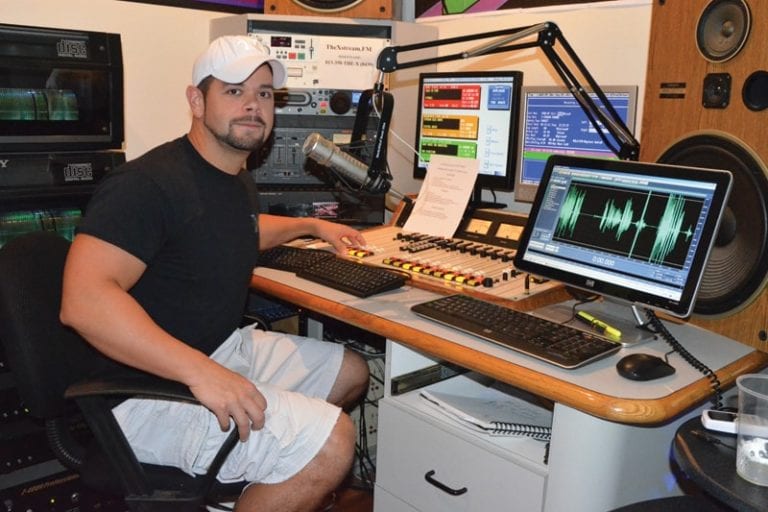 By Matt Mauney | Staff Writer
The radio business has been Andy Kovacs' life for 16 years.
He considers himself a radio guru, but the Plant City native eventually grew tired of corporate politics and wanted more freedom.
"It started to get to the point where you feel like you're grinding out a job," said Kovacs, who left Clear Channel's WXXL-FM in Orlando to start TheXstream.FM, an Internet radio station based in Plant City.
He is currently in school at South Florida pursuing a degree in engineering, but it didn't take long for him to miss radio.
"Once you do it, it's in your blood," he said. "We figured, 'Why not do an Internet station?' But not like these fly-by-night ones like you see that's just Window's Media Player on shuffle."
Kovacs started TheXstream.FM in late 2010 with his friend and fellow radio professional, Ryan Bunting, better known as his on-air personality, Lunchbox. Bunting is a former deejay with the MJ Morning Show on WFLZ-FM in Tampa and later teamed up with Kovacs to co-host Club XL on WXXL-FM in Orlando. Kovacs also spent time at WFLZ, working in production and as an on-air talent from 2005 to 2008.
TheXstream is an effort to bring radio back to its roots while utilizing new-media practices.
"We wanted to do a station like the big boys do — complete with media research and everything," Kovacs said. "And with the technology we have now, you can get Internet radio anywhere."
Unlike traditional FM radio stations, TheXstream is completely commercial free and supported through a sponsorship business model, in which sponsors names and plugs are done by a voice talent periodically before songs.
"We want to focus on the music," he said. "That's where our passion is."
Currently, most of the sponsors are national brands, such as Target, but Kovacs hopes that with growing marketing plans and exposure, that more local businesses will become involved.
"We're trying to do more local things to get more people interested," he said. "We'd be more than happy to deejay local events. We just want to get our name out there locally."
TheXstream plays a top-40 format and plays today's hits all day and night with a countdown show and remix programming on the weekends.
"Our Saturday night dance party is one of our most popular shows," he said about Club X, a live show airing from 8 p.m. to 1 a.m.
The station has listeners in 72 countries, with 41% of listeners in the United States, according to the market research. TheXstream currently averages more than 1,000 unique listeners per week with 1,461 listener sessions per week, averaging 20 minute sessions.
Kovacs said he hopes the station will grow and that they will be able to move to a FM frequency one day.
"We would love to cross over to that and be a low-frequency station right here in the Plant City area," he said.
TheXstream
Format: Top 40
Where to listen: www.TheXstream.FM or find it on the Apple App Store (xstreamfm) or on the Google Play Android platform (xstream).cheat2014.ru