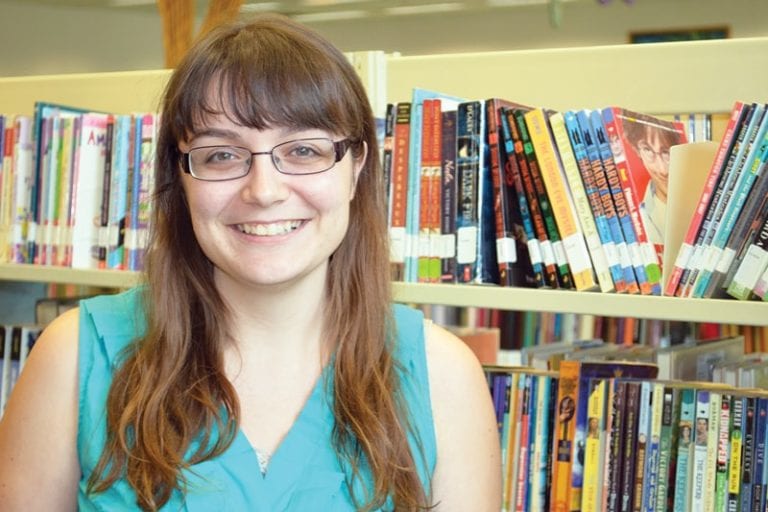 By Amber Jurgensen | Staff Writer
You'll be seeing Kate Chang reading her favorite pop-up book, "Wide Mouth Frog," at the Bruton Memorial Library more often. After a stint as the teen librarian and the computer-services librarian, Chang is now the new children's librarian.
Chang took the position June 3, following longtime children's librarian Carol Lane's retirement.
"I get to work with the little ones more," Chang says of her new post. "They're just so enthusiastic about everything you try to teach them. You can find a book about dinosaurs and they'll say, 'This is the best day of my life.'"
Chang is busier than ever in her new position. A typical day starts with a morning full of organizing books and preparing the computers, before a line of patrons forms outside of the library. During the day, she answers questions for readers, oversees the computer services and tends to books.
Chang is still running the teen events at the library in addition to her new duties as the children's librarian. She is involved in "Crafternoons," an event on Mondays, during which teens make horror-inspired crafts and baked goods.
As the children's librarian, Chang is present at children's events such as Shana Banana, an interactive show, for which Chang clapped along with a smiling face during stories and songs about bedtime. She is also involved with the summer reading program. If children read 10 hours this summer, they can get a free ticket to Dinosaur World and other prizes.
Despite her hectic schedule, Chang says everyone at the library has been friendly and helpful, making the transition easier.
The 24-year-old has enjoyed reading from an early age. When she was in fifth grade, she was the winner of a program called Accelerated Reader, for which students earned points for books they read.
"I ended up off the scale," she says.
With a kindergarten teacher for a mother, Chang grew up in an academic setting. As a middle-schooler, she rode the bus from her school to her mother's and spent her afternoons reading to the younger students. But it wasn't until high school when she decided to become a librarian.
"It's a position where you can learn about everything and do a little bit of everything; you can be a journalist," she says. "And you can help people. Sometimes, people will come to the service desk needing help with a résumé or job placement. It makes you feel good to help."
Her love of books, knowledge and history led her to leave her hometown of Inverness in Citrus County to study anthropology at the University of Central Florida. She then went on to study library science at the University of South Florida. After graduating, Chang saw a job posting at the Bruton Memorial Library and decided to make the move in October to Plant City.
With her academic background and kind nature, Chang already has established a relationship with some of the library's pint-sized regulars.
"I do get to know a lot of the kids here in the library and what they're interested in," she says.
Contact Amber Jurgensen at ajurgensen@plantcityobserver.com.