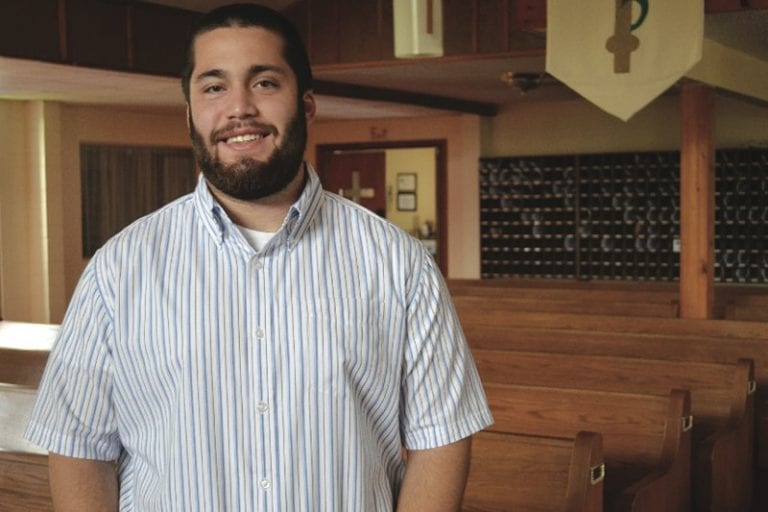 By Amber Jurgensen | Staff Writer
A self-described "mountain man," Cary Hoff may find himself a bit out of place in the flat fields that surround Plant City. But as Hope Lutheran Church's new director of Christian education intern, Hoff is ready for the challenge.
"I'm excited to be here and plug into the community and dive into the culture that is Central Florida," Hoff said.
Hoff attends Concordia University in Austin, Texas. This is his first time in Florida. He moved to Plant City in June to finish a required internship for the last year of his schooling in youth ministry. As the DCE intern, he will be overseeing youth activities such as Vacation Bible School and Care Fest.
The 23-year-old has two reasons for wanting to be involved in youth ministry.
"The No. 1 reason would have been for people stepping into my life and teaching me about faith and wanting that to happen for other people," Hoff said, adding that his youth minister and pastor at his home church, Lamb of God Lutheran, in Flower Mound, Texas, were instrumental in guiding his career path.
"They lived a life, a Christian faith, the way I wanted to live, and they taught me how to do that," Hoff said.
The second reason was the chance to complete mission work. Hoff has visited four different countries and participated in at least 18 different missions within the United States. His most exciting trip was in 2007 to Juarez, Mexico, where he built two-room houses in 120-degree heat for families living in a shanty town.
"This was probably one of the more formational trips I have been on," Hoff said. "If it wasn't for this trip, I don't think I'd be in ministry right now."
During the trip, 33 out of the 55 missionaries fell ill and had to be hospitalized. Hoff was one of the last victims.
Venturing to Canada in 2006, Hoff worked with the homeless.
"That was very eye-opening just to see the rich and famous life on one block and the next block over making it on meal to meal," Hoff said.
In 2010, he went to Germany. His most recent trip was to Hong Kong in 2011.
"Hong Kong was awesome, because it was extremely different," Hoff said. "It was through the avenue of teaching English that we were able to reach out to the people there."
In addition to mission work, Hoff is active in outdoor activities. He vacations in New Mexico with his family every year, where whitewater rafting, fishing, four-wheeling, hiking and camping are all part of the adventure.
But one particular adventure he remembers well.
Afraid of heights, his father talked him into going on a hot-air balloon ride. After a bumpy landing in a Walmart parking lot, Hoff was thrown from the basket.
Hoff isn't sure what he will do after his internship ends in one year, but he is confident he will be wherever God calls him.
"The more that we can serve each other, the better," Hoff said. "And it doesn't even have to be in a foreign city, it's in your own backyard. How can we serve Plant City?"WiHack Mobile