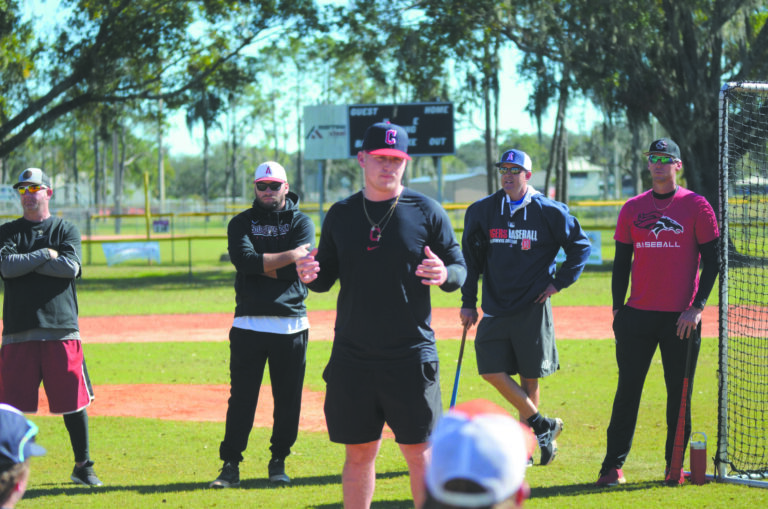 Messick joined a number of local high school and college coaches, along with several former players, at a youth baseball camp last month.
Since its inception in 2006, founder Mark Persails has served as the principal owner of Florida Baseball Heaven (FBH), a full-service, year-round baseball training facility/organization located in Plant City and Lakeland. In an attempt to give local youth players the best possible instruction while also bringing together the central Florida baseball community, Persails once again organized a Christmas baseball camp in late December that featured several local coaches as well as former players with both collegiate and professional baseball experience.
"I've been doing this for so long and it's been a point to build the community up and there's no better way than to bring two of the best high school coaches in the state together and show everybody that baseball is one big family," Persails said. "The competitive nature that you have to have to be any good at it is a must, but almost just as important as that is the people that you're with, the people you play against, just the family atmosphere that baseball really brings. Baseball is a small world as you get to play higher and higher and for all of these kids that get to come out here and meet these coaches and players, hopefully it helps to change some of their lives, that it helps them both on the field as well as off the field, maybe help some of them become doctors and lawyers just through their work ethic."
In addition to over a decade of professional baseball from Persails, FBH's staff and outside coaches that came out to help at the camp brought a wealth of knowledge from their own experiences at both the collegiate and professional level.
Coaches, staff members and former players in attendance included Terry McGriff, a six-year MLB veteran and World Series Champion with the Cincinnati Reds, Scott Dwyer, a volunteer baseball coach at the University of West Florida and former minor league hitting coach in the Detroit Tigers and Texas Rangers organizations, Keven Long, a Plant City alumnus and former pitcher at both the collegiate and independent league level, Plant City High School head coach Mike Fryrear, Strawberry Crest head coach Eric Beattie, Polk State head coach Al Corbeil and former Plant City High School and Florida State pitcher Parker Messick — a second round draft pick by the Cleveland Guardians in 2022 — among others.
"The guys that we have at Baseball Heaven, that's my biggest thing," Persails said. "It's not just being able to win games but it's the people you put around the kids and the village that it takes to raise today's society with all the crazy stuff. We're going to win and we're going to lose and kids are going to go on to play ball in college, that's the easiest part, but the best part about this all is developing a family where everyone is looking out for each other, that's what we pride ourselves on more than anything and I don't know, it's just fun. It's kind of come together. One year we had a Christmas camp where we had Chris Sale and Kevin Kiermeier there, now we have two of the top high school coaches in the area to come together and put aside their rivalries for the betterment of the youth, regardless of what high school they go to, and come out here on a day like today and have fun and do what it's all about."
Baseball Heaven's Christmas camp has taken place sporadically throughout Persails' 15 years leading the organization, but now in its second consecutive year it's an event that he plans on making an annual occurrence. In addition to their indoor facility where Baseball Heaven offers private, semi-private, small group instruction and seasonal clinics, they also feature competitive travel ball teams and team instruction for players ranging from eight to 18 years old.
"It all started when a buddy of mine called me over to do some lessons and the next thing you know someone brought me a little nine year old team and it was so much fun to coach," Persails said. "Then I'm bouncing around from little league to little league doing lessons and the next thing you know we have a program and I really attribute it to putting the best people I can around me, that's how it grew. I tried to always be a good teammate, I played 15 years myself with the Tigers and the Astros and I always prided myself on the family aspect of it. And I was fortunate too, I won five rings playing pro ball, I played on All Star teams, I played in Mexico, I played in Venezuela, so I got to see so many cultures and that's what Baseball Heaven's founded on. It just kept growing and growing, we got an indoor facility, we've got teams from eight to 18, we've got some guys that are committed to Division 1 teams, we've got some guys that are playing in the big leagues and we've got 12 year olds that get to go to Cooperstown. The little guys are always doing something exciting. The 10 year olds go to Pigeon Forge, the 11 year olds all go to Charleston, West Virginia, the 12 year olds all go to Cooperstown and we just try to keep memories. It's just a blast. Then we bring guys like Parker that were drafted and played here and if you put him in front of these guys, maybe one or two of them look at him and just by talking to them it helps them reach their maximum potential."
For more information on Florida Baseball Heaven, visit www.floridabaseballheaven.com or follow Florida Baseball Heaven on Facebook.