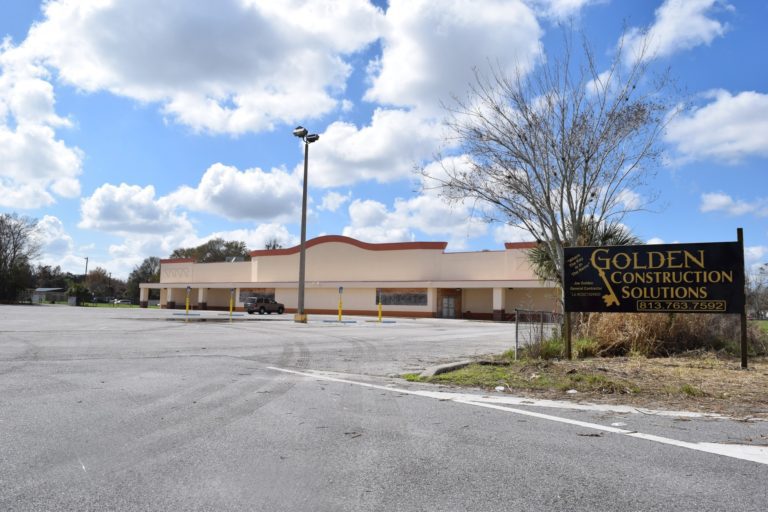 A team of investors, including two local businessmen, is turning the old Sweetbay into an entertainment center.
By mid-spring, Plant City's dormant Midtown district could finally be showing signs of life.
A group of private investors, including Plant City's own Dipak Patel and Ashit Vijapura, plan to convert the old home of Sweetbay and Kash n' Karry on Wheeler Street into a new, all-ages entertainment center and recreation hall by April 30. So far, they're ahead of schedule.
The building will be split into two halves. One portion will be a 15,600 square-foot entertainment center with games, inflatables, three
birthday rooms (which would hold 35, 50 and 60 people, respectively), bowling and laser tag called MAD Zone (the name comes from the first initials of the owners' first names). A soundproof wall will separate MAD Zone from Party Zone, an 8,000 square-foot room with a 250-person capacity designed to hold functions and larger parties like quinceañeras, Patel said. Vijapura said the center will be similar to PK Zone, on Hillsborough Avenue in Tampa.
The group purchased the building and 1.5 acres of land next to it in October and brought in local contractor Joe Golden to help with the conversion. Patel said part of the goal is to help Plant City become a self-sufficient community where residents, especially families, can have all their needs met right here. It's something he felt was lacking as he raised his own children, who are now entering adulthood, here.
"I've lived in Plant City for 30 years. My kids were born here," Patel said. "We don't have any kind of entertainment center like this in Plant City. People have to go to Lakeland, Brandon and different cities. We have a nice community here with nice people. Let's keep it in Plant City."
For Patel and his partners, the project is one of great passion. For Golden and his company, Golden Construction Solutions, it's also a labor of love for his family and what he sees Plant City becoming.
"I've been here all my life, born and raised Plant City boy. I watched them tear Midtown down and I'm glad to be the contractor that's kicking off building it back." Golden said. "Now that I'm in Midtown every day, I'm having visions of a place where we all come together, where there is no limitation on what a community can build together."
The building that will soon house MAD Zone and Party Zone sits on the edge of the city's Midtown redevelopment district. For more than 10 years, city administrations have attempted to develop the land, on which a sign announcing the coming project has sat so long it's become chipped and faded. The city was able to build the Village Green Park, but its fountain remains the only sign of development in the area.
In January, the city selected Taurus Investment Holdings as the sole developer of Midtown. The city is still in contract negotiations with Taurus, but the company expects to be building on Midtown by winter. Despite Midtown's first major development not being an actual part of the city's Midtown development, city leaders and officials have expressed their support for the project.
Patel and Golden said the city has been more than helpful, making sure the permitting and zoning needs were all in place so the project meets its deadline. The building has sat vacant for about five years while the lease ran out, but power and air-conditioning kept it in good shape. Golden said all that had to be adjusted was installing new bathrooms and changing occupancy counts because the usage changed. They even had an environmental study conducted to ensure the air is safe and free from harmful elements like mold.
Building Official Jesse Carr said he's excited about the project, hoping it can help attract more businesses and spur the Midtown development.
"I think it's gonna garner some excitement and bring more people in," Carr said.
Patel and Golden said they hope for the same, that the success of their project can help instill confidence in the viability of Midtown. And, as it builds up, Golden hopes he can be a part of the whole thing.
"We want this as the benchmark for Midtown," Golden said. "I hope to set me up a little office building here and not leave until it's done."
MAD Zone and Party Zone are expected to be completed by April 30, in time for the Hindu celebration of Pooram, Patel said, and just in time for the children of Plant City to enjoy it over summer vacation. Patel said he and his team are investing more than $2 million into the site, but it's more of an investment into the community of Plant City.
"As a business owner we have to do what the customers are asking us," Patel said. "This is something our city can use. It's been a longtime goal we've had to build something like this in Plant City."