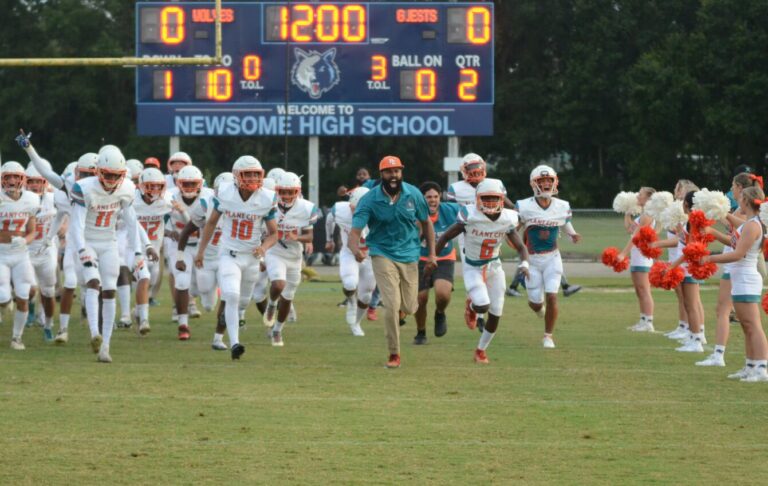 Shortly after the end of his first season at the helm for the Raiders, Clayton has informed PCHS staff that he will not be returning as head coach.
Plant City High School announced on Tuesday that Michael Clayton would not be returning as head coach of the Raiders' football team.
"Michael Clayton officially notified us today that he would not be returning to our program and we wish him the best of luck," PCHS principal Susan Sullivan said. "He came in and motivated kids, he worked our hallways, he got kids to come out for football even if they have never played football before, so he brought a lot of excitement and energy to our program. We had 80 kids out for football in the spring and summer, we had enough to field a JV team, so he brought a lot of excitement to our program. We appreciate what he did for it and he built a foundation that we want to build on."
Clayton inherited a young Raiders team when he arrived at Plant City, one that lost several NCAA-caliber players on both sides of the ball following a 6-5 record in 2021 and deployed just a handful of seniors in their starting lineup in 2022. In his first year as head coach, Plant City finished the 2022 season with a 3-7 record, with wins coming over 4-6 Hillsborough, 7-3 Alonso and 2-8 Jefferson. While Plant City begins the search for their next head coach, defensive coordinator Terrence Hicks has been named interim head coach. A former defensive back at Wharton High School in Tampa, Hicks played football at Southeastern University and joined the Raiders' coaching staff in 2022 following stops as defensive coordinator at Alonso High School and Wharton.
"The biggest thing is that we appreciate what Coach Clayton did for our program and we wish him the best of luck," Sullivan said. "We're excited about our program moving forward. When we told the kids today they were very excited about Coach Hicks being the interim head coach, we hope to continue to build on the things that they worked on this year and we have had a very young squad this year so we look forward to continued growth and excitement within the program for the years to come."
Plant City intends to begin advertising their coaching vacancy soon, with the intention of conducting a search and being able to name their new head coach quickly following the school's Thanksgiving break.