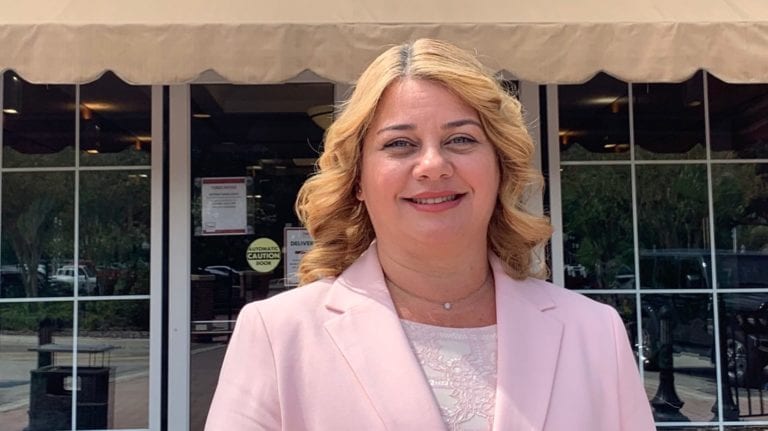 The current Director of Human Resources and Risk Management was confirmed Monday evening as the new assistant city manager. Perez has been in government for 22 years and with Plant City for nearly four.
Some big changes are coming to the city following an announcement Monday evening that Mercedes Perez has been tapped to become City Manager Bill McDaniel's first assistant city manager.
Perez is a name many already know as she has served as the director of Human Resources and Risk Management for nearly four years for the City of Plant City. Her strong management skills, "outstanding ability" to work with people and proven durability under stress made her an ideal choice for the role, McDaniel said.
"I've seen what she's capable of, I've seen her in stressful situations and she brings to the table everything I was looking for in someone to help me move forward with what we're trying to accomplish in the city," McDaniel said. "I think everybody thinks they understand what the city's doing, but they're probably looking at one tiny little sliver or slice of the pie. The city has this huge breadth of responsibilities and they all kind of fall into this office in one way or another. These assistant positions are force multipliers."
The city has budgeted to have two assistant city managers on deck. Perez is the first hire for McDaniel and he said he is currently starting the process to find the perfect second candidate to serve alongside their dedicated team.
Perez said she wanted to be a part of McDaniel's upper executive change for quiet some time. She said he has "such a great vision for the city" and is looking forward to learning from him and working hard to help make that vision a reality.
"Obviously, doing what I do for a living, you have to have strong communication skills, strong people skills," Perez said. "You need to know how to approach individuals. We have something unique here in Plant City. We really try to open the lines of communication between the city and its residents and I think that mindset is still so strong with all of our leaders. I've always felt that in government you can never have enough communication with your resident base in the community. I love that (McDaniel's) all about open communication, about collaboration and teamwork."
She said she's been watching the way McDaniel and the city commissioners have been working toward the same goal and vision for the future of Plant City.
There's a lot on the table and even more in the works, so Perez applied for the position hoping to add something valuable to the process and be a part of the change ahead.
Perez has been in government for 22 years now. She originally worked in the legal field after graduating from high school. She was a receptionist for a legal firm and then a legal secretary. Eventually she moved to take a human resources officer job with the City of Gulfport. That became a Director of Risk Management and Human Resources role and when she needed to move closer to Blake High School for her daughter's education she was offered the job in Plant City.
"I feel blessed and honored that I was even considered for this position," Perez said. "I bring a lot to the table and I know that, but Plant City is such a unique place, it's a wonderful community, it really is. It has that spirit. No matter how much we're growing it still is almost like a huge family at heart. I'm just blessed to be part of the team."
McDaniel was voted in as city manager in January 2018. Prior to that, he served in a variety of roles in the city ranging from rookie cop with PCPD to the department's chief for 16 years, then to assistant city manger himself in 2012. He knows the position firsthand and thus is more than aware of what he wants to see coming out of its role.
Part of the reason it has taken so long to fill those vacancies is McDaniel said he wanted to get a "read on the situation" before he started looking to grow his team. He wanted to work "unfiltered" for a while to fully understand every aspect of his job and then when he was settled start looking for others to come alongside him.
"There's not enough hours in the day for one person to tackle every single thing that needs to be addressed and I have a long list of projects, initiatives and just general management priorities that need to be addressed and I need people to assist me in moving forward," McDaniel said. "I think she is somebody that will do a great job in that."
Perez is more than qualified for the position and McDaniel said, as far as he knows, she is also the first woman to ever hold the role.
The next immediate step for the city is to ensure they find a suitable replacement for Perez as the director of HR. The opening will soon be advertised and the new partnership with the recruitment firm Ad-Vance Talent Solutions, Inc., who the city recently hired, will come in handy as they seek out the perfect candidate. McDaniel said the clock is ticking and they're eager to have Perez fully devoted to her new duties.
"She's a superstar in dealing with people and will do amazing things as my assistant city manager," McDaniel said.