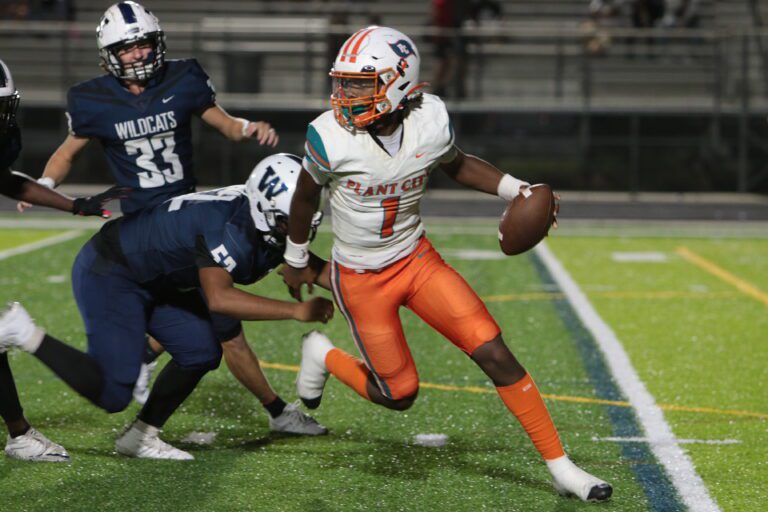 Chris Denson, a junior at Plant City High School, is this week's Athlete of the Week.
This week's Plant City Observer Athlete of The Week is Plant City Raider's quarterback Chris Denson, who led the Raiders to a dominant win over the Strawberry Crest Chargers on PCHS Homecoming night. Denson, a junior at PCHS, completed 15 passes on 18 attempts for 216 yards and a career-high 5 passing touchdowns.
How long have you been playing football?
I've been playing football for about 12 years now. It's something that is just in our family tree as everyone in the family has played football.
Have you played quarterback your whole football career? If not, what other positions did you play?
I've mostly played QB my whole football career. I played a little running back when I was younger, so I feel like that's where my running ability comes from.
Do you have any pre-game rituals?
My pregame ritual is just talking to my teammates and making sure everyone is locked in and ready to go.
What's your favorite thing about Coach Hicks?
My favorite thing about Coach Hicks is how he holds everyone accountable. I feel like that is what makes a team great, it's that everyone can learn to take accountability for their mistakes.
Do you have a favorite play or memory from this season?
My favorite play would definitely have to be my 60-yard touchdown run against Hillsborough. We were down and I believe this is what sparked the team and showed us that we weren't out of the game just yet!
Has football taught you any life lessons? If so, what are they?
Football has taught me many life lessons but one specific thing is that you can't let one thing stop you, you always have to keep pushing and keep going because you'll never get to finish what's ahead of you when you're worrying about the past .
Do you have any favorite NFL or college football teams? If so, who?
My favorite NFL team would have to be the Bucs even though we haven't been playing very well this season.
Are there any quarterbacks you study and try to mirror their game after?
Not necessarily study but I like to watch Michael Vick. I think he changed the game for running quarterbacks.
How do you manage your athletic responsibilities and other outside recreational and non-recreational activities?
I've learned that school always comes first before everything, so
I always worry about my education before even worrying about my athletics.
Do you have any hobbies or interests outside of football?
I just like to spend time with my teammates and build stronger bonds, whether that is just going out to get food or going to each other's houses and playing video games. I think that every little thing matters.
Here's a look at Denson's impressive numbers on the season:
-60.5% Completion Rate
-1,582 Passing Yards
-19 Passing Touchdowns
-68 Carries
-633 Rushing Yards
-3 Rushing Touchdowns
-Longest pass on the season: 86 yards
-Longest run on the season: 64 yards
Follow Chris along his journey on Twitter at @ChrisDenson03