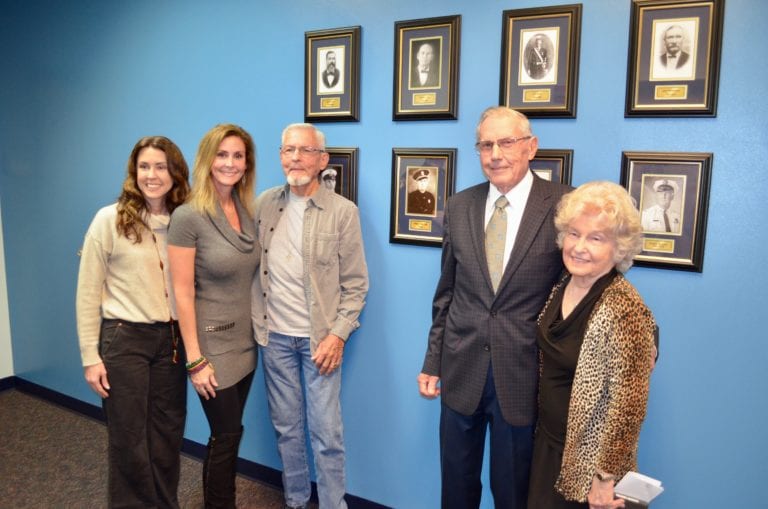 Theodore Jeffers McCall wore a variety of hats in the City of Plant City. Last week, he was honored for his time spent as the city's Chief of Police during a ceremony where his picture was hung on the Wall of Chiefs inside the department.
Theodore Jeffers McCall spent his life pouring back into the city he loved.
He spent practically his entire life working for the City of Plant City. He was a fire fighter, a police officer, a member of the street and bridge department, the chief of the sanitary department, the chief of police, the assistant city manager and the city manager, along with several other positions. He worked as he served: tirelessly and without complaint. 
McCall Park is named in his honor and, for many, the name is synonymous with countless memories of him walking around town getting his hands dirty as he physically worked alongside his staff on the very improvements he helped put into action. Others remember his calm and professional attitude when he handled their cases at PCPD.
His family, especially his son Charles McCall, has spent several years attempting to have his legacy at PCPD secured by having his official law enforcement photo hung on the Wall of Chiefs just inside the entrance to the department. For reasons unknown, the deed was never done. Charles McCall had nearly given up. He'd heard "no" too many times. But one night, he awoke from a troubled dream and knew he had to give it one more try.
"I got in my vehicle and drove to City Hall one last time," Charles McCall said. "I had dad's photo with me and I thought I would go and see if I could leave it, along with my request, with the city manager's assistant. I explained what I wanted and I thought, 'That's all I can do.' But then she came back and said the city manager wanted to see me. She walked me right into his office and there he was, holding my father's photo. So I told him what I was hoping for and he said he would send it to the police chief. It was as simple as that."
This time around, luck seemed to be on Charles McCall's side. City Manager Bill McDaniel quickly passed the photo along with an informational sheet about McCall on to PCPD Chief Ed Duncan. Duncan had the photo framed to match the others proudly on display and then arranged with McCall's family to come out to the department for a special ceremony. 
Charles McCall, his wife Nedra McCall, his brother Jim McCall and Jim's two daughters, Lisa Lekarczyk and Carla McCall, all attended the event early last week.
Chief Duncan explained to the family that McCall was one of their own, that he was a great officer and they were proud to have him on their wall as part of the legacy of the chiefs that made the department what it was today. He told them PCPD was proud to be able to not only hang his photo, but soak in the moment with his entire family.
Duncan also presented Charles and Jim McCall with official PCPD coins to commemorate the event.
Charles shared a short speech with those in attendance. He joked that, growing up, there were times when he was a "little peeved" at the city taking his father away from them so often as he handled countless work projects around town. However, he went on to say they were always to proud of the work their father accomplished and knows that his legacy lives on all throughout the community.
He shared a few memories of his father's life and later added that the city "did him well" when he retired. The entire city came to a halt and they held a "McCall Day" celebration at the Mike E. Sansone Community Park that nearly every city employee attended. He received a few gifts throughout the day, including his old PCPD car and a TV set — the very first the family ever owned. 
"He was such a wonderful father and he was so dedicated to the city," Charles McCall said. "He was an 'on the job' man. He didn't just assign people to do jobs, he went alongside them and made sure when things needed to be done, that they were done. And that they were done right. I think that's a big part of what people remember about him. He always worked hard, day or night, if there was a job to be done."
His father lived a life that many would only ever read about in books or see on TV. He was a veteran of the first two World Wars and the son of a blacksmith. His father moved the family to Plant City from Georgia in 1913 and opened the last blacksmith shop in town on Pennsylvania Avenue between Reynolds and Baker streets.
Theodore McCall was known by many names, like "T.J.," "Mac" and, most popularly, "Theo." He graduated from Plant City High School in 1923 and left to find work in Texas. He then worked in Miami with his uncle as a plumber before returning home to Plant City in 1926. He took a job at the Fire Department and began to eye the sky.
He and his friend Clarence MacArthur wowed the masses with their barnstorming tricks. They'd fly a plane up off of Coronet Road and, once it was in the air, McCall would carefully walk along a wing, grab a parachute strapped to its underside, don it and jump to the amazement of the crowd. The duo charged $1 a person for the show and felt like they had found a prosperous side-job. That is, of course, until they one day hit a cow grazing in a pasture while landing the plane and tore their aviation craft to bits. Flying was over.
So, never one to sit still, McCall migrated over to PCPD. It was there he found his true calling. He worked for decades as a police officer and was Chief of Police in 1939 before he took over as assistant city manger for a year. From there, he became City Manger of the City of Plant City and served in the position for nearly 27 years.
Though his time as police chief was short, his years of service at PCPD shaped McCall into the man that the entire community loved and respected. It was for that very reason that Charles McCall wanted so desperately to one day see his father's photo hung up alongside the many men who left an impact on the department.
After years of trying, his dream became a reality. The picture is now proudly on display and anyone interested in seeing it can swing by PCPD, 1 Police Center Drive.