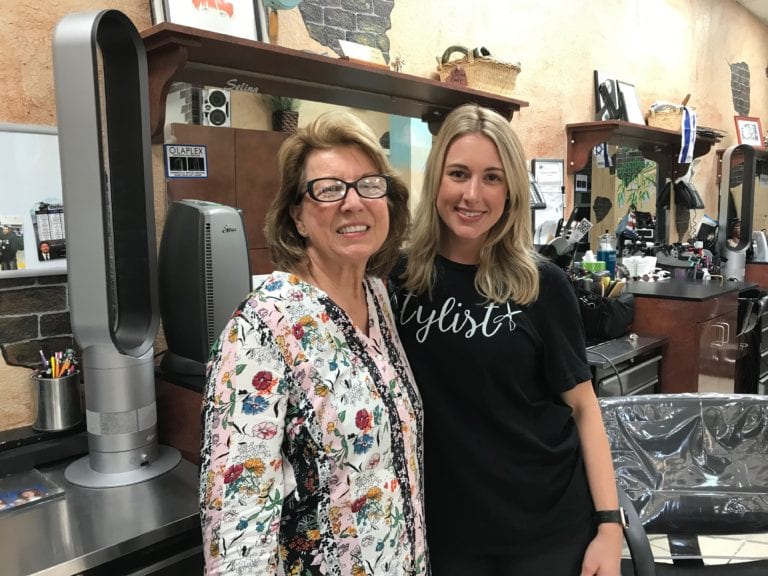 The salon has been a downtown fixture for nearly 21 years.
Barbara Martin knows what it's like to have hair you're not happy with. Growing up with what she calls "crappy hair" helped motivate her to make sure no one she can get her hands on will ever know that feeling, whether it's her family or her clients.
Martin's Place for Hair, Skin & Nails was the first business to open its doors in the Lee Building after its 1998 renovation and has kept Plant City residents' hair looking good ever since.
"December 15 of last year was 20 years," Martin said. "We love it downtown. I've always said if you were downtown, you could be anything you wanted to be."
Martin and the rest of the staff are always keeping up to speed on all the latest styles and industry trends for men's and women's hair.
Martin herself picked up esthetics after learning to do hair, so the salon could offer facials and other skincare services, and it also grew to add some services for nails to its repertoire.
There are currently five stylists working in the salon and Martin said the entire group tries to attend any industry show it can whenever it can to learn as much as possible.
"We have a good bunch of girls in here," Martin said. "They're all seasoned hairdressers."
Running a salon had been Martin's dream job since she was in the second grade and she's not the only one in her family to have caught the bug. She inspired her granddaughter, Jessica Welch, to learn the ropes as a stylist from an early age and Welch eventually became a part of the staff, also hoping to learn enough to one day run her own place.
"I grew up here, in the salon," Welch said. "My grandparents had it pretty much all of my life, so I would make any excuse to come up here and hang out and be in the salon environment… it was in my blood to do hair."
Several generations of Plant Citians have gone to Martin's Place for their haircare needs because Martin and the stylists go out of their way to make everyone who walks through the door feel welcomed. Some clients have been with the salon long enough that their kids practically grew up in there.
"What's really neat, in the 20 years we've been here, we've watched our ladies have their kids," Martin said. "We've changed their diapers in the back room. And now we're watching these kids graduate from college. The same kids. And they say if they've learned one thing, they've learned how to drink coffee from Miss Barbara."
Though Martin has styled hair for several decades now, she has no plans of slowing down. Her coffee intake definitely helps there, but the main thing is her love for the work hasn't faded at all and her love of Plant City means Martin's Place will likely keep going strong in the heart of the Historic Downtown district for several more decades to come.
"As long as I've got the passion, I'm going to stay working," Martin said. "I've been at it a while and I hope I've got a whole lot longer to go."
Martin's Place is located at 110 E. Reynolds St. Suite 400. The salon is open Monday through Saturday and the stylists are available by appointment. Call 813-759-1023 for booking. Walk-ins are accepted when the stylists are able to accommodate them.