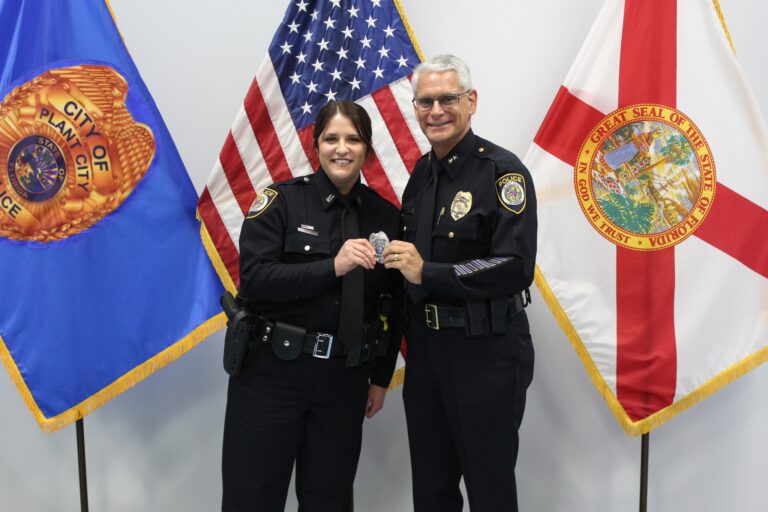 Among those recognized at PCPD's Awards Ceremony include new and retiring officers, a special Chief's Award recipient, promoted officers, two K9 retirements and officers who earned special recognition for their achievements.
Plant City Police Department recognized many of its own, and one civilian, at an Awards Ceremony last week at Michael S. Sparkman Police Center.
After a welcome, invocation, presentation of colors, pledge of allegiance and opening remarks to a standing-room-only crowd, master of ceremonies Captains Robert McLellan and Dave Millich got down to the business of recognizing award recipients.
The Life Saving Award was bestowed upon:
* Corporal William Harvester and Officer Justin Castro- In July, Harvester and Castro responded to a call that involved a citizen wanting to end her life. They located her at a nearby pond and, with no regard for their own personal safety, waded into the water and were able to save her life, maintaining the oath taken to protect and serve the community. In conjunction with the response, Officers Adam Heist, Greg Nelsen and Oresha West were awarded the Employee Recognition Award.
* Officer Michal Pietrusinski- In August, Peitrusinski was enjoying a leisurely walk with his fiancee when he saw a home engulfed in flames and heard screams coming from inside the structure. He entered the home to save the lives of the children who were trapped inside. His bravery and quick resolve saved the life of a young boy before the fire department arrived on the scene to rescue the other child.
A unit citation was awarded to ten officers who responded to the report of an armed carjacking in progress near the intersection of Charlie Griffin and Mud Lake Roads. After a long and intense interaction with an armed suspect, the officers were able to diffuse the situation without casualties, displaying teamwork, restraint and professionalism. The officers recognized include Sergeant Justin Carpenter, Sergeant Justin Lee, Detectives Daniel Hernandez and Thomas Trimble and Officers Dustin Colkmire, Quentin Garrell, Derek Hartmann, Austin Johnson, Rebecca Monroe and Cody Shou. Telecommunicator II Flor Torres also received the award for her participation in the incident.
Six department members received Employee Recognition awards for successfully capturing a subject who fled following a single vehicle crash. It was later determined that the vehicle had been stolen. Inside a backpack the suspect was carrying, a large amount of methamphetamine was found.The suspect was also wanted for several outstanding violent felony warrants from other jurisdictions. The officers recognized included: Officers Jef Hilsman, Greg Nelsen, Michal Pietrusinski, Josh Snyder, Yarley Vasallo and Devin Wilson.
Officers who earned promotions include Sergeants Tiffany Lindsey-Tester and Justin "Chad" Carpenter and Corporals Patrick Walker and William Harvester.
Kaitlynn Falletta, badge number 393, was sworn in to begin her journey as a PCPD police officer. Prior to joining PCPD, she worked at Polk County Sheriff's Office for eight and a half years.
Retiring from the Department was Officer Thomas Velez, who has been with PCPD since 2012 and served in its Uniform Patrol Unit. After his honorable service, Velez will be allowed to keep his duty firearm, a PCPD uniform, retired police ID and later receive his retirement badge. "We wish him a very happy retirement," said McLellan.
Jax and Leto, two K9 police dogs, also retired and were recognized for their contributions to the Department.
Not every award recipient is an employee with the PCPD. Chief Bradford presented the Chief's Award to Plant City resident Judy Wise for her tireless and immeasurable support of the PCPD, including supporting police families, assisting with the National Prescription Drug Take Back Day and preparing holiday meals with the Elks Lodge to honor officers for their service.
"She moved to town in 1998 and quickly began making an impact on the city not because she was seeking recognition but because she has a servant's heart and loves people," said Bradford. "She's known for generous contributions of her time and talents."
Bradford ended the ceremony with words of gratitude for all PCPD employees. "We in law enforcement face many challenges but the members of this department have stepped up to treat those we serve with dignity and respect," he said.