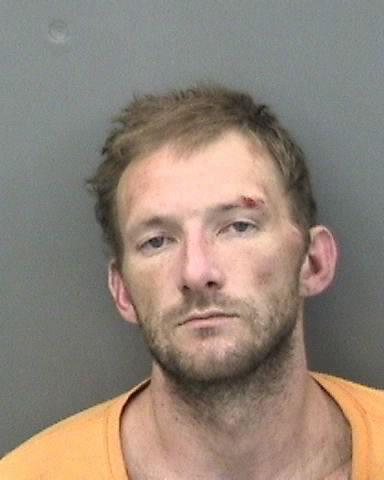 Christopher Lee Jones attempted to steal a cell phone case and spray a police officer with mace, but was stopped.
If the first Indiana Jones movie taught us anything, it's to not bring a sword to a gun fight. The same, it seems, could be said for a can of mace.
The Plant City Police Department Tuesday arrested Christopher Lee Jones, 28, of Tampa, after a foot chase and gun-to-mace standoff ended with Jones being tackled to the ground by a bystander after he was hit with a taser and sprayed mace at the officer, according to PCPD.
Just before noon Tuesday, PCPD spokesperson Al Van Duyne said, PCPD responded to Walmart, following up on a shoplifting call. Walmart's loss prevention said they saw Jones attempting to steal a cell phone case. The tall and slender Jones took off on foot when the officer tried to arrest him, pulling something from a holster on the rear waistband of his pants. The officer pulled out a gun and pointed it at Jones, ordering him to stop, PCPD said.
Jones then turned to face the officer and began advancing, PCPD said. The officer realized Jones was holding a can of mace and traded the gun for a taser, telling Jones to stop and turn around. Jones ignored the commands. As he advanced toward the officer, Jones shouted obscenities and threatened to spray the officer with the mace, PCPD said.
Probes fired from the officer's taser and hit Jones. Unbowed, he took off once more through the Walmart Parking lot.
"The taser was deployed in an attempt to neutralize Jones, but the probes did not affect him and he was able to swipe them away," Van Duyne said. "It is believed they penetrated his clothing briefly, but not his person to achieve the desired results of neutralizing his ability to flee and be detained."
The officer called in the foot chase, prompting more units to respond. In all, six units responded or were en route. Jones ran into more police and turned to again face the officer, again pointing the mace and threatening to use it.
"A few moments later, Jones did spray the contents of the can towards the officer," Van Duyne said. "A good Samaritan was able to tackle Jones from behind which allowed police to place Jones in custody. A search of his person…yielded one gram of methamphetamine and several items of drug paraphernalia."
The officer wasn't hit with the mace, but Jones was hit with the pavement, leading to a few cuts and scrapes, PCPD said. Jones was charged with felony petit theft, resisting arrest with violence, aggravated assault on a law enforcement officer, possession of a controlled substance and possession of drug paraphernalia. He was transported to the Orient Road jail.
According to information from the Hillsborough County Sheriff's Office, Jones has been arrested at least 16 times since 2006 on charges ranging from drug possession and car theft to burglary and fleeing officers. No bond was set as of Wednesday.