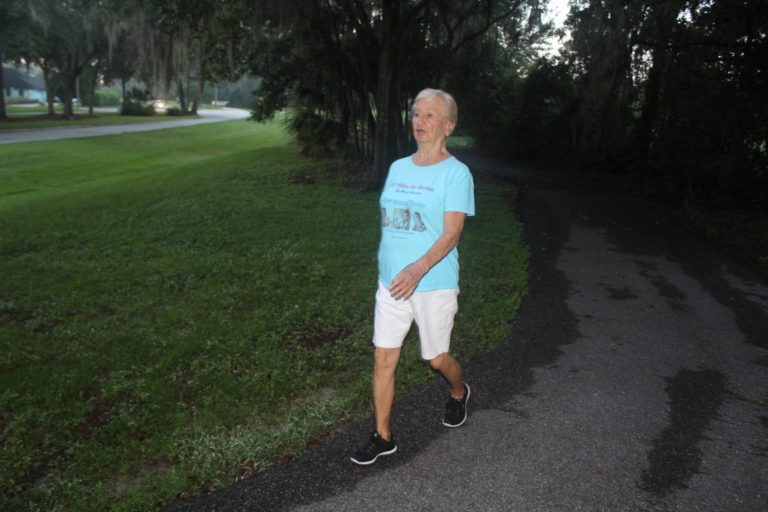 Margie Gonzalez is raising money for Operation Smiles by walking 87 miles by her 87th birthday.
As the sun began to rise on the horizon of Walden Lake, Margie Gonzalez waved at a passing car as she briskly walked over a tree lined path, past an overgrown golf course and toward her goal of providing 20 surgeries for those in need.
Gonzalez, a member of Plant City's General Federation of Women's Clubs, is raising money for Operation Smile by walking 87 miles, a mile for every year she's been alive, by her 87th birthday on Aug. 25.
"I've been so lucky," Gonzalez said. "Everything I've done has been for me. I've had parties, played golf two or three times a week and I just thought, 'At your age you really need to do something for someone else.'"
When Margie Gonzalez first heard of the Women's Club she assumed it was a group of ladies who played bridge and had fashion shows. Despite her hesitations, she showed up to a meeting and realized how wrong she had been.
Rather than gossiping about the latest town scandal, these woman spent the entire meeting updating the group on the multiple charities, causes and projects they were working on throughout the city. Woman after woman spoke about the change they were making in society through their committees and Gonzalez was hooked.
One woman in particular, Patricia Wolff, head of the International Outreach Committee for the club, captured Gonzalez's attention. Wolff had adopted Operation Smile, a nonprofit medical organization that provides hundreds of thousands of free surgeries to children and young adults in developing countries with facial deformities, as her committee's platform. Gonzalez said Wolff's passion for the organization is a large part of why she originally became involved. She said the woman's fervor was contagious and without her encouragement, none of this would have been able to happen.
Wolff said her love of Operation Smile began when she lived in Mexico. She had once been treated by a doctor at a local clinic who, upon closer inspection, she realized was a survivor of a cleft palate surgery. The rest of the appointment was a blur and Wolff said while she doesn't remember paying attention to a single thing the doctor said, she does recall being overcome with a sense of pride at the young woman's accomplishments.
"I never forgot about her," Wolff said. "When I came to the United States and saw Operation Smile I always remembered her. I don't know who paid for her surgery, I don't know if she got help from an organization or if her parents were wealthy enough to do everything, but I thought if more kids have the surgery then more kids can become doctors or whatever they want to be and they won't have to die before they turn 18, because most kids with cleft palates don't make it to 18 years old."
Under her tutelage, Gonzalez began to be heavily involved with the committee, helping organize fundraising dinners and aiding Wolff whenever there was an event. When Gonzalez began to plan for her birthday, she realized there was a golden opportunity ahead of her. She spoke to Wolff and told her that rather than have a party where everyone brought her gifts and fawned over her, she was going to make a difference in someone else's life.
She vowed to walk 87 miles and raise money for the organization. She refused to be put off by the Florida
heat and would head out each week with the rising sun, greeting encouraging neighbors as she went out of her subdivision and down the street at a brisk walk. The odometer strapped to her waist kept count as she marched her way toward providing 20 surgeries for those in need.
A week before the grand finale, Gonzalez had successfully raised nearly $4,000. Her goal was $4,800 and she has contributions from people both locally and as far away as Canada. Though the fundraiser is over, she said she plans to continue to remain active and wants to further her involvement with the International Outreach Committee and Operation Smile.
Prior to the walk, the International Outreach Committee had already paid for 14 surgeries. Each surgery costs approximately $240, according to Operation Smile's website.
Wolff, along with several other members of the club, promised to gather at Gonzalez's house Friday morning to walk with her for the 87th mile. The women plan to have a finish line draped across the road for her to break through in celebration of not only the completion of such a physical feat, but also to commemorate the many lives that will be forever changed thanks to Gonzalez's benevolence.
"Whenever I would wake up and just be too tired to go walk or was considering stopping, I would just think of the faces of the children who have successfully had the surgery and suddenly I was ready to go," Gonzalez said. "It's as simple as that. I'm doing this for them. They're my inspiration."