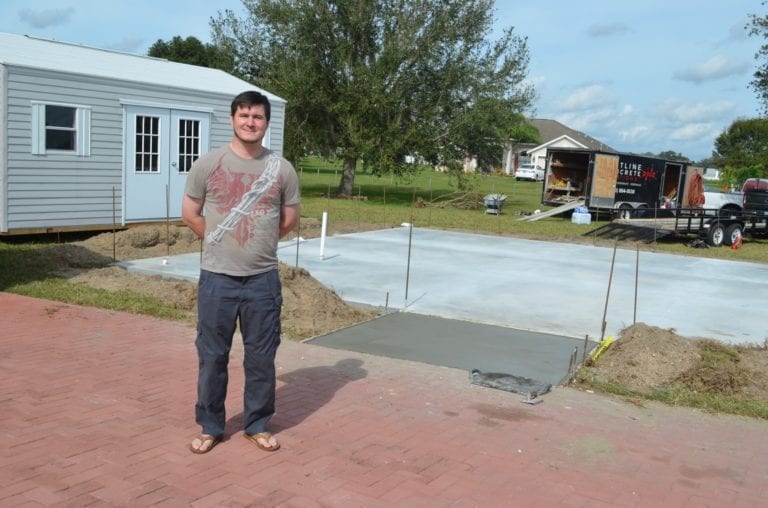 A new maker space is coming to Plant City offering local creatives a venue to construct and craft while also providing informative classes for those who wish to acquire new skills.
*Updated Dec. 7: Due to a deed restriction the maker space will be moved to an as of yet undisclosed location.*
A community prospers when those who seek to make it better use a collective voice to implement change. One local resident is on his way to bringing a one-of-a-kind workshop to town in hopes of expanding knowledge throughout Plant City.
Brandon Johnson is a man of many talents. He's a lead software engineer at the Walt Disney Company and in his free time is an avid pilot, scuba fanatic and handyman.
He's always been interested in sharing his knowledge with others and is building a workshop along Ralston Road that will aim to enhance and introduce skills of all levels to the community.
"For me, growing up I personally didn't know how to learn so many essential skills," Johnson said. "There are these great groups throughout the area like MAKE Plant City, the Lakeland Maker Community and the Lakeland Creative Makers. They are sharing their knowledge and skills with each other and I just thought it's time we had a maker space."
The 1,280 square-foot space will have a workshop bay, a wood and metal cutting workshop, an electronics
workshop and a planning area. Membership will be $50 a month, $75 for a family or $100 booster and members will have a code to access the building whenever they want. They will also have discounts on the teaching courses that Johnson plans to have frequently in the planning room.
Johnson said the money will go toward operating expenditures, construction costs of the building, a membership fund that will purchase new or repair equipment and to a general recovery fund for unforeseen expenses. He hopes a board of directors will be established to help vote on how to utilize the membership fund and steer the workshop into the perfect asset to the community.
Field experts will come in and offer a "how-to" course for the community, teaching skills to anyone interested in attending. The shop will have 3D printers, a brewing lab, lathe, laser cutter, melting furnace, table saws, woodworking tools, bins and dishes for resin casting and more. Practically any project can be completed on-site.
"I want to offer a service to the community," Johnson said. "The goal is to build a community, not make a profit. It's designed and aimed at makers. There's nothing like this locally and by having this space maybe we can open the doors to informative communication and help each other grow and learn new skills."
The skills he hopes to impart on attendees range from how to fix a television or toaster to how to complete carpentry projects. Because the area is such a heavy farming community, Johnson said he wants to have classes to teach local farmers how to restore their own equipment, especially the dated or more complex machinery that costs a hefty penny to outsource repairs.
"I can't tell you how many times I've seen a TV on the side of the road and when I take it home it's a $2 fix," Johnson said. "Sometimes it takes knowledge or tools we don't have easy access to. This space will solve that. You'll have the tools, you'll have the opportunity to learn and I'm sure there will always be someone around that will have the knowledge you need."
The permits have been acquired and construction is underway. Once all the major construction is complete he's going to open an invitation to local makers to help finalize the building. It's made by makers, for makers and together he hopes they will come up with a perfect name for the workshop he expects will be open by February 2019.
Johnson has posted about the space in a variety of local maker groups and the feedback has been flooding in. Everyone seems to be ecstatic to have the opportunity to have such a unique workspace and many are reaching out to volunteer their time and talents to create the space. The workshop is on Johnson's property and he said it just seemed like a natural course considering he's spent his life actively pursuing new passions.
"I just never wanted to be bored," Johnson said. "I'm always looking out for the next way to learn. You can always find something cool to spark your passion. This space will allow the entire community to constantly be learning and getting hands-on experience."