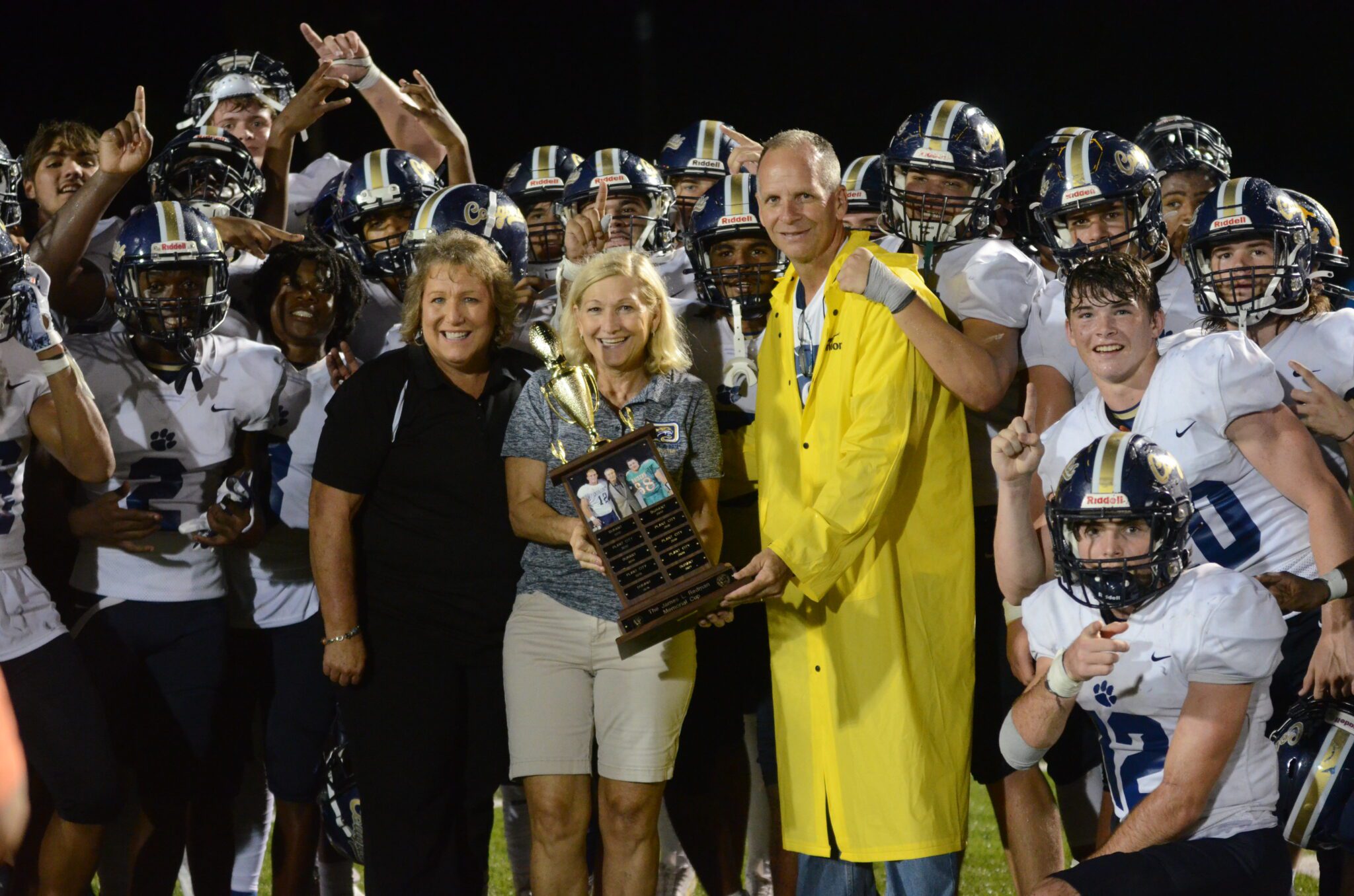 Here we look ahead to some of the biggest games for Durant, Strawberry Crest and Plant City this season.
Aug. 25: Durant vs. Chamberlain
After back-to-back eight-win seasons in their first two years under head coach Claybo Varnum – seasons that included the Cougars' first district title since 2014 and their first victory over Newsome in their annual Alafia River matchup since 2017 – Durant will look to kick off their new year in a big way as they welcome a Chamberlain squad that finished the 2022 season at just 3-7. But more importantly than the matchup itself, the Cougars will not only use their season-opener to unveil their brand new turf field along with other improvements made to the athletic complex, but will also welcome back a number of Durant football alumni as they celebrate the 2003 Durant team that made a run to the state Final Four.
Sept. 1: Crest @
Spoto
Strawberry Crest moved to 2-0 and posted their first of three shutouts on the season when they made their way to Spoto last season and came away with a 21-0 victory. With a more experienced team that's primed to return most of their production from 2022, Spoto will look for a different result as they host the Chargers early in 2023.
Sept. 8: Durant @ Bloomingdale
As the Cougars opened the 2022 season with a 7-1 record through the team's first eight weeks, the lone blemish on their schedule came in the form of a razor-thin 15-14 loss at the hands of Bloomingdale. With the Bulls looking to regain their footing after two consecutive losing seasons, Bloomingdale could serve as a measuring stick early in the Cougars' season after opening the year against Chamberlain and Middleton.
Sept. 14: Durant vs. Plant City
There are few rivalries in the Plant City area that match the excitement of the annual Redman Cup played between Durant and Plant City. Even with vastly different records at the end of 2022, the Redman Cup was a dogfight to the last whistle as Durant narrowly escaped with a 21-13 victory over their crosstown rivals after trailing 7-6 at halftime.
Sept. 22: Plant City vs. Hillsborough
After opening the season with four losses in 2022, Plant City claimed their first victory of the year with a 19-7 win over a Hillsborough team that finished the year at 4-6. In a battle between two historically strong programs that are looking to rebound from somewhat uncharacteristic records last year, Hillsborough will be looking for revenge as they make their way to Plant City.
Sept. 29: Durant vs. Sumner
In what ultimately resulted in claiming a district title, very few moments put that accomplishment at risk more than Durant's trip to Sumner last year as the Cougars came away with a narrow 14-13 victory over the Stingrays. For the Cougars' hopes of another district championship in 2023, it may very well hinge on another strong home win over an improved Sumner team.
Oct. 6: Strawberry Crest @ Middleton
Middleton nearly claimed a district title in 2022 on the heels of a 6-4 record that included a 12-8 win over Strawberry Crest, moving the Chargers to 5-2 after a perfect 5-0 start to the year. Middleton and Crest are both looking to build on identical winning records last year and will likely put on a highly-competitive showing when they meet in early October.
Oct. 13: Durant @ Newsome
Another huge rivalry game in the Plant City area is the Alafia River Rivalry between Durant and Newsome. If you look to the sky from a Friday night football game at Durant, you can see the lights shining from Newsome's stadium over the trees in the distance. Durant clinched their first district title since 2014 with a thrilling overtime victory over Newsome in 2022 — the Cougars' first win over the Wolves in four years — and 2023 is sure to be another exciting installment to the annual matchup.
Oct. 20: Durant vs. Gaither
Durant entered their late-season meeting with Gaither in 2022 at 7-1 on the year, fresh off of a huge overtime win over Newsome that clinched their district title. Despite 311 passing yards from quarterback Mike Ryan, it wasn't enough to overcome 11 sacks from Gaither's front seven as the Cowboys came away victorious in the 41-35 shootout. Look for another exciting contest this year as Gaither makes their way to Durant.
Oct. 27: Plant City vs. Strawberry Crest
With the two teams sliding in opposite directions last year, Plant City made their way to Strawberry Crest last year where the Chargers squeaked out a 14-6 victory in the low-scoring affair. With familiarity and bragging rights on the line, there is always excitement when two Plant City area teams meet.
Nov. 3: Strawberry Crest vs. Lakeland Christian
As the Chargers look to hopefully finish another winning season strong, they will end the year against a Lakeland Christian squad that ended 2022 with an impressive 9-2 record.