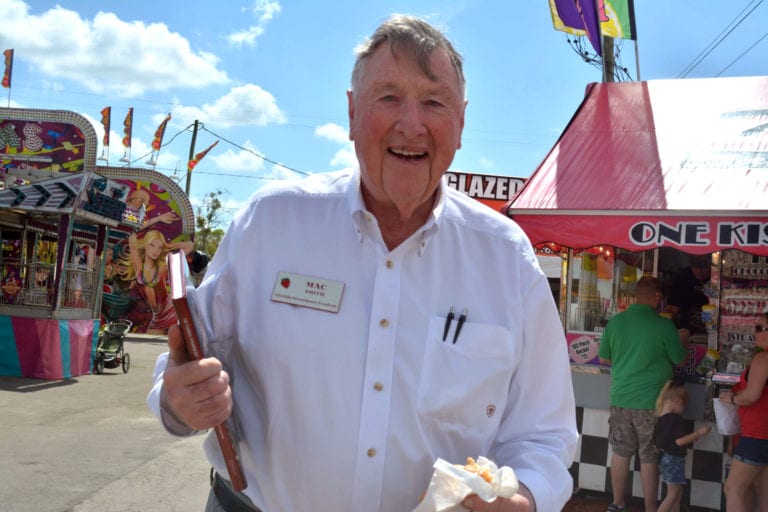 Bryan McCain "Mac" Smith Jr. never met a stranger. His sincerity toward others and his deep love of his community forever cemented his legacy as one of the greatest men to come out of Plant City.
There are few men in Plant City's history that have left a lasting mark like Bryan McCain "Mac" Smith Jr.
He was known as much for his impeccable work ethic as he was for his humble nature. He was a man everyone wanted to meet and a friend everyone was grateful to have. Smith, 90, taught his community what dedication truly looked like. He was a member of First United Methodist Church for 85 years, he served for 24 years in the Navy and Navy reserves and earned the rank of Lieutenant Commander during his time as a Navy Aviator.
Wherever he went he spoke fondly of his hometown, making friends in every state and placing a longing to visit the rich strawberry fields and blossoming festival deep in their hearts by the time he walked away. He was director emeritus and past president of the Florida Strawberry Festival and even after his service as a leader was complete he continued to give everything he had to ensure the world knew of the gem found nestled among Plant City.
"He was just so proud of Plant City," Marion Smith, his daughter, said. "Every time we would go on vacation, or virtually anywhere, Mom and I would be waiting patiently while Dad told folks to make sure they went to FLstrawberryfestival.com on their computer."
It's a tradition his family plans to replicate. His grandchildren made a vow to tell at least three complete strangers a year about the festival. They'll commemorate his memory by placing strawberry stickers on those they befriended and carry on Smith's mission of welcoming others into his beloved community.
It's unlikely there is anyone that lives in Plant City who hasn't interacted with Mac. He and his family moved to the strawberry town when he was only four years old. Since then he planted his roots and quickly became a foundation of the community.
He was the former Chief Test Pilot for Aero Corporation, as well as the former Owner and Chairman of B.M. Smith Motors and many know him as the current Chairman of KDM Associates Real Estate Holding Company. He loved and supported the Boy Scouts and the Plant City Photo Archives and History Center. He served in Kiwanis Club, the Chamber of Commerce, the Hillsborough County Aviation Authority, Hillsboro Bank and countless other organizations.
He made just as many — if not more — friends during his free time when he sat back and took a moment to enjoy the little things in life that he held so dear.
He simply loved others. A family attended his visitation last week and said one day Mac walked up to their toddler and asked if he had a piggy bank. When the parents confirmed he did, he reached into his pocket and pulled out a gold dollar, handing it over with a smile. In a matter of seconds, he made such an impact on this family's life they showed up to officially say goodbye.
When he made friends he kept them for life. Don Walden was in the first grade when he and Mac sparked a friendship that lasted for the rest of their lives. They played sports and were involved in all the normal organizations high schoolers spent their time on.
When graduation came they went their separate ways, heading off to college and the military, but when Walden returned in 1973 it was like they'd never left.
"As far as memories go, I'll just cherish the friendship we enjoyed all this time," Walden said. "Our companionship, similar ideas and so forth. It was a positive relationship. He was very congenial and understanding. He was there when you needed him and a good listener, as well as participating in whatever it was, whether it was discussion or a Kiwanis club activity or some other civic activity, he always had a positive attitude toward what could be done rather than anything negative."
Having a conversation with Mac was like stepping through the doors of the past. Gentility ran through his blood. He never met a stranger and was instantly kind and welcoming to everyone he met. He taught his daughters how to treat people, how to interact with others with sincerity and respect.
"For me and my sisters he was such a great dad and such a great grandfather to his six grandchildren," Marion Smith said. "He was a good role model and supported us in all we did. Dad always gave us great advice and we have always looked up to both of our parents. Mom, Debbie, Kathy and I are going to miss him terribly, but we know he is in a far better place now. Even though Dad is not with us anymore physically, his influence and love will continue to thrive in all of us."
He proved the impossible was possible. While working a full-time job and serving on countless boards and committees, he still was able to be the foundation for his family. He was married to his wife, Marion "Cookie" Smith, for 67 years and had three daughters, Debbie Petrina, Kathy Wood and Marion Smith.
He and Cookie formed a strong family bond that has lasted through the generations that followed. There are little sayings and phrases of Mac's that the family finds themselves saying everywhere they go. Through their father and mother they learned how important family is and it's a lesson they'll continue to pass down for years to come.
Walden said Mac lived with a sincerity that was contagious. When he had a conversation with someone they captured his full attention, whether it was a matter of business or simply a chat to catch up with an old friend. He listened, shouldered your concern and always followed through.
He and Walden would frequently take a meal at one of the many vibrant restaurants in town and they never failed to bump into someone who wanted to take a moment and fellowship with the duo. Even if it was someone new, Walden said Mac never met a stranger and was quick to greet passerby's as if they were the only people in his presence.
"We'll always remember the consideration he gave to other people and his positive attitude toward personal, business and community life," Walden said. "He focused on how things could be done in a matter that was beneficial rather than to choose to be negative or focus on what wouldn't work. He thought about how to get things done and then he did it. He never sought attention, he just did the right thing."
Regardless of if you spent eight minutes in Mac's company or 80 years, you walked away a better person. His legacy, his fervor for life can be summed up simply by the phrase printed on the back of his obituary cards at his service: "What we are is God's gift to us. What we become is our gift to God."