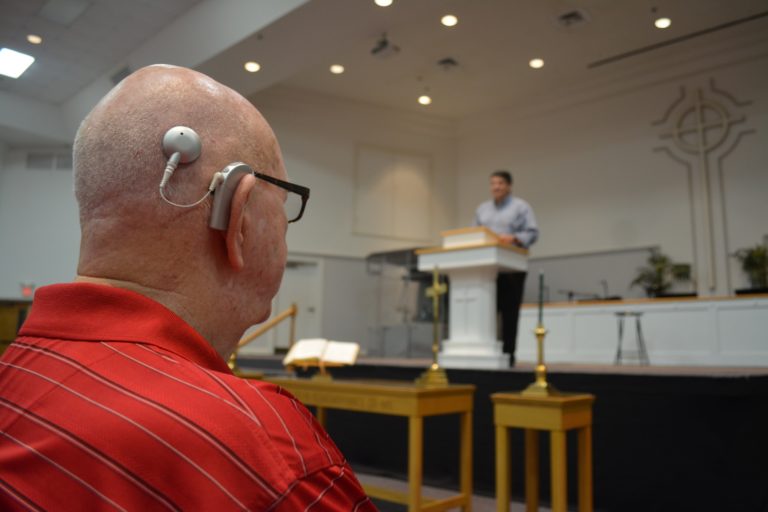 After a hearing loop system was installed at GracePoint Church earlier this month, hearing-impaired churchgoers are now able to hear sermons loud and clear.
Harley Crosby has been going to church for as long as he can remember. As a child, he would sleep on a pillow on a pew while his father, a Baptist preacher, led sermons. To date, his two favorite subjects are religion and politics.
He and his wife, Doris Crosby, are bonded by their faith. The couple has been attending GracePoint Church in Plant City since 1999.
During his career in the United States Air Force, Harley Crosby worked around aviation units. He suffered from hearing loss and eventually went deaf in September 2013. Though he had a cochlear implant installed in 2014, hearing sermons in church was impossible.
Doris Crosby saw how his hearing problems affected her husband. He kept his head down in church.
"You isolate yourself," Doris Crosby said. "You don't want to go anywhere because you can't participate. It was devastating to me too. When we first met we used to sit and talk for hours. When he lost his hearing … we did that less and less."
But, as of Wednesday, Aug. 3, Harley Crosby is able to listen to sermons once again — all thanks to a loop of copper wire.
Tuned In
Because of his hearing aid, Harley Crosby is able to benefit from a hearing loop, a cable installed in an area that generates a magnetic field. An audio signal can then be sent directly to the hearing aid of someone who is within the loop cable area. By turning on the telecoil, or T-coil, in his cochlear implant, Harley Crosby is able to hear everything coming through the connected sound system.
"It becomes the hearing aid," Harley Crosby said. "The implant becomes the speakers. It's a direct tap into the system. Everything else is blocked out."
In the past, Harley Crosby heard static based on how far away he was sitting from GracePoint's pastor, the Rev. Scott Lawry. Background noise could also interfere. The hearing loop helps eliminate many of those issues.
"Two weeks ago was my first time hearing Scott (Lawry)," Harley Crosby said. "It was very enjoyable."
"I could see he was focused," Doris Crosby added. "In the past, he just kind of looked down."
GracePoint installed the hearing loop system underneath the carpet around one section of the church's sanctuary. Anyone who sits in that area of the sanctuary with a hearing aid with T-coils will be able to tune in — literally — to the sermon. The section of the sanctuary hooked to the hearing loop system is marked with a sign.
Between 60 to 80% of all hearing aids sold have T-coils, according to Indoor Wireless Solutions.
If any hearing-impaired church attendees do not have the T-coil, they are able to use a headphone system that also can hook up to the church's sound system.
Hearing Granted
The cost to install the hearing loop system in the sanctuary at GracePoint was a one-time expense of just over $4,300 and took about five to six hours to install. To enable the entire church on the hearing loop system would have brought the expense to about $17,000.
Harley and Doris Crosby were able to obtain a grant for the church through the Lakeland chapter of the Hearing
Loss Association of America. The couple helped start the chapter.
"That's how we gathered some of the material," Doris Crosby said. "The next closest chapter is in Sun City. It was fairly easy for us to get the grant. We had some private donations as well."
The couple received help from Art Matlock, a representative from the Lakeland chapter.
"He was instrumental in getting the grant as quickly as we did," Doris Crosby said.
The installation of the hearing loop system at GracePoint has helped the couple, and they hope the church can now operate as a more welcoming place for members of the hearing-impaired community.
"When you go without it for so long, you're kind of empty," Harley Crosby said. "(It's nice) just because I can hear and pay attention, and we can talk about it."
Contact Emily Topper at etopper@plantcityobserver.com.