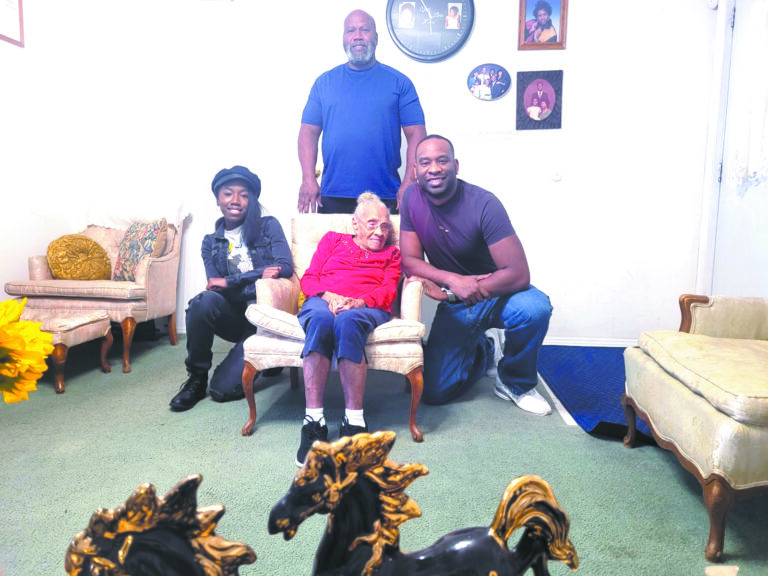 The Bealsville resident and former-schoolteacher enjoyed well-wishes from family, friends and former students.
Leola McDonald, a resident of Bealsville, celebrated her 105th birthday on Jan. 17. To celebrate the milestone, her family lined their front yard with balloons and hosted a drive-by so well-wishers, including members of the Antioch Missionary Baptist Church, former students and community members, could share messages of love and congratulations.
"At first she was wondering what was going on but as she got into it the 'real' Leola came out," said grandson Chris McDonald Sr.
The 'real' Leola, who can trace her family tree back to Mary Reddick, a freed slave and one of the original settlers of Bealsville in 1865, was born in 1918 to Sam and Lilly Barry. McDonald pretty much lived most of her life on Branch Wood Road, which is right around the corner from Glover School. Her family understood the importance of an education so she attended Florida Agricultural and Mechanical College for Negroes (now FAMU) then Bethune Cookman College in Daytona Beach. "She was Mary McLeod Bethune's hairdresser," said McDonald Sr.
After returning from college, she worked as a teacher, educating elementary school children for 13 years in Polk County and then 25 in Hillsborough schools. She was a teacher at the former Glover School, now a historic landmark. She finished her career as an educator at Robinson Elementary. She was married to the late Ellie McDonald and the couple had one son: the late Chris Benard McDonald, father of Chris McDonald Sr. Leola McDonald's posterity also includes great-grandchildren Seymone McDonald and Chris McDonald Jr.
Leola McDonald holds the distinction of being an African-American member of the Daughters of the Confederacy and is the oldest living descendant of a Confederate soldier and slave romance. Her grandmother was a slave and her grandfather was a Confederate soldier.
She is also the oldest living teacher that has taught in Bealsville.
Joyce Horton, one of her former students and McDonald Sr.'s mother, has been her caretaker for the past seven years and knows when she puts on her proper "teacher's voice". "I can tell at night when she's teaching in her dreams because she'll wake up and say 'let's go now, look a the board' in a very specific voice," said Horton, who remembers McDonald as a strict teacher but was always willing to give someone a second chance.
In addition to dreaming about teaching, Horton said McDonald also dreams about her mother, sometimes waking up, all smiles, saying "I love Mamma Lilly." Horton knows why she has such affection for her mother. "She was the most patient and loving woman I've every met," she said.
Those attributes were passed down from mother to daughter, her family said. There was always a Christian premise behind every word she spoke. "She was always imparting profound nuggets of wisdom such as 'every lie is a debt to the truth' because the wages of sin are a debt," said McDonald Sr. "She could always quote a scripture verse that would support what she was saying as evidence."
Despite her advanced age, McDonald remains in good health. She only takes two prescribed medications. She prefers fresh foods, forgoing heavily-processed foods like pizza and hamburgers. Breakfast consists of oatmeal and coffee. She uses a walker but is sometimes known to walk without it. "We want her to walk as long as she can walk," said McDonald Jr.
A lover of sweets, she ate cake on her birthday. "She's the queen bee and gets what she wants," said McDonald Sr.
Her family talked to her a little bit about being 105 years old. "When we asked her how old she was, without batting an eye, she said 35," joked McDonald Sr. "I guess she's as old as she feels and that's amazing."