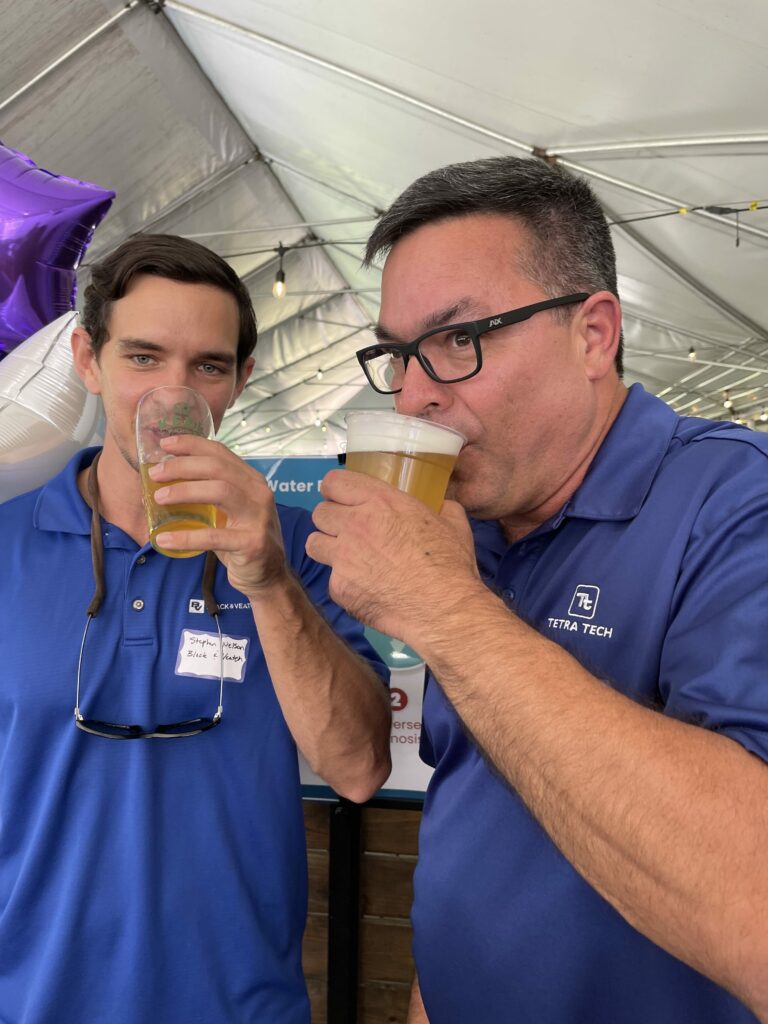 The brew named "Deja Brew" can be purchased on tap and in a growler or can, at Keel Farms.
The question of what to do with approximately 400 gallons of ultra-purified, recycled water from Plant City's Advance Water Treatment Plant was answered by Keel Farms owner Clay Keel.
Keel toured the city's One Water Demonstration Facility several months ago with Leadership Tampa and tasted the clean, direct potable reuse (DPR) water. He thought it was good and he could make beer with it.
The wastewater does, after all, go through an advanced multi-step treatment process which involves a membrane filtration, reverse osmosis and ultraviolet/advanced oxidation process system. The resulting product is clean, clear and nutrient-free. "At Keel Farms our principles are quality, sustainability and community and this was right up our alley on sustainability and it's also innovative," he said.
Keel took two, 200-gallon wine tanks, filled them with the water, took them back to his brewery, and began the process of turning water into beer. "We've never used anything other than our well water to make beer in the last 10 years and the water that came out of this system was like distilled water, there was nothing in it," said Keel. "It's unique as a brewer because we could build the water to the beer as we wanted it."
The final product was approximately 225 gallons of a pale lager, hopped with Nelson Sauvin, a New Zealand hop that imparts a grape-like flavor to beers. The product was manufactured for public consumption, some of which was consumed at a "hoppy hour" tasting event he hosted at Keel Farms last week and sponsored by multiple organizations including WaterReuse and American Water Works Association (AWWA). It was attended by Plant City's city manager, mayor and city commissioners, Utilities Operations Division staff, Southwest Florida Water Management District staff, representatives from Hazen and Sawyer and Florida Water Environment Association and several neighboring city and county utility departments.
During the event Lynn Spivey, Plant City Utilities Director, whose division maintains four water production plants 24 hours a day, 365 days a year to provide an ample supply of safe and depending drinking water, said of the potable reuse project, "Our perspective is that all water has value and we want to maximize the use of all water. Beer-making from recycled water has been done in other states really successfully to help people get over the 'ick' factor of recycled water."
For Plant City resident Heather Bauer, whose husband Tony works for Plant City Utilities Maintenance, her first thought was 'ick'…until she tried it. "At first I thought, yea, maybe that's a little gross, the first time I sipped it I thought 'I'm drinking pee' but it tasted like grapefruit beer," she said. "The good taste was enough to put it out of my mind, it was actually really good."
Water experts were more easily convinced. James Uzdavinis, Senior Project Manager at Tetra Tech, said "Having been around water professionals that run the water plants, I'd say the water is very safe, it's treated first for normal wastewater treatment and secondly it's treated for water quality standards for drinking water. I'd say it's very safe."
City officials agree. The future of Plant City water depends on finding alternative uses for the finite resource. "Water is a key resource for the state and even more for Plant City because it's our home," he said. "It's all about securing Plant City's water future for generations to come."
Mayor Nate Kilton also weighed in on the issue. "We're proud of our utilities department for being forward thinking," he said. "It's not just what we're doing right now and for today, it's about looking to the future because we have generations to come behind us. We're working hard in Plant City to think about those things."
During the event, attendees could also vote for their favorite name for the beer: "Deja Brew", "Osmosis Ale", "H2Brew" or "ReNew Brew". The name with the most votes, announced at the end of the event, was "Deja Brew".
It's not too late to give "Deja Brew" a try. Keel Farms will be selling the brew on tap and in growlers and cans until it's gone.
"We'll probably have it on sale for the next month or so, so come on down and try it," said Keel.
Keel Farms, located at 5202 Thonotosassa Rd., is open Mon. – Thurs. 11 a.m. – 9 p.m., Fri. 11 a.m – 11 p.m., Sat. 10 a.m – 11 p.m. and Sun. 11 a.m. – 7 p.m.
To learn more about Keel Farms or "Deja Brew", visit keelfarms.com or call 813-752-9100. To learn more about Plant City Utilities Department call 813-757-9191.