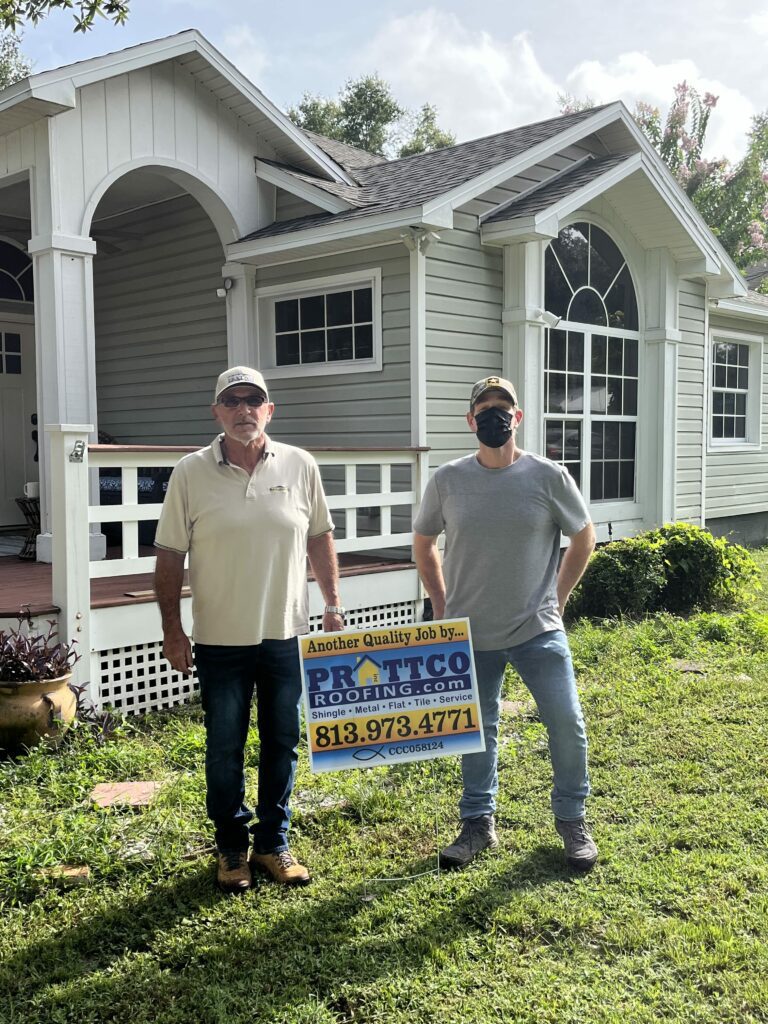 Elks lodge and Prattco Roofing act of charity
Plant City resident Eric Peavy and his wife Valerie now have a secure roof on their home.
The Plant City Elks Lodge #1727 and Prattco Roofing came together in a charitable effort to rebuild a new, much-needed roof.
Peavy, an Iraq War veteran, couldn't afford to have it fixed and due to its age, it wasn't covered with insurance.
"It's so much more than providing a service or something to the community," he said, "it's about saving a life. If that didn't happen, where would I be today."
Judy Wise, of the local elks lodge, tried to help Peavy get a brand-new roof as soon as she learned of the dilemma three years ago. She made a request to a company that was offering to supply a new roof to one veteran, however, the services went toward another veteran.
Wise and Peavy had another encounter after it was discovered that the veteran's home had leakage. Several volunteers from the elks lodge went to the house to fix it but had to call in additional help when they found out that the issue was bigger than they expected.
In May, Peavy's insurance company notified him that there was a possibility that he may not receive coverage unless he had a new roof. Wise requested Army of Hope funds from the Florida State Elks Association to help Peavy.
The Army of Hope program provides financial assistance to the families of deceased, disabled, and deployed members of the military. The association granted the request, allocating over $6,000 to the lodge.
Wise sought out a roofing company that would be willing to provide the labor for free.
Ed, the husband of Wise, was put in contact with a fellow lodge member's son-in-law – Stan Pratt, the president of Prattco Roofing. When he was told of Peavy's situation, he did not hesitate in offering his services without charge.
"He explained the situation to me, and I told him, 'Yeah, that's great. We'd love to help him,'" Pratt said. We appreciate everything that men and women in service do for us."
All Pratt asked is that the elks lodge provide the materials needed, and he would take care of the labor, the permit, taxes, insurance, and hauling away trash.
The charitable act was met with gratitude from Peavy who is still trying to adjust to civilian life after returning from the military in 2013.
The Bowling Green native made a long career in the service, which began 25 years ago in Florida.
"I was trying to get into the special forces because that's what my dad was in," Peavy said. "There was a unit here that was in the National Guard, so I transferred after I did security for the governor here. It was Jeb Bush at the time."
His father served in the Vietnam War and his grandfather served in the Korean War.
After serving a year in Miami, he was deployed to Iraq.
Nine years ago, he returned home as a staff sergeant after being inflicted with serious injuries, and has since, struggled with post-traumatic stress disorder (PTSD).
"When I moved here, it was totally because of health reasons and needed to be close to the VA hospital," he said.
Despite his psychological ordeal, he pushed forward, went back to school and received a degree in nursing.
Wise is now assisting Peavy in receiving 100% of disability benefits for veterans.
To show his appreciation to Prattco, Peavy gave him the very same flag he flew while overseas, which Prattco has placed outside the front of his office.
"That made me feel great," he said. "That really touched my heart. He was so appreciative."
The act of kindness presented by Elks Lodge #1727 and Prattco Roofing has reaffirmed Peavy's faith that the community always tries to help out its own.
"Knowing that somebody's thinking about you or caring about you…I mean that's enough to get you through the next day," he said.