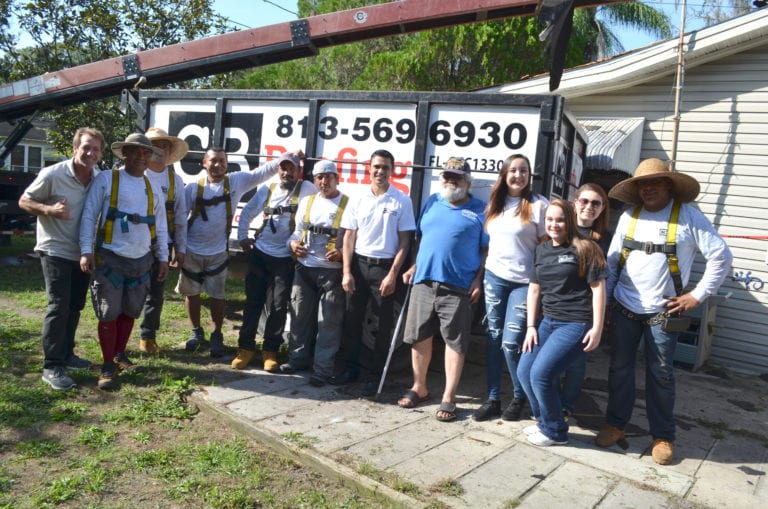 Owens Corning Roof Deployment Project gave back to a Vietnam veteran here in Plant City this week thanks to a partnership with CB Roofing Construction.
One local veteran had his life changed this week thanks to the efforts of the Owens Corning National Roof Deployment Project and CB Roofing Construction, Inc. Early Tuesday morning, CB Roofing Construction rolled up to Rodney Oneal's home on Moody Avenue with one goal in mind: to gift the Vietnam veteran with a new roof.
For three years, Oneal has fought against constant leaks. His roof was decades old and in desperate need of repair, yet Oneal said he never could scrape up the money to tackle what contractors were estimating would cost approximately $10,000 to fix. 
"My daughter-in-law went through and found Habitat for Humanity and found out they were offering a chance to get some help," Oneal said. "She's the one that handled all of this and to be honest with you, I heard we might have been chosen but I didn't know for sure until I picked up the paper last week and opened it, and there it was. I just appreciate all these people. They're doing me a great service."
Oneal said when he first began to have issues with his roof, he knew trouble was ahead. The home was simply old. The shingles adorning the top of his roof, the original shingles for the home, were easily 40 years old. The tin itself was at least 35 years old. With Florida's nonstop storms and temperamental weather, Oneal began to see its effects on the old roof. He began to dread a storm. Each morning he'd check the news and if the forecast was bleak, he'd brace himself for a day filled with catching dripping water and trying to combat the leaks.
Chad Bowman, president and owner of CB Roofing Construction, said it was a call they'd been waiting for. His company is partnered with the Owens Corning National Roof Deployment Project, which works with Habitat for Humanity of Hillsborough County to identify those in need and provide free services. Once a home is identified, Owens and its network of independent Platinum Contractors "donate roofing materials and labor to replace the roofing shingles on the homes of military veterans and their families throughout the country."
"We are grateful for our partnership with Owens Corning and CB Roofing Construction," Jeremy Cooke, home preservation program manager for Habitat for Humanity of Hillsborough County Florida, said in a news release. "It's inspiring to see how local organizations come together to make a significant impact on the livelihood of veterans within our communities."
After some inspection it was determined that Oneal's roof qualified and Owens called CB Roofing Construction to see if they would provide the labor. Bowman said they've been on the waiting list to do this and were thrilled when the opportunity arose to give back.
CB Roofing Construction brought a massive crew to the home in order to knock the entire project out in one day. They arrived at 7 a.m. and Bowman said the goal was to wrap up in the early afternoon. 
"We like to give back to our community," Bowman said. "We feel fortunate that we have the resources to be able to make a difference in others lives, especially our veterans. They fought for our freedom, for our right to own our businesses and work hard. Owens Corning donates all of the materials and we donate the expertise and time. By the end of the day, this veteran is going to have a new roof and that stress is going to be gone from his life."
Sitting in a chair by a massive pile of his old tin roofing, Oneal smiled as he watched the crews carefully climb over his roof and begin the intense process of refurbishing the entire structure. Crews below laughed and shouted advice to those above. Bowman leaned on the tin beside Oneal and carried on a friendly conversation about his life in Plant City.
They may have only crossed paths for a few hours but the camaraderie was strong with the entire group. Peering up at the clear blue skies, Oneal questioned whether the predicted forecast of possible afternoon showers would hold true. Bowman glanced over at the hard-working crews bringing his new roof to life and replied that it wouldn't matter. For the first time in three years, Oneal wouldn't have to worry about any leaks.
"I was tickled. Really, really thankful," Oneal said. "I've been fighting for three years to get it fixed. I'm really thankful for all of these guys. If I know another veteran that needs a roof, I'm going to send them their way."