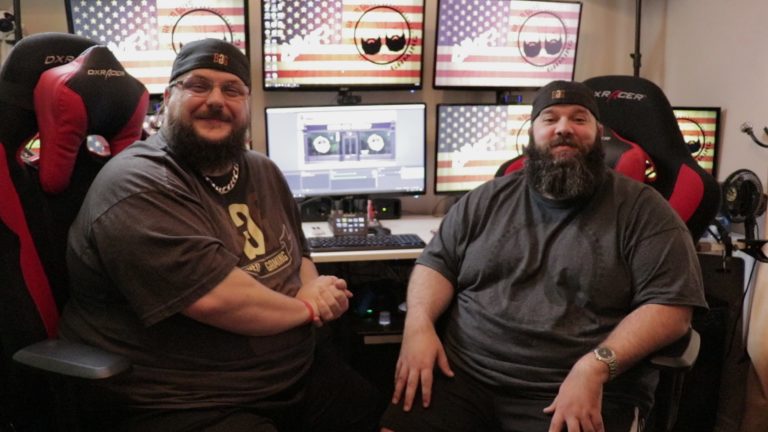 Two Plant City men have turned their passion for gaming into a full-time career. Meet the Twitch streamers that are taking the platform by storm.
For many gamers, the prospect of evolving leisurely playing into a full-time career is nothing more than a pipe dream. Two Plant City locals have turned that dream into a reality.
Upon first glance, their massive beards and shiny heads — one shaven, one naturally bald — makes Joe Pradera and Matthew Storey appear to be twins. While no familial blood runs through their veins, their friendship, which was sparked decades ago in the sixth grade, created a brotherhood that has drawn in virtual admirers of more than 32,000 followers.
"I've been playing video games all my life," Pradera said. "Matt was always more of the
'play outside' kind of guy. He and I met in the sixth grade and became best friends, but we never really gamed together until we were adults."
After playing World of Warcraft together for more than a decade they built up a natural tete-a-tete seldom seen in the streaming world. Then in 2016, while enjoying a meal at Cracker Barrel, they made a decision that would forever change their lives. They were going to attempt to move their brotherly dynamic to Twitch, a live streaming video platform that hosts communities like video game streaming, music shows and food broadcasts.
On April Fools Day they launched BeardedGuysGaming.
Pradera was working full-time as a salesman and was a devoted husband and father. Storey had recently finished his career as a firefighter and was taking care of his grandparents. They were coasting through life, but Pradera said they couldn't pass up on an opportunity to do something they loved. So they invested nearly $6,000 in new equipment, converted a room in Pradera's house into their studio and began pouring into their channel.
On Twitch, many of the gaming channels feature one person sitting in front of a monitor. Those who log on will normally see the game screen and a cutout of the person showing their reactions as they play. Viewers can take part in a live chat, where they have the opportunity to talk with other watchers and the streamers.
While Pradera and Storey play they talk to their viewers. They'll reply to their questions and share comical stories all the while responding in real time to what's happening in the game.
On Twitch it's all about setting oneself apart and BGG is known for its unique dual-stream. It's one of the few channels where two players are on screen interacting at the same time. This allows them to spend more time creating a natural and compelling dialogue while also ensuring they are continuously delving deeper into their gameplay.
Though they built their gaming relationship around World of Warcraft, they soon branched out to Minecraft on their stream. They quickly began amassing a following and eventually transitioned to 7 Days to Die, which had a more adult audience.
The switch led to an even more devoted following and allowed them to officially become partnered by Twitch on Nov. 7, 2016. Now the group is known for its variety of content. They stream games like 7 Days to Die, Sea of Thieves and The Forest.
BGG became a second full-time job. Each stream lasts for hours and, when they aren't
streaming, they are diving into prep work and spending time on other people's channels.
The duo had strict goals and a timeline they were determined to meet. Their year-long goal of partnership, an honor only a fraction of Twitch accounts ever achieve, they accomplished in six months. As a partnered account you can monetize your content and get channel subscriptions.
According to Twitch's 2017 year in review analysis, there are more than two million unique monthly broadcasters. More than 355 billion minutes of Twitch streams were watched last year and more than 15 million people visited the site every single day.
One year after being partnered the duo took another dive and went full-time on their program. After months of planning with his wife and Storey, Pradera quit his job. It was the riskiest thing they'd ever done, but Pradera said the good that has come from the switch makes it all worth it.
Twitch is heavily partnered with charities. In 2017, more than $30 million was raised for charities across the site. BGG partnered and helped raised thousands of dollars for local hospitals.
They've built up a level of trust with their viewers that has opened the door to many life changing conversations. Storey said they want their stream to be authentic, so they don't hesitate to talk about their lives on the channel.
They've had viewers reach out and talk about their struggle with thoughts of suicide, kids have messaged in and shared their struggles with divorcing parents, people talk to them about their fight against addiction and personal demons they wrestle with every day. Some share how the channel has helped them get through tough times while others simply are looking for someone to talk to.
Pradera and Storey never let a call go unanswered.
"I'm making less now, but I can do more," Pradera said. "These are the intrinsic awards we never expected. It's been a very hard thing to take in sometimes because we're just two normal guys playing games. It's amazing to see that we're inspiring others and helping others just by doing what we love."
They hope to one day funnel their following into a way to help the town they love and were raised in blossom. They said the ultimate dream would be to open an old-fashioned barbershop in the heart of downtown.
They would have cameras throughout the shop to stream to their channel, which would
draw people near and far to be able to be featured on the site. In a few months, the duo is coming out with their new beard grooming products, which would go hand-in-hand with the barbershop dream.
They said they just hope, at the end of the day, they might be able to teach residents of Plant City that a platform like Twitch exists and that it has a little something for everyone.
"One of the biggest hurdles of Twitch is getting started," Storey said. "You might go through 100 channels before you find one worth watching, but I guarantee there's a channel for you. Whether you like gaming or cooking or drawing or tattoo, Twitch has it all."