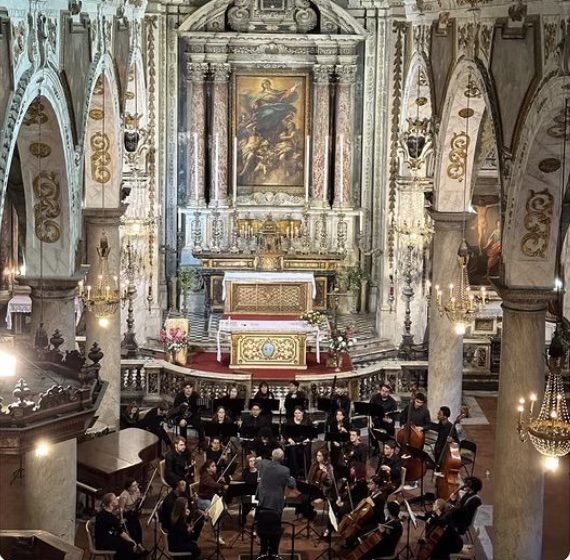 The Plant City High graduate and Stetson University student toured the country with the Stetson Chamber Orchestra.
Plant City High School Class of 2020 graduate and Steston University student Zach Frankowiak just returned from a trip to Italy, where he played the flute with the Stetson Chamber Orchestra at historic venues throughout the country.
During their eight-day trip, the orchestra performed Beethoven's Triple Concerto at the Palladium Theatre in Rome, the Chiesa di Santa Maria Corteolandini in Lucca (outside of Florence) and the Teatro Toniolo in Venice. Along the way, Frankowiak and other orchestra members ate lots of Italian food and toured famous sites such as the Piazza Navona, the Vatican Museum, St. Peter's Square, the Coliseum and more.
While the sightseeing was spectacular, for Frankowiak, it was all about the music. "Since I'm a performance major any chance I get to perform is the best thing for me because I want to be performing but being able to play music in another country was a big deal," he said.
During the trip, he observed that Italians have a passion for music. "As we were walking around Venice, they had a lot of live music both indoors and on the street and the style of the music is similar to what you'd expect from Italian operas and the music has a lot of vibrato," he said. "The culture is so different over there, people had a real respect for what we were doing, when our performance was over people clapped for a really, really long time."
The acoustics, or the way the sounds carried, in the old stone structures was phenomenal, thanks to the resonance and reflection created by the hard surfaces and soaring ceilings. "I really enjoyed playing in those venues, the sound traveled so far," he said.
Frankowiak began playing the flute 10 years ago while in middle school. "I went to an all-boys school and there was only one other flute player at the school, so it was a unique instrument in my eyes," he said.
As he progressed as a musician, he realized that woodwind instruments, including flutes, clarinets, oboes and bassoons, bring a cinematic texture to an orchestra, composed primarily of string instruments, like violins, violas, cellos and basses.
"Wind instruments are very soloistic, especially in an orchestra" he said. "All the wind instruments usually have pretty distinct parts."
At Stetson University, its School of Music students must pass an audition to be admitted into its program. Only the best musicians earn a seat in the Chamber Orchestra, which only seats two flautists. Frankowiak sits in the coveted first chair.
He's thankful for many people in his life who've helped him pursue his passion for music, including his parents, grandparents, his former band directors Mr. Gonzalez, Mr. DeDon and Dr. Blair and his private music teachers Clay Ellobroek, Robert Neale, Taylor Irelan and Carole Leidi. "They've all supported me in my music journey," he said.
Frankowiak will graduate from Stetson in 2025 with a degree in Performance and afterwards plans on attending grad school.