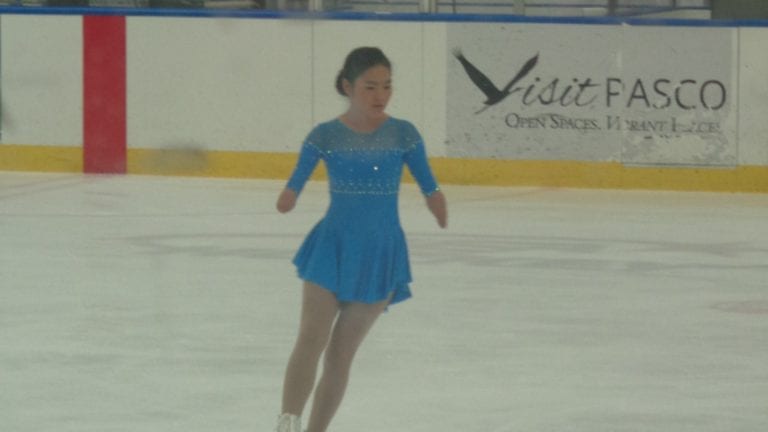 Annie Clark is one of eight skaters in the Get Up program, which promotes perseverance and courage.
US Figure Skating's Get Up Ambassadors program seeks out skaters from around the United States whose pictures could go next to the textbook definition of "perseverance."
One of them is Annie Clark, who lives in Plant City. She is one of eight skaters to get the title of Get Up Ambassador in 2020. Despite her lack of experience in the sport — Clark has only been skating for two years — her love of being on the ice and will to succeed did not go unnoticed.
Clark was born without hands or forearms, but that hasn't stopped her from living her best life on her own terms. The most well-known example of this happened when she was just 7. A handwriting assignment in her first grade class, which happened on a day she didn't feel like writing and didn't have a sharp pencil, went so well that her teacher entered it in a local contest, which Clark won. The administrators of that contest submitted Clark's entry into the national Nicholas Maxim Penmanship contest, which Clark also won.
That took her and her family completely by surprise. It also led to even bigger things: Clark became a featured guest on Glenn Beck's TV show soon afterward. When she was 10, she wrote her own book, Write/Right Where I Am: A Story of Perseverance.
"Every time you're faced with a tough situation, it's hard to persevere. But it doesn't get easier unless you keep on doing it," Clark said. "I also try to encourage others, including my family, to persevere."
Figure skating isn't Clark's first endeavor into athletics. She's also played basketball and is getting into horseback riding. Skating, though, immediately became a passion of hers and she works hard at her craft every time she steps onto the ice at AdventHealth Center in Wesley Chapel.
"My mom signed some of (my siblings) up in the Learn to Skate program and I fell in love on day one," Clark said. "It's the feeling I get when I'm on the ice."
She's been eager to put her skills to the test in a competition, having only taken several USFS Moves in the Field evaluations, but COVID-19 had other plans. Last Saturday, she said, was the first time she'd gotten on the ice in three months. She still has some rust to shake off but said it felt good to finally be back.
Clark hopes to pass another Moves in the Field test by the end of the year, focusing more on her jumps and spins, and eventually start competing in the sport.
"It's taught me to be able to enjoy doing something without getting something out of it," she said. "I'm not really competing yet, but I love it so much."
Clark and the other 2020 Get Up Ambassadors will be featured in SKATING Magazine throughout the rest of the year. For more information about the program and the other 2020 winners, visit usfigureskating.org/news/article/Introducing-the-Get-Up-Ambassadors.