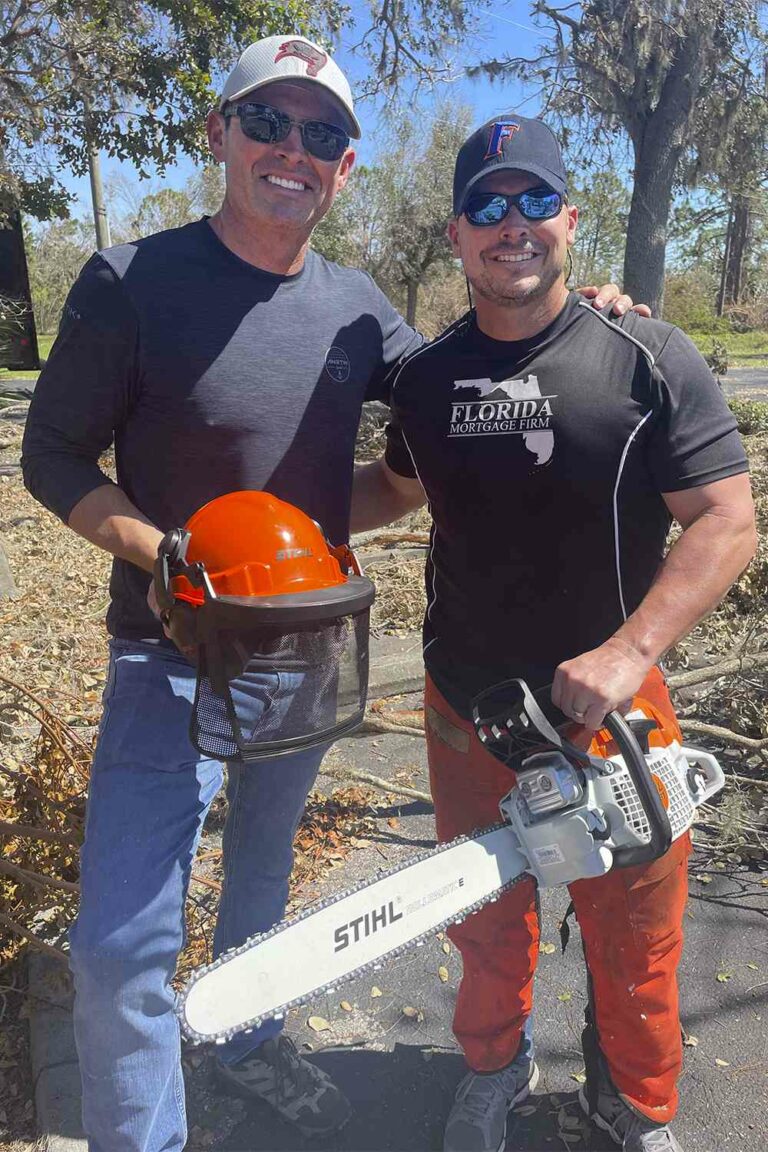 Plant City area natives Aaron and Nate Davis have gained national attention for the work they've done to help charitable organizations following natural disasters.
Aaron and Nate Davis grew up on a 10-acre farm in Antioch, just outside of Plant City, no strangers to hard work.
Eventually the brothers would run businesses of their own, with Aaron taking over a family business now known as Florida Agency Network, a network of independent real estate title and development agencies throughout the state of Florida, and Nate currently serving as the president and CEO of Florida Mortgage Firm right here in Plant City. But despite the transition from farm life to offices, the two were never afraid to get their hands dirty when others needed some help.
"Both of us were born in Antioch and went from guys that were used to outside labor from the way we grew up, both of us have worked outside, I was on a stucco crew, I was in the marines, so hard work is nothing foreign to us but both of our jobs and professions took us out of that and put us in more of an office environment," Nate Davis said. "So as weird as it sounds, we do enjoy that work sometimes. We don't want to every single day anymore, but getting back to it is rewarding."
In the wake of Hurricane Irma, Nate made a Facebook post looking for any other volunteers as he grabbed a chainsaw and set out to assist TECO employees and other first responders with cleaning up their own properties as they helped others in the area in the same fashion.
"I kind of knew what it would be like to have your own house in a bit of disarray — your yard, limbs and everything are still down — but you're working double and triple shifts for the next few weeks," Nate Davis said. "So every time you come home your house is still trashed while everyone else's is starting to get put back together, but you can't always fix it because you're trying to get power back on and do all of the things that the rest of us benefit from."
Nate and the group that had been assembled to volunteer took the next few days driving around to help senior citizens, police officers, TECO employees and other community members in need as they continued to recover from the storm. He also took the opportunity to get his family involved and teach his children the value of hard work that he and his brother learned throughout their upbringing.
In 2021, Aaron flew to Austin, Texas where his girlfriend was living at the time, looking to help as her house had flooded following the massive snow storms that wreaked havoc on much of the state. He sought out volunteer opportunities while there and eventually found himself assisting a church in the 1,200-person town of Harper, a two-hour drive west of Austin. After donating 30 chainsaws and getting to work, a photo of Aaron with a chainsaw in his hands and a Tampa Bay Buccaneers cap on his head made its way to social media and he was dubbed the "Tampa Chainsaw Man." As the picture made the rounds Aaron was contacted by People Magazine looking for an interview. He obliged and once the story broke it rapidly garnered enough momentum to raise nearly $100,000 toward the efforts of Harper's non-profit volunteer fire department over the next week.
Over a year later Aaron was now in Texas when he was contacted by People Magazine once again, this time in the wake of Hurricane Ian's devastation throughout the state of Florida in late September. They asked if he would be breaking out the chainsaws to help again and coincidentally he was actively in the process of planning his trip back home to help as Nate was already jumping from from job site to job site, wasting no time springing into action.
"When I was in Texas I ended up buying 30 chainsaws and donating it to the fire department for them to hand out to their volunteers and I said to Nate, let's do the same thing," Aaron Davis said. "Everyone focuses on food and water and some of the necessities but a lot of times the volunteers are using their own chainsaws and the professional organizations are using their assigned chainsaws and there's so many people where, if you give them the tools they'll help out, so we kind of took on this 'help the helpers' mentality."
While devising a plan on how to help Southwest Florida, Aaron stumbled upon a website for the Southern Baptist Convention Disaster Relief that was in search of, "food, resources and volunteers to operate chainsaws," and that was his sign. As fate would have it, in making calls to find where he could help, Aaron ended up on the phone with a former Plant City High School classmate Richard Rigdon who had recently left Hillsborough County Fire Rescue to take over as the Operations Manager for Florida Disaster Relief with the Florida Baptist Convention, actively working in Port Charlotte when they spoke.
"I look on Facebook and saw that he was boots on the ground down at Murdoch Baptist Church in Port Charlotte and they've got a whole rescue operation set up down there with volunteers," Aaron Davis said. "They cooked 100,000 meals in the first week after the storm, they've coordinated all of these volunteers coming in from across the state to help out and they've just got this massive operation set up, but he said that the one thing they were missing was chainsaws. Guys were bringing their own saws, they're breaking them left and right, they're worn out, they're 15 years old and he said that this was the biggest blessing. If we could put chainsaws in these guys hands, that'd help them keep working and working for the weeks and months to come."
Aaron and Nate made a stop by I-4 Power Equipment in Plant City, worked their way south, delivered the chainsaws and joined a crew to help.
Two or three days later they were informed by People Magazine that their story was put together, presented to editors and would be listed in their annual Kindness Issue, an issue that shines a light on five different cases of good samaritans making their communities a better place. And before long, after People Magazine pre-released the story to some of their affiliates and sponsors, People made another call alerting the brothers that not only would People and GoFundMe be making a donation to the charity of their choice, but that The Kelly Clarkson Show was inviting them to be featured in an episode that aired last week.
One thing that Nate and Aaron both emphasized emphatically is that they believe in doing good deeds for the sake of helping others, not to go around telling everyone about the good deeds that they had done, so for their efforts to be broadcast to the world was something that caught them a bit by surprise.
"The thing that we're looking at the whole time is that it really isn't about us, it's about what we're doing it for, it's about the Florida Baptist Convention Disaster Relief effort," Aaron Davis said. "Because they do not advertise or market in any way, they are a group behind the scenes of thousands of Baptist churches around the country, or in our case Florida, so that when disaster strikes, the organization takes additional tithing and donations in order to fund the relief efforts. But beside that, they don't get exposure, that's not what they're in business for. They're in business to help. So we saw this as an opportunity to bring exposure and to fundraise and help direct resources and tools in the hands of those who help."
Nate continued, saying that not only is it a win when you can bring exposure to the organizations that put forth effort to help following natural disasters, but that it's also a ripple effect where some people may have never known how to get involved or even really thought about giving their time to help until they have a moment where they see others lending a helping hand.
"To me, it's not about us and I don't think that our acts really warrant the level of attention that it garnered, but I also think that whenever you do get that attention you can do one of two things," Nate Davis said. "You can shut it all down and say I'm not coming on your show and I'm not doing an interview with People Magazine, or you say you know what, this is an opportunity to take that light and shine it on the organization and the people that do warrant that and in our opinion, that's the group from the Florida Baptist Convention Disaster Relief team. Those people are the real deal, really helping out, selfless giving, doing all of the real work on the ground day after day after day. So at the end of the day, if it provides exposure to a great organization, I think that's a win."