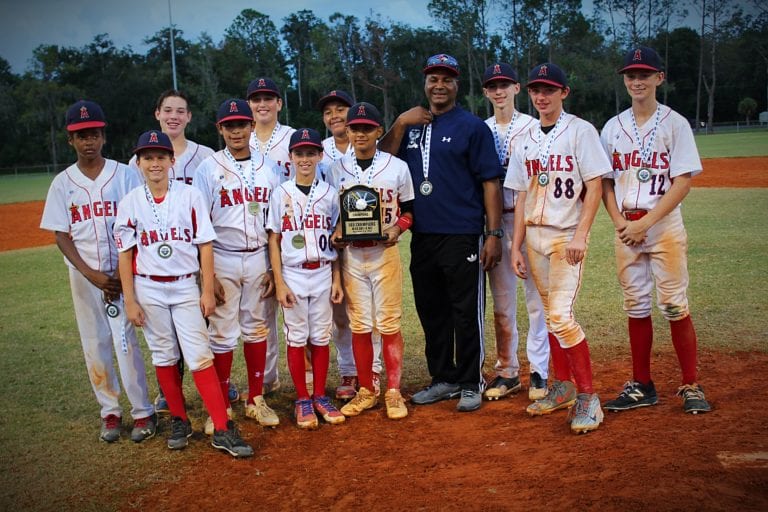 Plant City baseball players are helping Florida Baseball Heaven's 13U Major, 14U Major and 14U AAA teams excel in the USSSA.
By the end of the latest United States Specialty Sports Association (USSSA) baseball season in Florida in April, a trio of teams with Plant City ties stood out in their divisions.
Florida Baseball Heaven and its Angels travel ball teams are headquartered in Lakeland, just off of County Line Road, but it's got a legitimate connection with Plant City. The 13U Major, 14U Major and 14U AAA teams that recorded top-five finishes in their divisions often practice on Snowden Park's ball fields. Head coach and FBH head Mark Persails is a Plant City resident who has also coached the Plant City High School baseball team in the past.
Most importantly, the teams share players who have come up through the Plant City Little League scene and gone on to play in major tournaments around the Southeast. The trio of Deven Gonzalez, Colby Brewington and Anthony Palestrini were of the right age to help both the 13U Major and 14U Major teams succeed this season. Adan Longoria and Ethan Pues, also past PCLL All-Stars, played important roles on the 13U Major and 14U AAA teams, respectively. Persails considers these "little weasels" some of the hardest-working kids he's coached and said each was crucial to their teams' success.
The 13U Major Angels posted a 22-2-1 record on the season and placed third in the state in that division. They ended on a nine-game win streak dating back to April 6, right after a 5-4 loss to Sun Coast Elite in the Suncoast Spring Championship RINGS tournament in Sarasota. The Angels won their next four games to win that tournament and then went undefeated in the CFL Spring Classic Super NIT in Sanford, held April 13 and 14.
The 14U Major Angels Red team finished at 23-10-4 but racked up enough points in USSSA play to finish second overall in the state in that division. They saw game action most recently in the USSSA Florida State Championship RINGS tournament in Bradenton and Sarasota, making it to the championship round after a 22-0 win over Southern Squeeze on April 28 but then taking a tough 3-2 loss to FTB Bullock in that day's tourney finale. The team's most recent tourney win was at the ninth annual Wreaking Havoc in Bradenton on March 16 and 17.
The 14U AAA Angels Grey team finished with a 13-13 record but earned enough points for a fifth-place finish. They also competed most recently in the in the USSSA Florida State Championship RINGS tournament in Bradenton and Sarasota and got off to a 2-0 start in the tournament, but were knocked out April 28 with a 6-1 loss to Space Coast Thunder.
"It's been an excellent year," Persails said. "From last fall to right now, watching the boys learn to compete and play on the big field, grow up and learn how to act and everything that goes with it, I couldn't be prouder of them."
Florida Baseball Heaven will host open tryouts on May 5 for 13U, 14U, 16U and 18U teams for the next travel season and baseball players from Plant City are welcome to come show their skills and try to make the cut. To pre-register for tryouts, contact FBHoffice@yahoo.com. Players' names and dates of birth, as well as parents' contact info, must be included in any pre-registration email. Tryouts will be held at Polk State College, 999 Ave. H NE, Winter Haven from 10 a.m. to 2 p.m. The cost is $25 per player. For more information, visit facebook.com/FloridaBaseballHeaven.