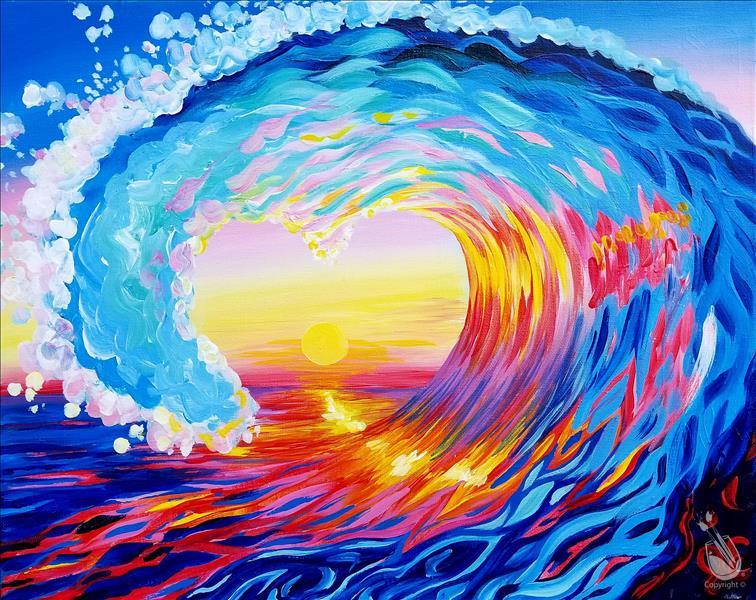 Joclyn Emerson was commissioned to be a part of a tapestries exhibition in Lakeland and currently has art on display in Bartow. As her skills keep developing her following only continues to grow.
Joclyn Emerson learned how to draw under her grandfather's guiding gaze. He fostered in her a spark of creativity that she has channeled into a full-fledged career.
Emerson has been winning the hearts of Plant Citians for years. Many may know her from her reign as part of the 2009 Strawberry Queen's Court, but for the past several years she has been accumulating a loyal following of fans as she expands her repertoire as an artist.
"It's hard to explain my art style if you haven't seen it," Emerson said. "I definitely paint from a more realistic, nature and reality focused mindset. If I'm commissioned to do a piece I work on it the way they prefer. If you look at say the tapestry I just completed, that is more my unique style, which I guess I would say is kind of a mix of folk art and realism."
Most recently Emerson was selected to be a part of the "Tapestries —Lakeland" an Un-Mural Exhibition. Tapestries were commissioned by local artists and hung throughout all of Lakeland to show off the diverse skill set found in Hillsborough and Polk County. Her 12-foot by 5-foot tapestry is inspired by her love of agriculture as well as the cultural symbolism behind the dwindling bee population.
"It's based off 'The Telling of the Bees,'" Emerson said. "There's these old stories of those in beekeeping communicating every big life event to their bees. Any marriages, deaths, job changes, they make sure the bees know. If the beekeeper dies, for example, he'll have someone come out and tell his hives what happened so they'll stay. It's a much closer relationship than our mass commercial industry tends to use. Plus honey is so important to our ag community. I just felt compelled to paint it."
Growing up in Plant City fostered a deep love and respect for agriculture, which Emerson said has heavily impacted her art. She loves painting animals and rural scenes. Her work is also currently on display at the Bartow Public Library.
She never dreamed it was possible. Though her high school AP art class helped develop her talent and showed her there were jobs one could pursue in the industry, she was convinced it would be futile to even think of crafting a career out of her passion. She got her AA in business from HCC and then went to USF to receive her bachelors.
One elective opened up a "whole new world" for Emerson and soon she dove headfirst into the art program. She received her degree in drawing and paint and grew in ways she never dreamed were possible.
She studied abroad in Paris and Italy and learned how to take her advanced skills and apply them to the world she was immersed in. Everything from a Hemingway novel she was reading to the street she found herself walking on inspired the way she created new art.
She walked away from USF with so much more than a degree. Her skill set expanded to more unique offerings like multi-media art and wood burning.
You can find her work on the Joclyn Emerson Art Facebook or Instagram page, on the Joclyn Emerson Etsy account or by hopping in your car and driving to Painting with a Twist in Lakeland. Emerson is one of the artists that leads courses and several of her original creations can be replicated in featured classes.
Painting with a Twist has helped her grow even more as an artist, sharpening her skills and training her to create masterpieces in a fraction of the the time it used to require.
Many of her local fans pick up her art at Fancy Flea and her Etsy account has sent her art all over the country.
Emerson recently moved from a strawberry farm to a cattle ranch where she finally has her very own studio space. Soon she plans to establish a live stream to teach beginners how to paint and create art. The official announcement for the new classes will be on her Facebook page in the upcoming months.
On top of her classes at Painting with a Twist, Emerson makes her living predominately off of commissions. Canvases, screen art, paintings on wood, portraits of both pets and people, murals, wine glasses and more are all on her skill set.
Though she said it is all fun to create, spending time painting pet portraits is her all-time favorite thing to do for customers.
"I love being able to create something special for someone and I am so thankful to have been able to work with such talented artists at Painting with a Twist," Emerson said. "To be able to share my passion with people who have never experienced it before, just getting to be able to do that every day is such a blessing."
For more information
Visit: Joclyn Emerson Art Facebook and Instagram or the Joclyn Emerson Etsy page
Email:
joclynemerson@gmail.com