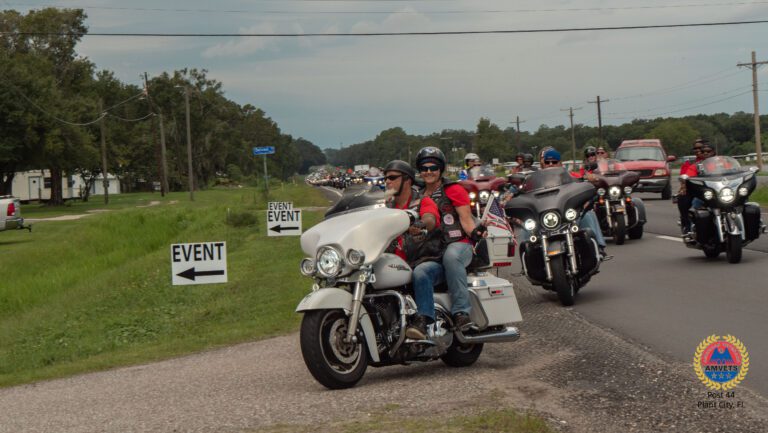 Plant City's Post 44 honored fallen soldiers and first responders
It was an event to reflect on a memorable day in American history, with the 15th Annual Patriot Day Observance and Remembrance Ride on Sept. 10.
Attendees were present at the AmVets Post 44 in Plant City, to pay homage to those who lost their lives on Sept. 11, 2001, due to terrorist attacks on the country.
One of the spectacles during the event was the traditional procession of motorcycles that rode onto the open field.
"The riders' group is required to be either AmVets, Ladies of Auxiliary, or Sons (of AMVETS)," said John "Doc" Cameron, commander of Post 44.
The bikers left their rides parked in an orderly fashion – a display that added to the festivities.
The day of observance also honored local veterans, such as retired Army Captain Gerry Lawrence who was wrapped with a quilt from the Quilts of Valor for his service.
Also, donations were given out to various groups and organizations. A huge check was presented to the Spinal Cord Injury Center at James A. Haley Veterans' Hospital in Tampa, by Post 44.
"We provide them with recreational funds and this year we provided a check for over $15,000," Cameron said.
Red Jensen who works at the hospital was in attendance to accept the funds.
The former Navy officer, who is now wheelchair bound, initially came to the medical institute in 1994 after suffering injuries from a motorcycle wreck in New York. Jensen said he is grateful for being transported to the veterans' hospital which he praises for its care.
"It's been well worth it," he said. "I'd been a statistic if I had stayed in New York."
He currently has a Harley Davidson motorcycle with a side car which he takes advantage of whenever possible. Aside from his bike, Jensen said that he is content with working at the hospital where he is able to assist other veterans who he can empathize with.
"I serve more today than I ever served in the service by working at the VA…and working with the veterans."
Another recipient was Florida's Sheriffs Youth Ranches receiving over $5,000 as well as the VA Maternity Center at James A. Haley Veterans Hospital being awarded $3,517.
Tammy Tenace who does women's health and research outreach work at the maternity center, was present to accept the donation.
"The AMVETS Post 44 has been our biggest supporter for our maternity care baby showers," she said.
Its agenda is to provide much-needed supplies for single, veteran mothers who are transitioning into that new phase of their lives and maybe seeking another career path.
Tenace was a maternity care coordinator when the service was implemented seven years ago and has seen the number of mothers cared for go from 75 to over 200 since it began.
"The women veterans are the fastest growing veteran population and it's exploding," she said. "We used to be less than 10% of the veteran population and now we're heading up towards 13% in just the last 10 years."
The funding from Post 44 that helps to push the initiative forward, has left Tenace in awe.
"Every time I think about it, I get goosebumps," she said. "I don't think that there's anything in words, it's all action. To see them come together as a team and say 'we want to help women veterans and their families' is just amazing to us. We're so grateful and so thankful for them."
In order to make these donations possible, Post 44 raises funds by holding charity events, through bartending revenue, raffles, and steak shoots.
During the memorial event, there was a raffle drawing, prize giveaways, plus an auction with many custom-made items, including a grill which sold for $3,750. Food and live entertainment was also provided.
Lee Kirby was one of the dozens of bikers who pulled up on the field of Post 44, accompanied with his Pitbull Dotson and Chihuahua. The day's event was another memorable moment in what would seem like a never-ending trip cross country. In three weeks, Kirby rode through Tennessee, Ohio, and Pennsylvania, while not being deterred by rain.
"I put about 40,000 miles a year on my bike if not more," he said.
Last year he broke his neck and back in an accident but was back to riding again once he got out of his cast.
His love for bikes and for veterans made the trip worthwhile.
It was a day to not only have fun, but to commemorate the lives lost to ensure a safer America and provide the necessary funds for numerous agencies.
"It's difficult to put into words," Cameron said. "I mean that's what we want to do, that's our goal: veterans helping veterans and that's what we live for."