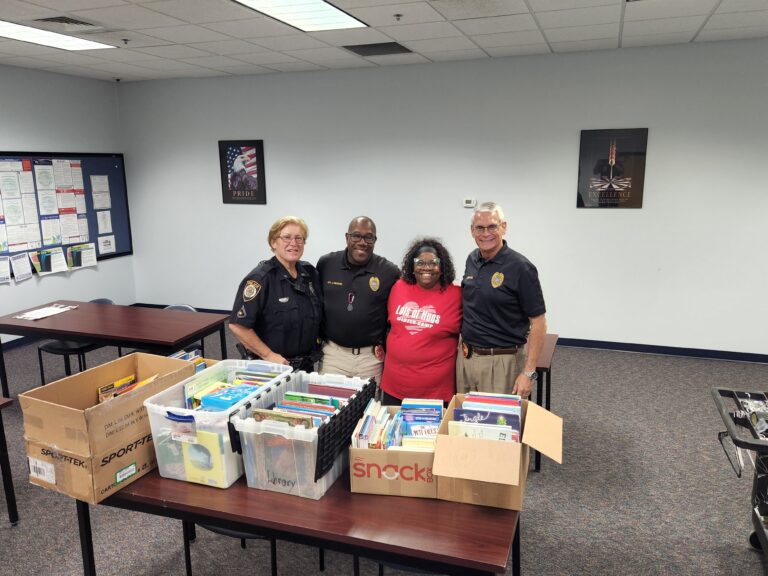 Police department, Kiwanis Club, and library to distribute books
The Plant City Police Department and the Plant City Kiwanis Club are working together with the mission of getting the youth more involved in literature with the Kiwanis 'N Cops 'N Kids program.
It is an initiative that Sharon Moody has on her agenda as she is taking on her new position as the Florida District Governor for the Kiwanis Club.
"It's promoting children literacy and community trust in our law enforcement," she said.
It will also address the kids who are not at their reading level, and she is encouraging parents to bring out their kids as young as 3-years-old. Fifty-four percent of third graders can't read at their grade level and these kids who live in poverty are three times more likely to drop out of school, according to Angelica Ibarra of the Achieve Plant City school.
Moody decided that she wanted to partner with the local police department in her effort to help youth in the community to have a passion for literacy.
"I spoke to the chief of police (James Bradford) and he was aboard," she said. "He appointed Officer DeeDee Gregory to lead it with collecting all the books."
Other officers at the police department brought in books as well as those in the community during their summer book drive. They also used their Facebook page as a means of getting the word out. Some even bought brand new books from Amazon and Books-A-Million.
Moody also reached out to Paul Shaver, the services director at Bruton Memorial Library and his staff, who were able to donate books to the police department.
In total, they were able to collect over 400 books and what's more, the Kiwanis Literacy Clubs of California donated an additional 100 brand new books. They range from fiction to non-fiction and there are specific ones that cater to those as old as high school age kids.
Moody's grandson, Denzel Singleton, will also be assisting with the efforts to helping local youth stay on course when learning to read.
The Kiwanis 'N Cops 'N Kids program will be held every first Tuesday of the month starting on Sept. 6 at the Bruton Memorial Library.
There, Kiwanis Club members and police officers will read to the kids and then distribute one book to each.
They also have plans to venture outside the library to schools, the Sadye Gibbs Martin Community Center and the Boys and Girls Club. The kids might also have furry friends, such as the police dogs, to accompany them during reading time.
Officers will take the opportunity to not only teach them to read, but to feel safe around them.
"This is the time when we can formulate these relationships," said Capt. Al Van Duyne of the Plant City Police Department. "That's what we're trying to foster with that outreach that we do."