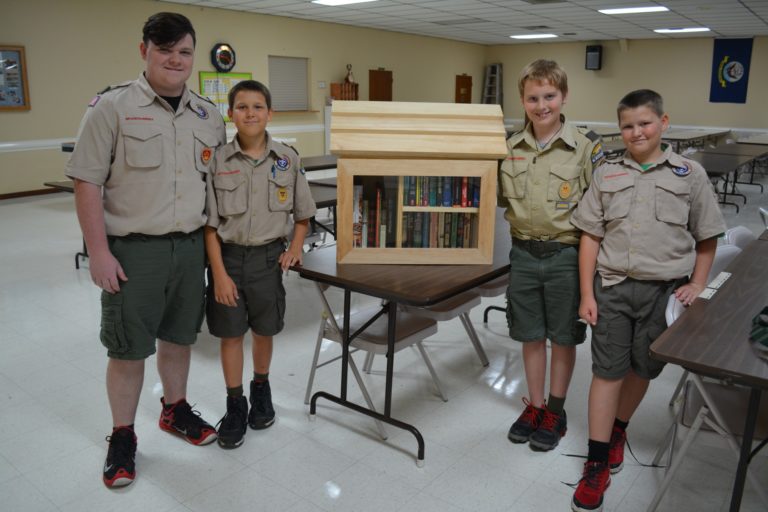 Follow us as we partner with a Boy Scout to raise literacy levels in Plant City.
When community leader Yvonne Fry first approached the Plant City Times & Observer about helping with a literacy project known as Little Free Library, we had quite a few community service projects on our plate: two Rotary videos, a journalism mentorship with Plant City High School, focus group planning and Relay for Life publicity.
But something stuck out about Little Free Library. The international project involves building a birdhouse-like cabinet that holds
books and can be placed inside or outside at businesses, parks and homes. It operates as a take-one-leave-one book exchange.
Being in the newspaper industry, the literacy aspect excited staff. Even more exciting — it was to help Boy Scout Blake Dunn attain his Eagle Scout status.
As you've read in Calling All Bookworms, Blake Dunn built the structures while mentoring younger scouts. Yvonne Fry took care of fundraising and continues to gather donated books.
Our job is to find locations for the Free Little Libraries, six total, and to select artists to paint them. We have three locations confirmed.
The next step is to convince the City Commission to allow us to put one in Historic Downtown and at the Dr. Martin Luther King Jr. Recreation Center. We will be making a presentation at 7:30 p.m. Monday, April 11, to the Commission. We believe these high traffic areas are well utilized, making them a fit for accessibility to a little library.
We would like to secure club sponsors to watch over these two locations as well.
We will also be raffling a little library to someone in the community to put outside of their home for surrounding neighborhoods to enjoy. If you would like win one, the first signups for the raffle will take place Monday, April 11, when we kick off National Library Week at the Bruton Memorial Library. Meet the staff of the Plant City Times & Observer and ask us questions about the newspaper industry from 10 a.m. to noon. We will unveil the first completed Little Free Library, with art done by 2015 Florida Strawberry Queen Samantha Sun.
And a big thank you to artists Samantha Sun, Eric Barber and James Villa for committing to painting three libraries.
As this project comes together, all parties involved have been enthralled at the mechanics of it. It spans art and literature to engineering and business. It connects community members of all ages, demographics and talents. And it opens up the the written word to those who may not have access to Bruton Memorial Library or other resources because of transportation, costs, time and more.
Literacy does not just help one to become a better communicator. Yes, it does increase education levels, leading to better job opportunities and a higher quality of life. But it also opens up worlds to those looking to relax, those who need an escape, those who want to dream and those who want to change the world.
The pen is mightier than the sword.
Contact Amber Jurgensen at ajurgensen@plantcityobserver.com.