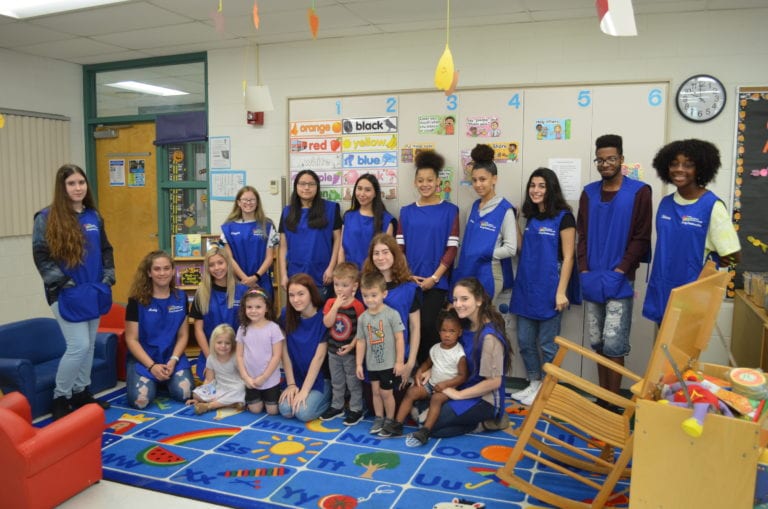 Durant High School's hidden gem of a preschool has room for more students.
For years, Durant High School has opened its doors to the community and offered a unique amenity that benefits both local families and students. 
The Little Cougars Preschool has acted for more than a decade as an affordable on-campus, lab-based preschool while also allowing high school students to gain experience working with children so they can graduate with a Florida Department of Children and Families certificate on top of their high school diploma. It's a win-win, yet Little Cougars Preschool Director Katherine James has watched enrollment slowly dwindle over the years.
"I think, unfortunately, we are in a tough position," James said. "There's a cow pasture on one side of us and a strawberry field on the other. Parents simply don't know that we are here and that this service exists. I'm hoping by getting the word out, more families will learn about the program and can see if it is a fit for them."
The program is one of the most affordable options in the area. For $50 a month, preschoolers can come to Durant from 8:40 a.m. to 12 p.m. three days a week. For three weeks of the month they attend class on Tuesdays, Wednesdays and Thursdays, and once a month they come on Tuesday, Wednesday and Friday. It's a perfect way for local parents or caretakers to make time for themselves, whether that's so they can run errands, work a side job or even simply get free time at home. At the same time, their children are learning social and academic skills that are nearly impossible to pick up at home.
The Durant students that are a part of the Little Cougars program work in James' class for their career technical education class. By working so many hours both in the classroom and with the children, they are able to use the multi-level course to ascend to the level needed to take their necessary exams.
"When they graduate with their certificate it gives them the opportunity to work through college, or even if they're stay-at-home parents, to have the certification they need to maybe work where their child is going to daycare," James said. "This is the first step for a lot of my students. They aren't just learning to be babysitters. They're taught how to identify abuse and neglect, what the rules and regulations are in this field, the necessary information on health and safety and nutrition. They learn what is developmentally appropriate and acquire the skills to not just develop lesson plans, but to actually teach these students in a way that is meaningful."
It isn't all classroom studies, either. James joked that by the second year her students have learned firsthand that preschoolers are more than just the "adorable, fun children you see on the playground."
They sometimes see the kids when they're sick, when they have digestion issues and when they have accidents in the restroom. It's a reality check for many of them and they come out ready to handle anything their future careers may throw at them.
The preschoolers learn their alphabet and numbers, conduct science experiments and also get a healthy amount of playtime. One of the best aspects of the course is to watch as children come in participating in parallel play, where they play beside each other but don't influence each other's behavior, and leave having evolved into cooperative play, where they'll work together to achieve a common goal.
"It's friendships. We literally watch them learn how to have friendships," James said. "We work hard to build each child's self-esteem. We tell a child what we want them to do, not what we don't want them to do. I really like seeing them develop these friendships and skills over the year."
The Little Cougars has an open enrollment so interested parents can reach out anytime to add their student to the roster.
For more information call 813-757-9075 x266 and ask for Katherine James or email her at katherine.James@sdhc.k12.fl.us. There is also information online at durant.mysdhc.org under the programs tab for Little Cougars School. They accept potty-trained 3-year-olds and 4-year-olds who do not qualify for V-PreK.