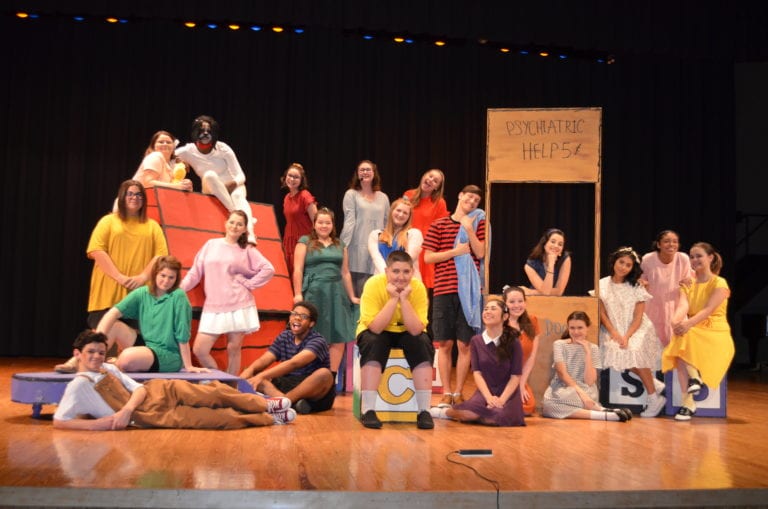 Plant City High School's Theatre Troupe 1449 is kicking off a two-week production of "You're a Good Man, Charlie Brown" starting at 7 p.m. tomorrow.
Beloved characters from Charles M. Schulz's Peanuts comic strip are coming to life this weekend at Plant City High School.
The award-winning troupe is kicking off its two-week run of "You're a Good Man, Charlie Brown" on Friday and is promising a fun time for attendees of all ages. 
"People should come see the show because in addition to it being filled with iconic characters and fun songs, we are lucky enough to have a cast of students that really bring these characters to life," drama teacher Audrey Schmidt said. "I rarely typecast students, but each of our leads really embodies the characters they're playing. They are perfect for the role."
The family-friendly show is cheaper than a night at the movies and will have your entire family reminiscing on their youth and cheering Charlie Brown on as he struggles to discover how he can really become a "good person."
All of the beloved favorites are there — like Charlie Brown, Lucy, Schroeder, Snoopy and Linus — and the plot, though simple, never fails to pull on the heart strings.
Tyler Stanaland, a sophomore, is donning the iconic yellow shirt as he steps into the lead as Charlie Brown. Like so many of Schmidt's students, Stanaland never intended to wind up in theater. Slowly he watched as many of his friends found their home away from home in Schmidt's troupe, and soon he decided to dip his toes in himself. Calling the production "innocent, lively and colorful," Stanaland said it has been fun breaking down the fears and moral pressures everyone deals with to an elementary school level.
Costar Hannah Holm, a sophomore who plays the sassy Lucy, is one of the few in the troupe that has known from a young age that performing arts were in her blood. The camaraderie the cast has is evident on stage, Holm said, and she echoed her cast mates in the belief that so many of them share major character traits with their comic strip counterparts.
While the acting and singing are by all means a major draw to the show, some of the most impressive aspects of the production are the intricate light and sound cues the tech team has to meticulously finagle throughout the show. Kaitlyn Gomez, a junior who is stage manager for the show, said the crew has come together to make a simple script into a production no one will forget.
"Last year was a crazy year," Gomez said. "We achieved feats we didn't think were possible. It does add a lot of pressure for us this year to carry on that tradition and continue to evolve and grow as a troupe. We have a reputation now and we fully intend to do our best and surpass the feats we've already accomplished."
Raegan Taylor, a senior who is a member of the dance corps and president of the troupe, echoed that determination to continue to excel. It's a new year, she said, with many new students to the troupe. The faces on stage and behind the scenes may not be the ones that took the troupe to glory in regional, state and even nationwide competitions last year, but she said they've embodied the spirit of perfection from those before them and are ready to carry on the legacy.
"As simple as people may think this show is, it's one of the most intricate we've ever put on," Taylor said. "No one will get bored watching it. It's a fun story and there's something for everyone."
If you go
You're a Good Man, Charlie Brown
When: 7 p.m. Nov. 8, 9, 15 and 16
Where: Plant City High School Auditorium, 1 Raider Place
Tickets: Adults $10, Students/Kids $8, Children five years old and under are free. Cash or check at the door. 
For more information: "You're a Good Man Charlie Brown"
Extra: Bring donations to get your picture on Snoopy's dog house after the show.