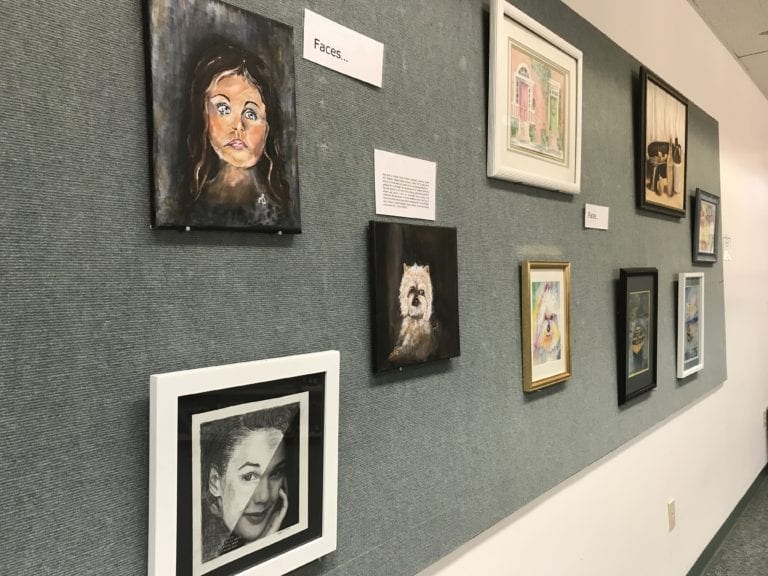 "Faces, Places and Things" painted by the Plant City resident are displayed on Bruton Memorial Library's art wall throughout October.
Meg Scott may be quick to describe herself as a "rank amateur" in the world of painting, but her passion for it is evident in her work.
"I worked my entire life and now that I'm retired, I really enjoy relaxing and learning," Scott said. "I'm self-taught. I took a class here and there when I had time but this is the first time in my life I've had time to do it.
Plant City residents can see for themselves this month at Bruton Memorial Library, as Scott has donated a number of paintings to the library's art wall to display for October's featured artist exhibit.
"I just appreciate (Bruton) giving me a chance to get someone to see them," Scott said.
Scott, who has been painting on and off since 1985, is a writer by nature. She's taught English at Hillsborough Community College's Brandon campus and in Texas, was a USO tour director and worked as a reporter in Texas and Florida. Those who read the Tampa Tribune may remember Scott as a community columnist.
She has spent more time in the last decade honing her skills with a brush and canvas than ever. Though watercolors are her favorite medium to work with, she's not opposed to painting with other materials. Scott also has a variety of oils, acrylics and pastels on the wall.
Her two favorite things to paint are people and animals. Scott, who does take commission requests, usually works with pastels as opposed to watercolors when making a portrait. Some of the portraits on display depict people and animals prominently in her life. One painting is of her daughter and her daughter's dog, and another shows her beloved 15-year-old Yorkshire terrier, Winston, whom Scott and her husband rescued last November.
Though Scott isn't as high up on landscape art, she can't help but paint a scene if she comes across a place she happens to love. One landscape on the art wall, for example, shows a daytime scene from Texas with her truck in the foreground.
Anyone interested in having their work featured on Bruton's art wall can apply for a spot by contacting Library Services Associate Angel House at ahouse@plantcitygov.com.