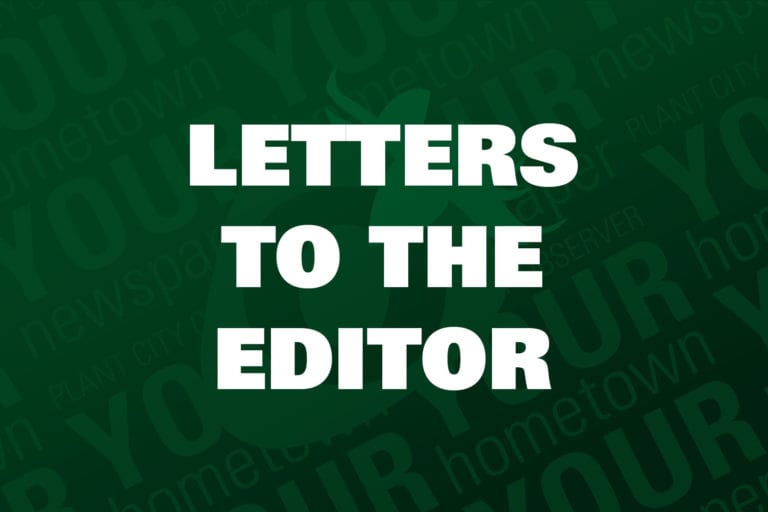 Letter to the Editor
I am writing regarding the proposed Major Modification for Walden Lake following the Planning Board's meeting held this past Wednesday and PCO's article in this week's edition covering that meeting. I want to express my thanks to the Planning Board members, this important work comes with significant responsibility, commands extensive time and the service is without compensation; Board members – thank you. I have lived in Walden Lake since 1995 and find Plant City in general and Walden Lake in particular to be a wonderful place to live, work and enjoy family life.
After calling the meeting to order, Board Chair Art Wood sparked discussion, and stated that he would hold his specific thoughts for the end but wanted to hear from the board members. The members each had considerable comments thanking the petitioner for their cooperation, and some stated they had not seen another that was so willing to change plans based on criticism, objection or denials of their proposal. I found this praise a little odd, but later Mr. Wood's comments were more in line with my thoughts. He mentioned that one could never know what the petitioner was thinking, but the chain of events looked somewhat like a ploy with the initial proposal including commercial, apartment and density that should never have been proposed. Concessions made from that unrealistic starting point are not really concessions, they are moves toward what one may have prayed they could get from the onset, hoping that their ploy of the initial "pie in the sky" would make the revision with their "concessions" more palatable. He further stated that the current proposal is still not appropriate and his astute observations merit focus and consideration. Walden Lake has over 2,200 homes, of which some 200 may be considered villa or townhome, so roughly 10% is other than detached single family. Mr. Wood also observed that the as built clusters of villa or townhome were all strategically placed with direct access to Timberlane Drive, the main road thru Walden Lake, which prevented that density from creating adverse impact on other less dense, detached single family areas. He then discussed how the current proposal for 550 homes has 72% villa or townhome, and the placement of the dense areas is off of current side streets that serve the planned and built detached single-family areas. Mr. Wood further discussed how this proposal with its density and placement is completely opposite of how Walden Lake was planned and built.
If any modification is approved which would allow for additional building in Walden Lake, it should be at least a reflection of the community as it was planned and built. The ratio of detached single family, villa, town home must be at least in line with Walden Lake as built but may even be less dense to make it work with the challenges of access, egress, privacy and congestion, all of which really support safety. Lot sizes, widths, setbacks, street widths and absence of cul-de sac ends to large areas must be in line with the planned and built community as it exists.
Other comments of the board members referenced some concern that Walden Lake was not "working with" the petitioner to collaborate or build more support. Proper response to this requires some consideration of how Walden Lake was planned and built, the administrative structure for that and how some discussions to date were attempted. Walden Lake is a Deed Restricted Community which operates in a two-tier system. The Walden Lake Community Association, called "the master association" and the local HOA, named for each of the clusters or sub neighborhoods. All are members of the WLCA, and the WLCA Board with its annual dues takes care of most issues, including common area maintenance, trails, park, guard shacks, etc. WLCA is what has been referred to as "the HOA" for the overall community. WLCA manages its business as required and enabled in the WLCA documents, this does not give the WLCA Board any representative authority for the WLCA members, residents, for anything other than care for the WLCA property. That is to say that WLCA may not express any opinion on matters perceived as authority for the community or residents collectively. Years ago, a prior WLCA Board portended to be representing Walden Lake and residents. In one City Commission meeting, a commissioner politely pushed back, reminding the WLCA Board member that they had no representative authority.
Given the petitioners' scheme proposing apartments, commercial and extensive density then falling back to still inappropriate density its easy to see why so many citizens of Plant City and residents of Walden Lake have organized resistance to the ill-conceived proposed major modification. The current proposal should be considered a failed first effort, not praised as friendly concessions and changes.
Sincerely, Robert J. Norton, Clubhouse Woods Resident