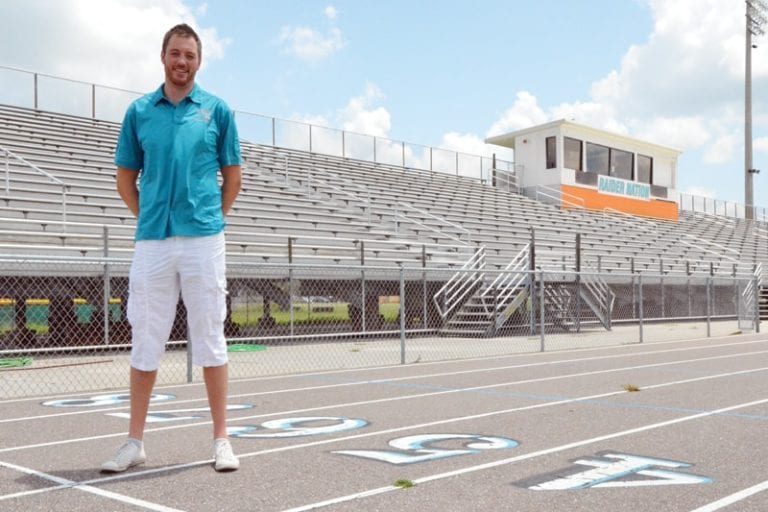 By Matt Mauney | Staff Writer
Many athletes play multiple sports growing up.
Growing up in Luton, England, just north of London, new Plant City High School cross country coach Luke Beevor was no different.
"I was playing everything until I was 13," he said. "I played soccer, cricket, rugby, volleyball, tennis, golf — I really played everything."
Everything but long-distance running.
In fact, Beevor didn't discover his true calling until he was 17 years old.
"I had a lot of growing pains growing up," said Beevor, who stands at 6-foot-10.
It didn't take long to find success in the sport, finishing third in the national championships in England in the 3,000-meter run during his first year competing in track.
He then took a run at cross country and finished second in the trials at the European Championships, allowing him to compete for Great Britain in the under 20 European Championships.
Beevor led his team that day, finishing 19th after a competitor tripped him out of the gate.
"When I got up I was dead last, but I was able to work my way through the field," he said. "I was a little ticked off, but I was happy to finish in the top 20."
That performance caught the notice of the running world, and soon, Beevor had suitors from American college programs after him, along with corporate sponsors that wanted to endorse the tall runner.
"I chose Florida State, because the conditions are good, and the trails up there are great for running," he said.
Beevor competed two more times in the national championships in England, finishing second each time before coming overseas to Tallahassee to be a part of the Seminoles' successful track and cross-country program.
"They say in college that you go from a boy to a man," he said. "I really grew up a lot there and realized that I wanted to stay here as long as possible."
Beevor's career in cross country and track at Florida State was hampered by injuries. The first occurring as early as his freshman year, but he was still able to compete some at a high level. More importantly, he learned what that meant.
"We were very good at track," he said. "We had 11 Olympians from (Florida State) in this year's Olympics, and four or five of those were on the team when I was there. Every day, you were out there running with the best in the world, so it was a real good experience. You're not a professional, but you're almost a professional."
Although there are some distinct differences between track and cross country, both require a high amount of dedication to succeed. Beevor will coach both the girls and boys teams at Plant City and likely will help with the distance track team.
Cross country is a sport where practice is key, and although running every day might not be possible, he plans to have his teams working out at least six days a week, including early morning practices Saturday when the team doesn't have meets.
"It's one of those sports where you can take it further than some of the other ones if you work hard enough," he said. "It takes hard training and really dedicating yourself and getting into a strict regime."
The cross-country teams at Plant City are young, but Beevor believes with the right work ethic and practice regimen, the Raiders can continue to improve and grow the program.
"With my knowledge and with them getting out and working hard, we will see some improvements throughout the year," he said. "Hopefully, we can build on it. It's not going to be one of those things where we see a lot of changes this year, but over the coming years is where we should see our biggest improvements."
Beevor also will be teaching math at PCHS. Education is something he fell in love with while dealing with injuries at Florida State.
He currently is pursuing his master's degree at Florida Southern, where he ran one year of cross country, winning a conference title and finishing fourth at regionals behind three Kenyan runners.
"Everyone thought I was American, but I wasn't American, either," he said, laughing. "The first six finishers were foreigners, and everyone was cheering for me, because they thought I was."
When it comes to Florida, he says he wouldn't want to be anywhere else.
"I just love it here," he said.
Contact Matt Mauney at mmauney@plantcityobserver.com.." >http://matthewktabor.com/sms-zaym-na-bankovskuyu-kartu.php