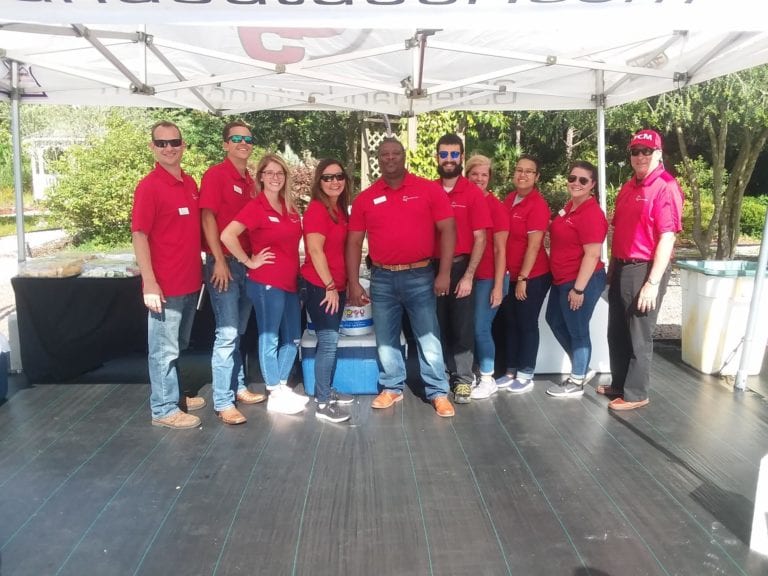 The Greater Plant City Chamber of Commerce's Leadership Plant City program grows up and coming leaders into pillars of the community and helps establish lifelong connections.
To truly get to know your community, you must learn how to serve it.
The Greater Plant City Chamber of Commerce's Leadership Plant City program has selected existing and emerging leaders from various backgrounds and segments of the community and paired them together in an intensive and eye-opening class. With a class average of around 10 people, each year's Leadership group steps away as further developed community leaders with bonds that last a lifetime.
"I can say that it is an absolutely incredible experience," Susan Musser, class member from South Florida Baptist Hospital, said. "I definitely learned so much about the community and really was quite surprised of the depth of intelligence and community engagement and involvement that there is and the diversity that we have. I work in Plant City here at the hospital and have been here for 12 years and I have to say there is so much I learned about the community, the people in it, the businesses that we have. Not just as a community, I learned so much about myself."
Classmate Trey Stevens, Coulter Aviles & Co., echoed that sentiment and said while he knew getting involved with the Chamber was a great way to meet new people and to network, he never would have thought he would make the connections and learn how deep the community's love for the city was by joining Leadership.
"I was born and raised in Plant City and now to be working here and to get involved, well it's a great way to not only meet people, but to further your career as well," Stevens said. "It just opens so many doors within the community. You're going to meet an upward of 50 businesses throughout this whole process. It really gives you a cool breadth of the different unseen players we have in our community."
Team-building and learning how to work well with a variety of personalities and backgrounds was one of his favorite things to come out of the group. He joked that no one knew what they were getting into, but even when they thought they had bit off more than they could chew, they used their strengths to pull through and create something outstanding.
Each year, the Leadership class is expected to complete some type of community project. There's no set type of project they have to choose and classmate Tyrone Shelton, Greater Florida Insurance, said there were moments when deciding that really stretched their creativity. Everyone had different ideas and different visions, but much like a rubber band, he said when they stretched out they always snapped back and worked as a cohesive and progressive unit.
This group decided to go above and beyond what was expected by doing a community project for the Plant City Commons Community Garden that involved cleanup, remodeling and then came to a close with a massive Garden Walk event.
"For anyone who is aspiring to do Leadership and take on the different styles and hands on approaches that are necessary to grow as a leader, there isn't a better program around," Shelton said. "You grow as a leader, no matter where you are in your leadership, whether you're just starting out or have been leading for years, you will find ways to grow and evolve in this program. But it is not a commitment to take lightly."
Though there is a skeleton schedule the group is required to meet, more often than not participants are pouring hours every week into the program. It's unrelentingly time consuming, especially once it gets close to time to finalize their project, however, every team member said it was worth the effort.
But it's crucial to know that you get what you give. If you're not willing to go above and beyond with the program you more than likely won't grow as much as your classmates. As a team, if they step up to the plate, so should you.
"I would whole heartedly recommend the leadership program," Musser said. "However I would, as a caution, say that… while, yes, building your business and networking is part of it, I think you have to have a passion to make your community better, to give back and serve. You'll grow, it will develop and grow you no matter where you are in your life, but it definitely requires a deep commitment on your end to not only accomplish the team's lofty goals, but also to grow and develop together."
Throughout the year members of Leadership attend a variety of retreats to learn more about team building and each other and also get to go on one-of-a-kind field trips to local businesses and corporations to see how deeply committed members of the community from all aspects are to making Plant City the best place to work, play and live.
The depth of that commitment seemed to take everyone by surprise and caused the entire team to want to get more involved following their graduation last week. They're already planning on getting lunch together soon and many are eyeing joining either future Leadership admission committees or dipping their toes into other Chamber committees and groups.
They'll serve together for years to come and they repeated the conviction that they formed bonds that will last their lifetime. Each member said they felt they were now plugged into the deep and diverse web of movers and shakers in town that were working hard to move Plant City in a direction that would benefit the community as a whole.
The nomination period for next year's class is now open. For more information contact Norm Nelson, membership director, at norm@plantcity.org or 813-74-3707.
"I think Plant City is on the cusp of such great things," Musser said. "There are so many people pouring themselves into this community and all of those pieces are working together toward a common goal. Part of it is coming to pass now, but even just five years from now it's going to be so much more. Now is the time to get involved and be a part of that. Some of the classmates, they really are rising stars in the community. Yes there are names we all know and businesses we know, but there are so many newcomers that are wanting sink their teeth in and be a part of this change. It's happening now."
Leadership Plant City Class of 2019
Trey Stevens, Coulter Aviles & Co.
Dillon Glisson, G5 Feed & Outdoor
Morgan Tomlinson, Rita Staffing
Morgan Williams, Maid Easy Cleaning
Professionals
Tyrone Shelton, Great Florida Insurance
Josiah Colon, Suncoast Credit Union
Susan Musser, South Florida Baptist Hospital
Lilly Martinez, State Farm Insurance – Courtney Paat Agency
Bree Wilson, Plant City Chamber of Commerce
Steve DePianta, Stahl Insurance & Associates