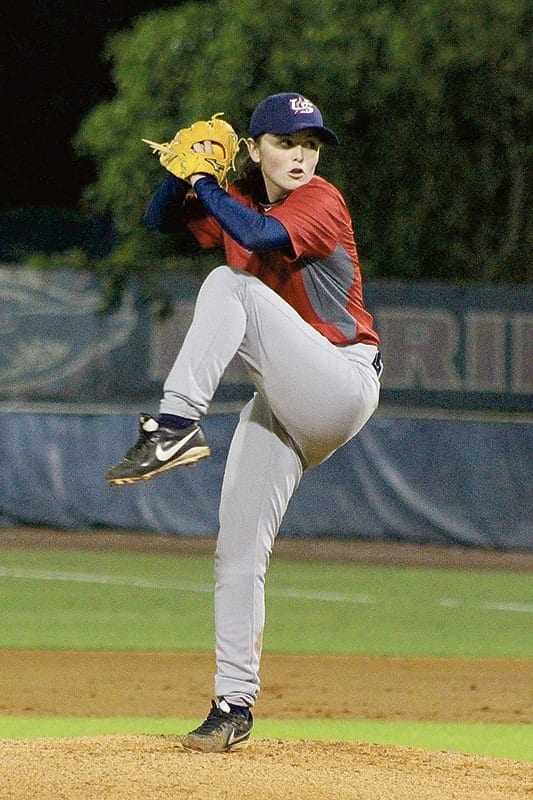 At just 16 years old, Chelsea Baker's baseball career has allowed her to travel the country to play the game she loves.
This August, the Plant City resident will have the opportunity to play overseas in a part of the world in which women's baseball is a common and popular commodity.
Baker's 16U all-girl All-Star team, comprising some of the best young players from around the United States, will head Aug. 10-17, to Osaka, Japan, for five exhibition games against Japanese all-girl high school baseball teams.
This will be Baker's second trip to the Land of the Rising Sun but her first time actually competing. She went in March 2012, as a goodwill ambassador for girls' baseball in the U.S. and Japan's Hit and Run Baseball.
"It was a fun trip and allowed me to experience their culture," she said. "Their transportation and everything was different, and I had to have a translator the whole time, because I couldn't understand anybody."
Along with her teammates and their families, Baker will travel to Japan with her parents. Hit and Run Baseball is sponsoring the trip and paying for room and board, but players and their families are responsible for their own transportation. Plane tickets cost about $1,900 per person, so Baker's father, Rod Mason, created a fundraising website to help cover some of the cost.
As of Wednesday morning, $1,600 has been raised to help cover Baker's ticket.
"The support of the local community here has been great," Mason said. "This is a wonderful opportunity for these girls, and it will be a once-in-a-lifetime experience for many of them."
RESPECTING THE GAME
During her previous trip, Baker saw vast differences between women's baseball in Japan and the U.S.
"They have a lot more passion for the game, I feel like, than we do here," she said.
In Japan, women's baseball is a popular sport, drawing 30,000 to 35,000 fans to venues such as the Tokyo Dome during professional games.
"We didn't get to play last time, so I'm excited about that," Baker said.
Japan's national team won the World Cup in August 2012, in Edmonton, Alberta, Canada, beating the U.S. national team in the finals. Participation in women's baseball is also much higher than the U.S., although the sport has grown rapidly the past few years.
"Japan baseball is really good," Mason said. "This trip will be fun to see how our girls stack up."
CELEBRITY STATUS
For some, playing in a foreign place may be intimidating, but Baker, a pitcher, is used to having many eyes on her when she takes the mound.
Baker's dominance in Little League, including throwing two perfect games, gained her national attention, including a segment on ESPN's "E60" and MLB's "This Week in Baseball." In August 2010, she had her Brandon Farms Little League jersey on display at the Baseball Hall of Fame, in Cooperstown, N.Y.
During the trip, Baker was featured on "Good Morning America" and was able to throw on Broadway in Times Square, with her dad catching.
"I remember being more nervous than she was," Mason said. "There were people lining the street and cameras all pointed at us. I could barely throw the ball back to her. I asked her, 'How do you do stuff like this,' and she said, 'Dad, we're just playing catch.'"
Baker's signature pitch is one of the rarest in baseball and even more uncommon at the youth level — the knuckleball.
Baker learned the pitch from the late Joe Niekro, a former Major League player and brother of MLB Hall of Fame pitcher Phil Niekro.
Throughout the years, she has perfected the crafty pitch, thrown to minimize the spin of the ball in flight, causing an erratic, unpredictable motion. Not only has it led to dominating pitching performances and many strikeouts against boys her age, but also it has been effective against those much older than the young pitcher.
In February, Baker was invited to be a part of MLB Network's first reality TV series, "The Next Knuckler." There, she met famous Boston Red Sox knuckleballer Tim Wakefield and had an opportunity to pitch against the show's contestants — five former quarterbacks who were competing to learn the pitch from Wakefield. Baker would strike out former MLB infielder and Louisiana State quarterback Josh Booty, the eventual winner of the competition, along with the show's host, Kevin Millar, a former teammate of Wakefield.
"That day was the best I've ever seen her knuckleball," Mason said of his daughter. "No one could hit her that day."
Although she has garnered plenty of attention in the States, Baker is a celebrity figure in Japan. In her visit last year, she was featured on the front page of sports pages and on Japanese TV shows. She was also constantly asked to sign autographs by adoring fans.
"I'm almost known more in Japan than the U.S.," she said. "They call me the Knuckleball Princess."
PRO POTENTIAL
Baker was offered a women's professional contract in Japan when she was just 15. If she accepted, she would be making around $40-50,000 a year and playing against some women twice her age. Although taking the offer wasn't the right fit at the time, Baker is considering playing overseas, after graduating from Durant High School, where she will be a junior this fall.
"I've thought about playing for the U.S. national team and thought about playing in Japan, and I just think it would be a neater experience if I play in Japan, because I would be the first foreigner to ever play over there," she said. "I would love to do that."
In the meantime, Baker is soaking everything in and enjoying playing this summer for her travel ball team, the Angels of Baseball Heaven. She is the only female player on the team.
Baker played on Durant's junior varsity team last spring and hopes to make varsity next year.
"That's been a goal of mine for a long time," she said.