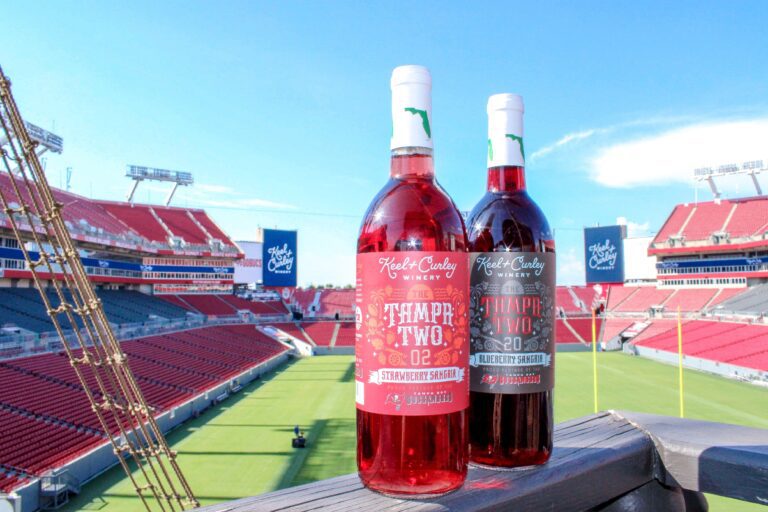 The establishment and football team are implementing wine for fans
Tampa Bay Buccaneers' fans will have new offerings to choose from when attending the home games, courtesy of Keel Farms.
This year, the establishment has partnered with the team to sell several of their products at the games.
Strawberry and Blueberry Sangrias will be for sale while enjoying the sporting events. There's also a cider called Pirate Punch that Keel Farms is also implementing.
Clay Keel and his wife Carmen are the owners of Keel and Curley Winery in Plant City.
The marketing director for the team approached Clay, stating that the Bucs were looking for a wine sponsor and asked if he would be interested.
Clay decided to jump at the opportunity.
"One of the things I was particularly interested in was being able to use the Buccaneers branding on a product or make a product tied to the team," he said.
However, any product affiliated with the team must commemorate it in some way. Clay decided to offer blueberry and strawberry-flavored sangrias with the Bucs logo on the bottles, an initiative called Tampa Two.
"We chose sangria and I think that matches pretty well," Clay said. "It's an approachable drink."
Clay said he will be outside the stadium on game day to offer samples to patrons before they head to the bleachers and the products will also be displayed on the jumbotron screen.
He hopes that the sales of the sangrias will put more spotlight on Keel Farms.
"We haven't had a ton of interest and success in integrating sports into what we do, so it is a new avenue that we're hoping we can use to get some new customers," Clay said.
In 1981, Keel Farms was created when its namesake Joe Keel, started a 10-acre nursery for small plants, which would eventually grow blueberries as well.
In 2003, Joe began using his blueberries to make wine and established Keel and Curley Winery with 10 gallons of blueberry wine.
Keel Farms Agrarian Ale and Cider began in 2013, producing craft beers and ciders. Clay and Carmen took over the business in 2018. The farmland has expanded to 35 acres with produce, a peach orchard, pasture-raised chickens, grass-fed cattle, along with its signature blueberries.
The sangrias will not only be sold at the games but at limited Publix locations within Pinellas, Pasco, and Hillsborough counties.
Clay would also like to come up with a new wine option for next year as the Bucs bring back the creamsicle color scheme that the team wore from 1976 to 1996 as an alternate unform.
The sangrias will be sold starting at the Bucs home game against the Green Bay Packers, on Sept. 25.