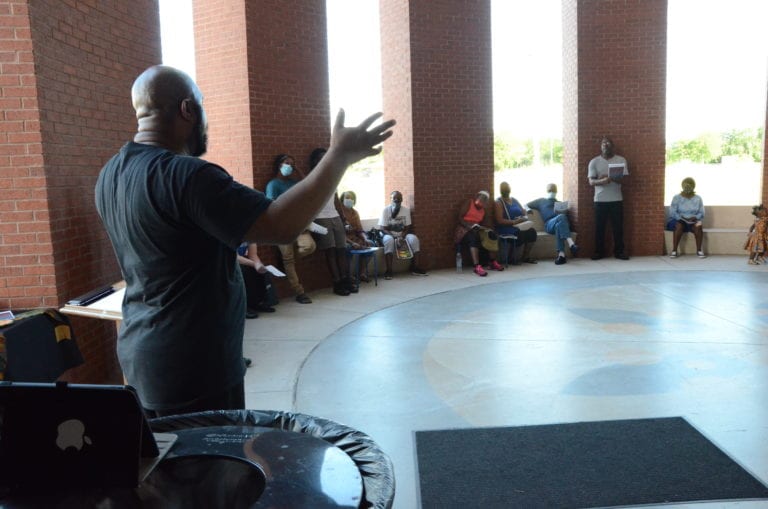 People gathered at the courthouse downtown on June 19 to learn all about the holiday celebrating the emancipation of America's last remaining slaves in 1865.
Until recently, Juneteenth has flown somewhat under the radar despite being a celebration of a crucial development in American history.
Those who went to the "Celebrating Freedom" event at the Plant City courthouse on Michigan Avenue the evening of June 19 got a few history lessons thanks to Associate Minister Maurice Wilson of Greater St. Luke Missionary Baptist Church, who also led the June 17 "A Night of Remembrance" memorial service at Courier Field for victims of police brutality and the June 17, 2015 mass shooting at Mother Emanuel African Methodist Episcopal Church in Charleston, South Carolina.
Wilson started the event by reading President Abraham Lincoln's Emancipation Proclamation of 1862, which ordered the freedom of all slaves in the United States effective January 1, 1863. The process took approximately two and a half years to complete, though, so it was on June 19, 1865 that Major General Gordon Granger arrived in Galveston, Texas to enforce the executive order and free the last remaining slaves.
Juneteenth has been celebrated annually ever since. The holiday also has its own flag, which was originally created in 1997, with symbolism representing the new beginnings for those freed black Americans. The roots of another symbol prevalent in civil rights movements past and present, the raised fist, were also explained by Wilson.
Wilson asked those in attendance to not only educate themselves on black history, but to also learn more about Plant City's history and get more involved in local politics — a point echoed by attorney Theodore Taylor, who also spoke at the event.
"If you want to make change, you have to be the change," Wilson said. "If we as Plant City come together as a unit, can you imagine the turnaround and change that can happen?"
Members of the public were invited to come up and speak if they wished. The discussion first turned to police brutality and Promise Goodwine opened the segment with a call for compassion.
"George Floyd is the wake-up call," Goodwine said. "Everyone wants to bash him because he has a criminal history… I'm a criminal, but that doesn't mean you need to kill me. And not every black person is a criminal."
Taylor stressed the importance of the black vote and urged everyone to not waste an opportunity to make change in their community. Voter registration forms were available on-site for anyone who wished to register to vote or to register for the Vote By Mail service. Also in attendance was Cleo Townsend Jr., who spoke about his ongoing campaign for the Florida House-District 58 seat.
Wilson wrapped things up by leading the crowd in the recitation of the Black National Anthem, written by James Weldon Johnson in 1900.