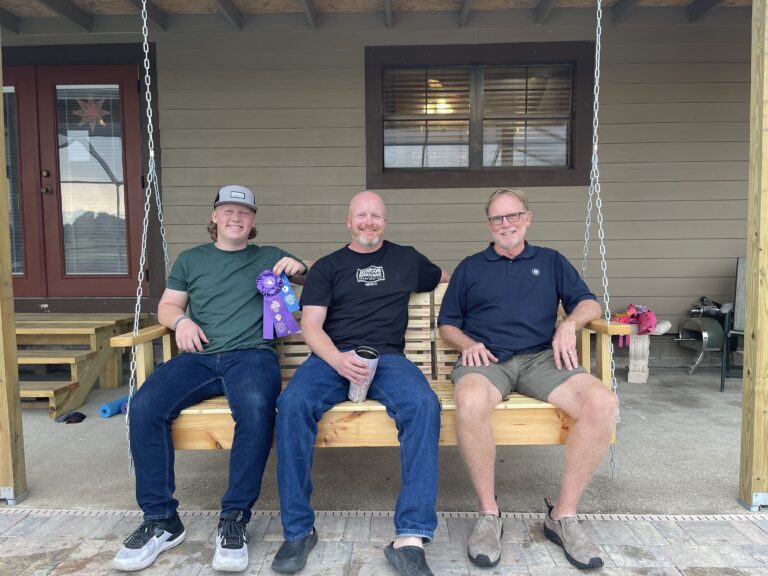 Patrick and Aubrey Johnson are two of hundreds of youth who displayed handmade items in the annual contest.
The "We Have A Winner" theme at this year's Florida Strawberry Festival is very fitting for the Johnson family but they don't have one Neighborhood Village contest winner in the family. They have two winners.
Eighteen-year-old Patrick Johnson won first place in the Woodworking/Carving category for a porch swing and his 14-year-old sister Aubrey Johnson won Grand Champion in the Quilts category.
The swing was Johnson's first foray into woodworking. Its unique design features a removable split-back design so the backs could be interchangeable, allowing the person swinging to choose which direction they want to face. "My parents redid our back patio and my mom wanted to install a swing but couldn't decided which way she wanted the swing to face," he said. "That got me thinking and so I drew it out and realized I could build it."
Johnson, who doesn't consider himself a woodworker as much as a designer, didn't use an autoCAD machine, a 3D design software that makes it easy to visualize the project. He sketched his design on a piece of graph paper.
"I had to make some modifications as I went along but the finished product is pretty close to what I drew out," he said. "You can have one person sitting on the swing watching the pool and somebody else watching the grill."
When he finished building the swing, his mom was so impressed she told him he should enter it in the Neighborhood Village contest. "I had absolutely no expectations when I entered, it was really just to see what happens," he said. "When I found out I won I was super-stoked."
Woodworking/Carving chair Connie Gerbasi and co-chair Ashlynn del Valle were astonished when they saw Johnson's handiwork. "We were amazed at his skill but also at the clever design, a porch swing where you could sit and face each other while you were swinging was such a fun idea," said Gerbasi. "Everyone was in awe of the craftsmanship."
It wasn't just his craftsmanship judges were in awe of. Aubrey Johnson was thrilled to take home the top prize in the Quilts category. "I was pretty excited when I won," she said. "The quilt was a gift for my youngest cousin so now it'll go to her."
This year's festival saw almost 700 entries by youth judged, awarded and displayed in the Neighborhood Village contest with more 33 entries in the youth woodworking department.
Johnson hopes to sell his swing, which can be customized to any dimension. "I can build these in any size," he said. Email him at pjdesigns04@gmail.com for more information.
As for the swing he entered in the contest? It's not for sale. It's already back in his possession and he and his grandfather installed in on the back porch. "We're gonna sit on it and enjoy the sunset," said Johnson.