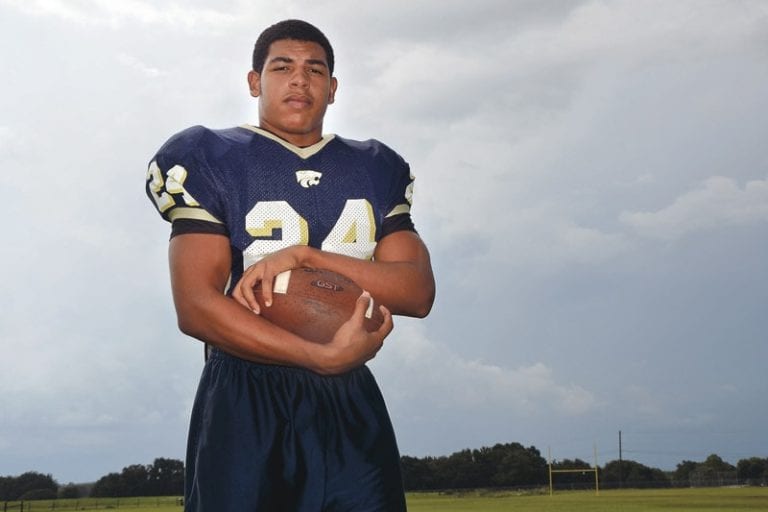 John Hendricks felt out of place.
Living in the shadow of standout quarterback and Naval Academy commit Will Worth, the running back still made his mark on the stat sheet at Newsome, where he had 1,012 all-purpose yards (798 rushing and 214 receiving) as a junior.
But off the field, something was missing. He wanted a family-type atmosphere, along with a platform to help make his college playing dreams a reality.
"I thought it would be a better opportunity for me, because I really didn't think that where I was at was going to give me a chance to get to the next level," he said of his move to Durant this year. "I came here hoping to get the training and the knowledge to hopefully get to the next level."
Coming to Durant from Newsome, the Cougars' arch rival, was a smoother transition than most may think.
"The transition has been great," Hendricks said. "They've been treating me like I've been here all along since the ninth grade."
Hendricks is a welcomed addition to the Durant football family. The senior promises to be an immediate impact player for the Cougars, who lost standout Jamarlon Hamilton (1,340 yards, 20 TD).
Hendricks is being paired with returning junior running back Cris Atkins, along with fullback Kadarius Griffin.
"He's like Jamarlon in that he's strong and runs strong," said Durant head coach Mike Gottman. "He's quick and powerful. He's been a pleasant surprise, and I have nothing but good things to say about him."
Hendricks didn't waste much time making his presence known. He had two rushing touchdowns in Durant's 42-27 win over Oak Ridge (Orlando) in the preseason classic. Hendricks also will see time at linebacker and as a return specialist.
POSITIVE CHANGES
Hendricks played two seasons for Newsome, after playing his freshman year in Maryland, where he grew up playing football.
"It's a lot hotter and harder here, because everybody has the work ethic of, 'If you're out there working, they want to work even more to better themselves,'" he said. "The work ethic of the players and coaches and, honestly, the generosity of the people are the biggest differences."
Hendricks said he doesn't stay in contact with anyone at Newsome to avoid smack talking and distractions and is just focused on having a great season with his new team. When he was with the Wolves, he remembers Durant for its big offensive line, something he is looking forward to having this season.
"I honestly never had a line this big and this physical, so it's a first for me, and I'm excited to be able to run behind them," he said. "I know, with these guys, we're going to gain big yardage every play."
As part of an option-style offense, Hendricks is excited to be included as one of those options.
"I expect to have big plays and long runs," he says. "Our offense should be exciting to watch."
Although he is a year younger, Hendricks has learned a lot from Atkins, who has been the second-leading rusher on the team behind Hamilton for the past two seasons.
"He's taught me a lot, because here they have different foot positions, so he's taught me a lot of footwork and drills to help me in this offense," Hendricks said.
PROSPECTING 
Hendricks' dream is to play college football.
Although he currently doesn't have any offers, he hopes the transition to Durant will pay off with an opportunity to play at the next level.
While in Maryland, Hendricks was used in a variety of ways, including on special teams, as a kick and punt returner. He didn't have that opportunity at Newsome.
"I'm used to doing it, but at Newsome, they never used me back there, so I'm looking forward to that here at Durant," he said.
Hendricks will be used as playmaker in all three phases of the game, and he hopes that versatility will turn some college recruiters' heads.
"I've had interest from a couple schools, and I'm just hoping they come and see our games and offer me there," he said. "You just have to keep working."
A LOOK AHEAD
Durant may have the toughest non-district schedule in the state this season. Games at Sickles, Newsome and Hillsborough and home games against Tampa Bay Tech and Gaither are lined up down the road, but the Cougars open the season at home against perennial power Armwood.
Durant rode a second half surge to a 42-27 win over Oak Ridge (Orlando) last week in the preseason classic. The Cougars went into the half trailing 21-14 but outscored the Pioneers 28-6 in the second half.
Armwood defeated Cooper City 44-7 last week in preseason action. The Hawks scored on three of their first four possessions in the blowout win, and their defense held Cooper City to just 95 yards.
OTHER AREA ACTION
PLANT CITY AT STEINBRENNER
LAST WEEK: Plant City fell to Jefferson 48-26 in the preseason classic, while Steinbrenner fell to Sunlake 8-6.
NOTES: The Raiders will look to bounce back defensively after giving up several big plays to Jefferson last week. Jefferson quarterback Deiondre Porter accounted for five of the Dragons' touchdowns. His four touchdown passes all went for more than 21 yards, including a 44-yard strike to Chavez Pownell and an 85-yard bomb to Ventell Bryant.
Steinrenner's game with Sunlake was just the opposite of Plant City's preseason match. Steinbrenner was held to just 84 total yards on offense. The Warriors went scoreless until the fourth quarter, when Cody Burgess caught two straight passes for 28 and 14 yards, setting up an 18-yard touchdown pass to Justin Moffatt from Quentin Poteralski.
Landon Galloway, making his first start at QB after switching from receiver, was 15 of 24 for 250 yards and two touchdowns for Plant City.
STRAWBERRY CREST AT BLOOMINGDALE
LAST WEEK: Strawberry Crest defeated Middleton 33-0 in the preseason classic, while Bloomingdale defeated Freedom 30-14.
NOTES: The Chargers will look to avenge a 28-27 loss to Bloomingdale last season. Multiple missed PATs became the difference in that game.
Strawberry Crest looked sharp against Middleton in the preseason classic. Junior Tristan Hyde returns for his junior year, after a stellar sophomore campaign. Hyde connected on 9 of 14 passes for 80 yards and two scores against Middleton, with touchdown receptions from Clay Cullins and Josh Hyde.
Backup quarterback Austin Carswell threw a 55-yard sideline pass to senior DJ Trigg.
The preseason win comes after a blowout loss to Armwood in the spring game. The Chargers defense lost several key playmakers, especially in the linebacking unit, but will feature the Carswell brothers — Alex and Austin — as well as Plant City High transfer Matt Chaney this season.
After Freedom bounced back from a 14-0 deficit to tie the game, Bloomingdale scored the final 16 points of the game in their preseason classic.
Isaiah McIntyre returns as the Bulls quarterback after passing for 1,214 yards last season as a freshman. Bloomingdale will be breaking in a young backfield after losing leading rusher Eugene Baker (791 yards, 10 TD). Junior Doug Sanberg scored early in the Bulls preseason game with Freedom.