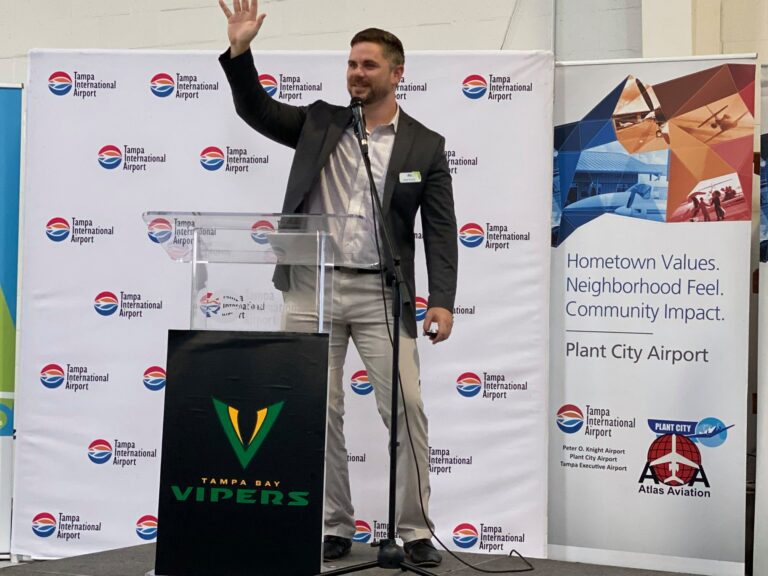 Austin will start a new chapter in January as COO of Florida Insurance Center.
In 2015, Jake Austin stepped into the role of president and chief operating officer of the newly-formed Plant City Economic Development Council (PCEDC), tasked with partnering with public sector and private corporate investors to fuel economic growth by attracting, expanding and retaining quality employers.
After seven years at the helm of the PCEDC, Austin will be stepping down in January to become Chief Operating Officer (COO) of Plant City-based Florida Insurance Center, an independent agency.
"In my professional experience you either have builders or maintainers," said Austin. "The PCEDC is in a very stable position at the moment and it's time for me to build something else."
Austin recollects his early days as a builder at the Council, working in a tiny office in the Lee Building. "I had a checking account but no desk," he joked about the non-profit start-up. Approximately 30 investors, including the City of Plant City, ponied up approximately $300,000 for its initial budget. One of those initial investors was Florida Insurance Center. With Austin at the helm, it now has 80 investors whose accomplishments include supporting more than 70 economic development projects, creating approximately 4,000 jobs and providing $750 million in capital investment.
This year, the Council has announced 10 companies bringing an estimated 685 jobs that will soon call Plant City home, including Lowe's, BodyArmor and USP Home. Some of his favorite success stories of the last seven years include City Furniture's new showroom, warehouse and office space that is bringing an estimated 500 jobs to Plant City, the construction of the new South Florida Baptist Hospital and the soon-to-be constructed Wheeler Street Station, a mixed-use project bringing approximately 50 apartments along with first-floor commercial space to downtown Plant City.
Austin said the PCEDC applies a targeted approach with regard to development that benefits local residents in two ways. "We encourage job growth by targeting companies and industries that pay at or above our local average wage and offer full benefits packages," he said. "These companies also pay taxes that equate to a better quality of life for citizens of Plant City."
What is Austin going to miss most? "Our public and private supporters have been instrumental in the success of this venture and it's difficult walking away from them but it's time for me to climb a new mountain," he said.
City manager Bill McDaniel is appreciative of Austin's hard work and wishes him well in his future endeavors. "He's provided outstanding leadership in his role at the PCEDC and it's been a pleasure to work with him," he said.
PCEDC's board chairperson Karen Kerr concurs. "We appreciate Jakes' leadership through the years," she said. "He leaves a strong organization that is well-positioned for the future."
The PCEDC board of directors is interviewing qualified candidates for Austin's position and an announcement of his replacement is expected soon.
In the new role at Florida Insurance Center, Austin will be responsible for creating efficiencies and streamlining the processes of the growing business.
"I'm really excited to join their team and roll up my sleeves and get to work," he said.
For more information about the PCEDC visit www.plantcityedc.com.