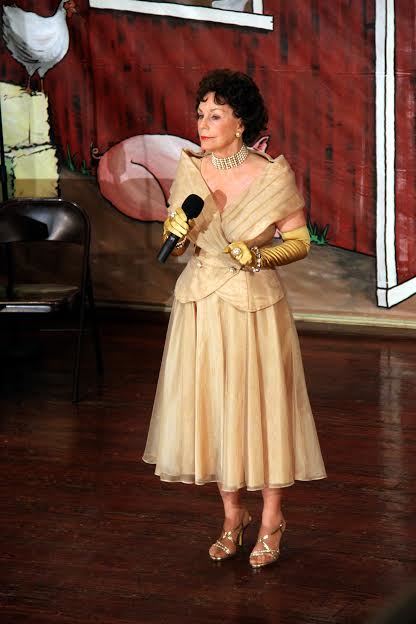 Barbara Van Eycken, a well-known Patsy Cline tribute act, will come out of retirement for a show at the Florida Opry Saturday, Feb. 11.
Though country music star Patsy Cline died in a tragic 1963 plane crash, her legacy and legend has remained relevant and prominent for nearly 60 years.
On Saturday, Feb. 11, that legacy returns to Plant City when the
Florida Opry presents 'Country to Pop: A Tribute Show to Country Music Legend Patsy Cline.'
It's the second time the show – starring Sun City Center resident Barbara Van Eycken – is making a stop at the Florida Opry. The first sold-out performance in 2015 was so successful that Shelby Bender, president and executive director of the East Hillsborough Historical Society, couldn't wait to have Van Eycken back.
"There are quite a few people who do Patsy," Bender said. "Barbara is by far the best."
There was, however, a snare in the plan to get Van Eycken to return. The Patsy performer had retired from regularly appearing as Cline – her second retirement.
The first time was in 2002, after Van Eycken retired as a corporate executive with Christian Dior in New York City. When she relocated from the Big Apple to Sun City Center with her husband, Harold, the couple attended a Patsy Cline show.
Van Eycken was hooked, and a second career was born.
"Having been a singer myself, I loved all the song choices," Van
Eycken said. "I loved her story. In a predominantly male-dominated industry, she had enough courage to stand up right by the guys and do her thing. It's a pioneer story."
During her brief but impactful professional career from 1955 to 1963, Cline gained a reputation for not only being a driven and powerful performer, but for also having a rough-and-tumble persona that led to her befriend many of her male contemporaries at the Grand Ole Opry in Nashville, Tennessee, including Roger Miller, Hank Cochran and Carl
Perkins.
Cline was also among the first to have a successful country-to-pop crossover career.
Van Eycken, who had spent time performing off-broadway when she was younger, said that story captivated her and encouraged her to get back on stage. She formed a company with her husband, began researching Cline and spent the next decade performing between 100 and 150 shows a year as Patsy Cline.
In 2013 she semi-retired, cutting a schedule that took her as far north as Cline's home state of Virginia down to around 50 shows per year.
The Florida Opry had a different Patsy Cline show in 2016, but Bender said it wasn't the same.
"She (Van Eycken) really knows what she's doing," Bender said. "It's like a trip back in time. I thought I was listening to Patsy on the radio."
So, yet again, Van Eycken's phone rang.
BACK IN PLANT CITY'S ARMS
One of her favorite parts of performing as Cline, Van Eycken said, was the ability to share history, to give people the ability to see a living portrayal of a legend they could no longer access in a live setting.
That, and being able to support local nonprofits that support history.
This call from Bender was different, Van Eycken said. Bender was persistent. And, when Van Eycken found out that the Florida Opry
performances support the preservation of local history, she said she was sold. It was her tipping point.
"The conversation went something like this," Van Eycken said. "I said,'It's impossible to say no to you, you know that?' She said, 'Yep."
Van Eycken's performance is a fully-immersive Patsy Cline experience in two acts. She comes out in full character, right down to Cline's outfits. The first act covers her country years, and the second covers her crossover into pop music.
"I tell the story from the dirt-poor days, when she would try to sing on the back of a pick-up truck at drive-in movie theaters and get booed to now," Van Eycken said. "There is a museum in that same town dedicated to her."
Contact Daniel Figueroa IV at dfigueroa@plantcityobserver.com.