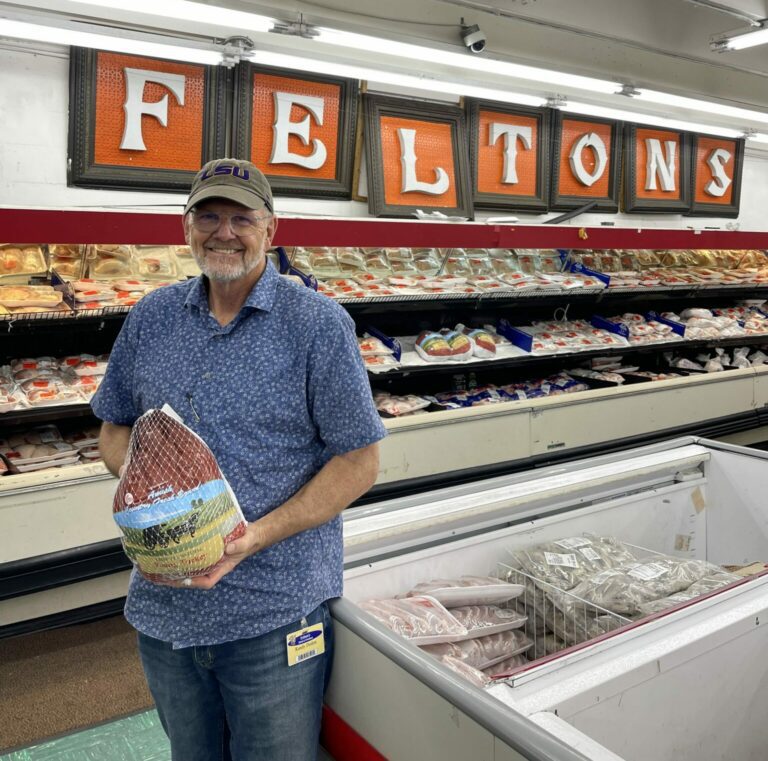 Randy Dedon, meat manager at Felton's, shares his tips and tricks for preparing and cooking the perfect roast turkey.
With Thanksgiving just days away, it's time to talk turkey.
It is, after all, the star of a Thanksgiving table.
The Plant City Observer spoke with Randy Dedon, meat manager at Felton's who has 30 years experience in the restaurant industry, who shared his tried-and-true tips and tricks for a foolproof roast turkey.
How much turkey meat should you plan on per person?
With turkey, you're generally going to go just a little over a pound of turkey per person. If you have 10 people, you'll need at least an 12-pounder. If you want to make turkey sandwiches the next day, I'd suggest adding a few pounds to it.
Felton's sells Amish brand turkeys. What are they?
It's an Amish brand turkey. They're not frozen; they're fresh. They just came in this week and we usually sell out before Thanksgiving. They're a little more naturally raised but mainly it's the fact that they're fresh and not frozen. When you freeze something, you change the composition of it. It breaks it down because expansion of water in the cells in the tissue breaks the tissue down so it's not as firm and takes it out of its natural state. It alters it from the natural state; that's why fresh is always better than frozen. The taste isn't different. To me, it stays moist better and is a little more tender.
If you buy a frozen bird, how long does it take to thaw it?
You're probably looking at a good three or four days under refrigeration. The best health practice is to thaw the turkey, in its wrapper, in the refrigerator. The bigger the bird , the longer it takes to thaw. A 10 to 12 pounder will take two to three days but if you're going with a 20-pounder, you're probably looking at doubling that. I would put a pan under it when thawing it in the fridge because it's going to lose fluids, in the industry we call that purge. You'll have juices leaking out of it and you'll want to make sure you're not cleaning up a mess in your refrigerator. After it's defrosted, don't forget to remove the bag of giblets that's inside the bird.
How do you brine a turkey and why is it important?
There's two types of brining: a dry brine and a wet brine. The dry brine people tend to find that you get more flavor of the salt (it's rubbing it down with dry salt rub) whereas wet brining is you make a salt and water solution and submerge the turkey in it. It generally makes the turkey more moist. You're changing the composition of the meat because the salt will open it up and absorb some of the water into the meat. A lot of people say it's juicier.
A lot of frozen turkey brands already have a salt solution in it so read the label and see if that has already been done for you.
When you dry brine, you end up with a crispier skin and crust with a more distinct salted flavor. A lot of people said they prefer that method because it gives you a better tasting skin.

At what temperature should you cook a turkey and when do you know it's done?
Depends on what you want to accomplish and how crispy you want your skin. Put a food thermometer in the thickest part of the thigh (make sure you don't hit the bone).
We'd cook 'em at 320/325 degrees loosely covered. When the thermometer hits 175 degrees, we'd uncover it and then turn up the heat to about 350 and that browns the skin off. It's done when the thermometer reaches 180 degrees.
Now myself, I have gone to the spatchcock method. I cut out the whole spine and break the breastbone so you can lay it out flat. It cooks more evenly, instead of taking four hours for a large turkey, it's gonna take you about two hours. You can roast it at a little higher temperature and don't cover it with foil. It browns that skin sooner and traps the juices inside the meat so you wind up with a juicier turkey. I salt and pepper it real good inside and out making sure I hit every part of the turkey with a generous portion of the salt and pepper and then put an olive oil coating over it.
If you're stuffing a turkey, you have to be cognizant that the stuffing needs to reach the proper temperature before it's safe to eat for health purposes. Stuffing needs to reach a minimum of 165 degrees.
How long should a turkey rest before carving it?
Normally, you want to rest it at least 15 or 20 minutes minimum and as it's resting it's going to continue cooking a bit.
How long should you keep leftovers?
The general rule is three days. If you don't think you're going to knock it out in three days then freeze it.