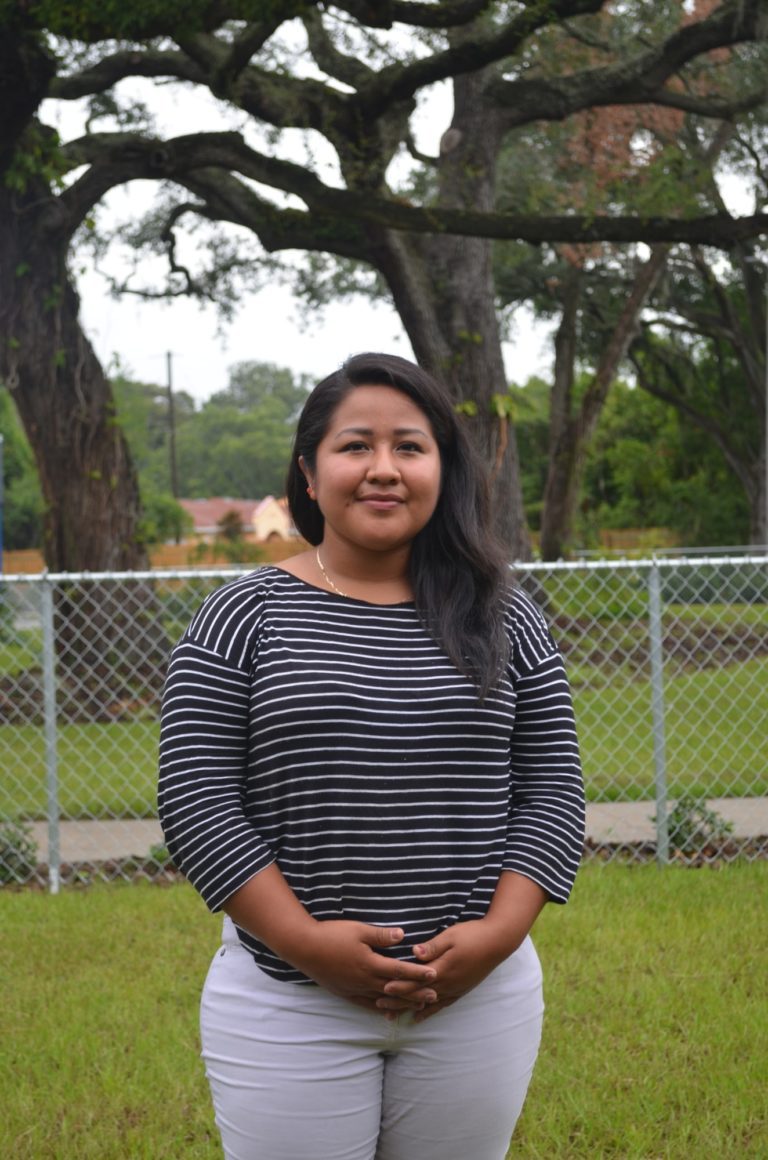 Ilda Martinez is the youngest RCMA board member and was once a student at the Dover center. She helped unveil the new campus this month.
Loss. Separation. Heartache.
Ilda Martinez carries them with her day after day.
She isn't afraid to explore them. In fact, she will be confronting them in a few days as part of her communication as performance class at the University of South Florida.
The assignment: pick a poem to perform.
The stipulation: a relatable poem.
"The poem is about loss," Martinez says.
She has chosen "Heart's Needle." It is raining Monday, June 6, while she works on perfecting each line, emphasizing the right parts — the parts that must be understood.
In it, poet W.D. Snodgrass describes the weakening bond with his daughter after his divorce to her mother. The estrangement. The divide.
Someone will have to weed and spread
The young sprouts. Sprinkle them in the hour
When shadow falls across their bed.
You should try to look at them every day
Because when they come to full flower
I will be away.
Away — it's something Martinez is familiar with. Her family has been split by necessity. Her mother and three siblings live in Mexico. She, her father and two other siblings live in Mulberry. They have traveled picking crops from Plant City to Michigan to North Carolina. As early as 8, Martinez was carrying buckets of blueberries.
In the past six years, the 20-year-old has visited Mexico just once. She went through high school, through coming of age, without her mother's wisdom.
"It's hard to let go," Martinez says.
She finishes up her homework then sets out for Dover in the midst of Tropical Storm Colin. There's somewhere important she needs to be.
THE SEASON WILL NOT WAIT
Martinez is late.
She dodges puddles in the parking lot of a new Dover day care center for children of low-income farm workers.
Ten children stand underneath the covered bus ramp at the entrance. They clutch neon-colored scissors and stare at a large paper ribbon eye level in front of them. Gary Wishnatzki, of the Plant City strawberry dynasty Wish Farms, stands next to them with his own oversized pair of scissors.
Martinez skips up in time to see the group splice through the ribbon. An applause erupts. The children smile. The center has been unveiled.
The new $3.6 million, 15,000-square-foot center is part of the Redlands Christian Migrant Association. Come November, it will increase RCMA's capacity in Dover from 88 children to 176.
Currently, students 6 weeks to 5 years old attend classes in three modular buildings in the back of the new campus.
Martinez was once an RCMA student at the older campus. She spoke Mixteco, a dialect from the mountain city of San Juan, Mixtepec, Mexico.
At the RCMA center she learned Spanish and English in between rushing to the tricycles, a hot commodity, during recess sessions.
"I do remember attending here," Martinez says as she walks the grounds after the ceremony. "I remember riding my tricycle and sticking my tongue out at the other kids."
At the RCMA center she made friends. She learned the American way while preserving her culture. She got her start.
Although she spent summers in the fields until she was 15, rising at 4:30 a.m. on cold mornings to prepare lunches and working until 10 p.m., her father continued to push for her education, like he did when he and his wife first enrolled her in the Dover RMCA center when she was a toddler.
If you don't want to wind up where we are then you need to study.
Now, Martinez is a Gates Millennium scholar. She attends the University of South Florida on a full ride and plans to get her doctorate in the education field, perhaps in Chicago or California. Last summer she snagged one of three internship spots in Washington D.C. with the National Migrant & Seasonal Head Start Association. (And she didn't get lost or trampled on the Metro as she thought.)
And, for the past three years, she has been walking the halls of the older RCMA campus — this time as a board member. The youngest board member in RCMA history.
LOVE'S WISHBONE, CHILD
"It smells so new," Martinez says.
She has entered a large classroom with durable gray floors at the new campus.
"The last time I saw it, the whole thing was still wood," Martinez says.
It was last winter, another rainy day, and construction workers were panicking because the cement was going to get ruined by the weather.
But the center survived the droplets. It is one of RCMA's 69 centers statewide. It is also the center with the longest waitlist.
"It's so neat to see because it's something the new kids will get to enjoy," Martinez says.
Just as she raced other children to the tricycles at recess, the next generation will play among two large oaks in the center of campus.
Martinez plans to be there for the kids, to ensure RCMA centers will thrive so the kids won't have to play in the dirt while their parents pick in the fields under a Florida sun that blisters skin like a thousand paper cuts. So there are no more Heriberto Torres Jrs., the 4-year-old who jumped in his farm worker parents' burning car to save his dog, Bobo, while they were distracted in rows of crops.
For now, she's on the grounds of the community she was born in. But her potential has been unlocked thanks to her parents and the RCMA.
"(At my D.C. internship) they asked if I wanted to work there," Martinez says. "You could stay in your community or you can go and make huge changes and not only affect your community but others. There's so much, so many good people out there. This is what I want to do. Help people for the rest of my life."
Loss. Separation. Heartache.
Her days are also filled with ambition, possibility and heart.
She has competed with law students from Harvard, Princeton, NYU. She has mastered three languages. She has toiled in the fields.
And although her family is scattered between two countries, the sacrifice was made for her.
You are still my daughter.
Contact Amber Jurgensen at ajurgensen@plantcityobserver.com.
SaveSave