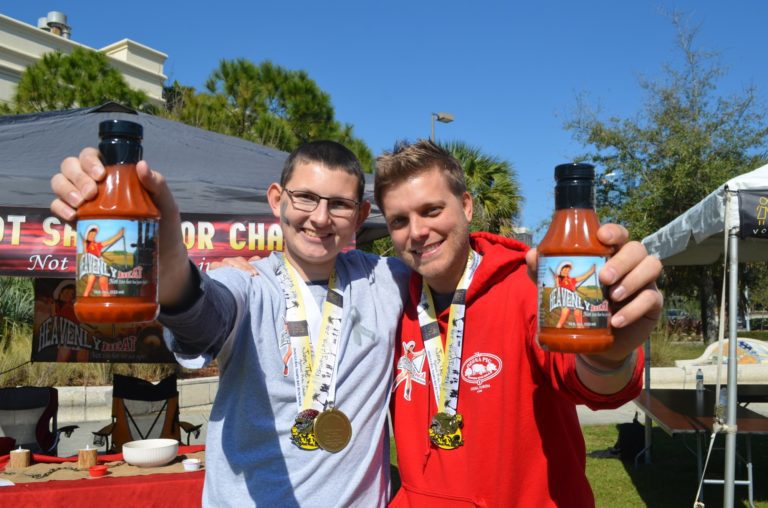 If you've had Hardwood Barbecue, you've had barbecue sauce from a business that benefits cancer patient Nathan Dodds.
Nathan Dodds' first acceptance speech is like no other.
Raaaaaaar. A pinching shrill streams out of his mouth.
"That's him stepping on his cat," emcee JJ Hanson says.
Phhhpppfff. An elephant trumpeting.
Nathan is a master of impersonations. He spent an hour cracking up Hanson and 102.5 The Bone's Drew Garabo during a radio appearance Friday, Feb. 26.
Now his animal noises are infiltrating a crowd at Cotanchobee Fort Brooke Park, in Tampa. A giggling toddler runs in front of the staging area. Her shrieks are the last heard before Hanson places a thick medal around Nathan's neck.
"He's a great young man," Hanson says. "Sharing the message on pediatric cancer."
Seventeen-year-old Nathan has won the Voices Against Brain Cancer Courage Award. He has spent his teenage years fighting for his life against two brain tumors.
Forty-eight months.
Six surgeries.
Thirty rounds of radiation treatments.
He's still fighting. And inspiring others.
"I wouldn't be as brave as I was if it wasn't for my mom," Nathan says at the end of the award ceremony.
His second acceptance speech hits a note with many in the audience. They are mothers and fathers, brothers and sisters, husbands and wives, and daughters and sons of brain cancer patients. Having just taken part in the inaugural Join the Voices! Tampa Run/Walk, they worked to raise $100,000 for brain cancer research and assistance programs.
Although the run is over and the vendors are taking down their tents, those touched by brain cancer, including Nathan and Hanson, still have a long fight ahead.
Craigslist Coincidence
Nathan clutches onto a fist-sized stress ball in the shape of brain. The Wesley Chapel resident tosses it to his mother, Josie Schell, who is sitting under a tent selling Heavenly Heat barbecue hot sauce.
"If I only had a brain," Nathan says, laughing.
He is in good spirits after his win. Nathan and his business partner, David Salo, throw another squishy brain around like a football, in between taking orders for their marinade sauce.
That's right — Nathan has a business.
His incredible story of resilience has criss-crossed around Florida, from barbecue smokers in Plant City to restaurant tables at The Ozona Pig in Palm Harbor.
"I was trying to find alternative ways to keep my child alive," Schell says.
It was a desperate day when Schell was perusing through ads on Craiglist to find a path to hope for her family.
When she found Salo's ad, she didn't know it would change her and Nathan's lives.
Salo was looking for a business partner for his sauce. Schell was looking for a way to make money for Nathan's medical bills, and more importantly, a tasty distraction from fluorescent-lighted hospital stays and a future for a son who had lost his short-term memory.
They met at The Ozona Pig.
For Schell, it was nerve-wracking.
For Salo, he had about given up on all the Craigslist "nuts."
But as the meeting progressed, the two knew they were destined to work together.
"We clicked so well," Salo says.
Salo's sauce — a family recipe — was already in Tijuana Flats. He wanted to push for bigger stores, with his sights set on Publix. Schell's experience working for a food broker was the balance he needed.
When he heard about Nathan, it became something much more than Publix.
"He changed my whole perspective on life," Salo says. "You can't take possessions with you (when you die). He helped me to become a better person."
The first offer to Schell was 10%. After he met Nathan, he offered him 49% of the company.
"He has helped me more than I've helped him," Salo says to one woman who has approached the Heavenly Heat tent at the Join the Voice! Run/Walk.
Plant City Prayers
It was through Heavenly Heat that Nathan and Salo first met Plant City's Hardwood Barbecue competition team.
By then they had gotten pouches of their sauce in Publix. They were able to go to PigFest 2015 in Lakeland as part of Publix's tent. While the duo was circulating vendor tents with samples of Heavenly Heat, they stopped at Hardwood Barbecue.
"He struck us all like lighting with his infectious, beaming personality and will to live," Hardwood Barbecue team member Layla Drawdy says. "He's been family to us ever since."
Hardwood Barbecue has thrown a fundraiser for Nathan at Uncle Mike's Smokehouse (which donated the restaurant's hall) and gave Nathan proceeds from Pig Jam in Plant City. Total, the Hardwood Barbecue has raised over $12,000 for Nathan.
Hardwood Barbecue will also be teaming up with Nathan in Miami April 10 for another run.
"The Plant City community has gotten behind Nathan," Schell says. "For the first time in eight years, I do not have a medical bill on either of my children because of Plant City."
Nathan's 20-year-old sister, Rachel Dodds, had Hodgkin's lymphoma. Two weeks after Rachel was cleared, Nathan was diagnosed.
"I was diagnosed Aug. 28, 2012 … with two pilocytic astrocytomas," Nathan says, stumbling slightly on the jumbling scientific terms.
"Tongue twister," Salo says.
"Sorry, I have pilocytic astrocytomas. I don't know how to say it right," Nathan says, jokingly.
Nathan kisses his mom, still underneath the Heavenly Heat tent, with a monkey balloon animal.
"Just knowing everything my sister went through — she beat it," Nathan says. "I know we have bad genes, but we have strong genes."
"I like that, Nathan," Schnell says.
***
Hardwood Barbecue
Hardwood Barbecue competes with a goal besides winning. The team donates much of its proceeds to different organizations and people in need, including Hope Children's Home, Florida Baptist Children's Home and cancer fighter and friend Michelle Friend Dearhart. It also sponsored the 2016 Heart of Gold Gala to raise money for childhood cancer research though Jensen's Heart of Gold.
Voices Against Brain Cancer
Voices Against Brain Cancer is a national nonprofit organization committed to finding a cure for brain cancer and brain tumors.
The inaugural Join the Voices! Tampa Run/Walk took place Saturday, Feb. 27. Voices Against Brain Cancer hosts these run/walks across the United States to support the brain cancer community, create greater national awareness and, ultimately, find a cure.
During the Tampa event, the nonprofit honored local patients, caregivers, doctors and healthcare providers for their roles in the fight against the devastating disease.
"We all have full time jobs, and competition barbecue is expensive," Layla Drawdy says. "So I thought it would five us an incentive to take off work and see the fruit of our extremely hard labor to a good cause because it really is hard work but for some reason we love it.
"We truly enjoy helping others and giving. It's a high like no other to give."
Contact Amber Jurgensen at ajurgensen@plantcityobserver.com.