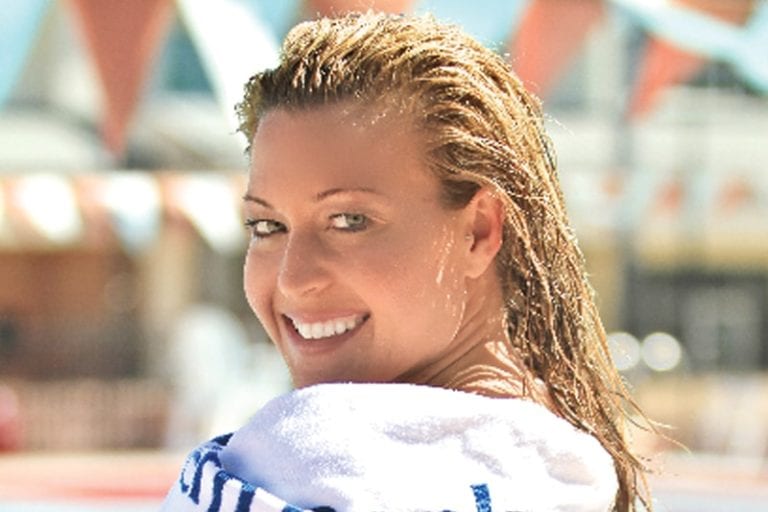 By Matt Mauney | Staff Writer
Editor's note: "Where Are They Now" is an occasional feature revisiting the lives of Plant City's most successful athletes.
In 1996, on a flight from Atlanta to Tampa, 16-year-old Brooke Bennett waited with the other passengers as the flight was delayed for an hour.
No one was aware of Bennett's recent accomplishments.
When the flight finally touched ground at Tampa International, a crowd had gathered. They were waiting for Bennett, who was the last person off the plane.
"They were all chanting for me, and I got nervous," she said. "I started to cry and didn't want to get off the plane at first. My mom had to come down the jetway to talk to me. I was just 16 and thought that this was crazy. I was just a hometown girl."
That's when reality set in that her life never would be the same. Bennett would be a junior at Durant High that fall and Plant City was her home, but she was also something that no one else at her school or town could claim — an Olympic champion.
Bennett took the gold medal in the 800-meter freestyle swim at the 1996 Summer Games in Atlanta. She used that experience to win two more golds at the 2000 Games in Sydney, Australia — in the 800 freestyle and 400 freestyle. In Sydney, her 800 time of 8:19.67 was a new Olympic record.
Bennett started competing at a young age. She felt at home in the water; she loved pushing herself and seeing results.
"It was all about training for something that I loved and was passionate about," she said. "My ambition was not just to do something great — but something extreme."
An only child, Bennett quickly became a "sister" of the other Olympic swimmers, and the friendships she forged with some of the athletes are strong today.
"To be a competitive swimmer, it takes a special breed," she said. "Swimming is such a unique group that it allows for a tight bond among athletes."
The sport of swimming has come a long way since the 1996 Games.
Marketable athletes, such as Michael Phelps, Ryan Lochte, Amanda Beard and Dara Torres, have put faces to the sport, and their accomplishments have made the sport one of the most popular in the Summer Olympics.
"It's easy to see the impact these athletes have (had) on our sport," Bennett said. "Just turn on a TV, and you'll see Michael Phelps in a Subway commercial with his mom or Ryan Lochte in a Gatorade commercial."
Bennett's push for a third Olympic appearance in 2004 fell short, when she missed qualifying by one spot after battling back from surgery on both shoulders in 2001. She retired in 2008.
"It wasn't that I was necessarily lost, but I needed to figure out what the next chapter of my life would be," she said.
That chapter came with an offer from Bright House Sports Network in Tampa, giving Bennett the chance to begin her broadcasting career.
"To have the opportunity to work in an area around my hometown is just amazing," she said. "My dad still lives around Plant City, and I'm up there working every now and then. I always tell everyone that I'm a Florida girl and a Plant City girl."
Bennett, now 32, came out of retirement in March, beginning to train regularly again. She wouldn't comment further on any plans of a possible Olympic comeback, only saying that "stepping away has given me a new passion and my sense of direction back."
Contact Matt Mauney at mmauney@plantcityobserver.com.